NEWS on video99: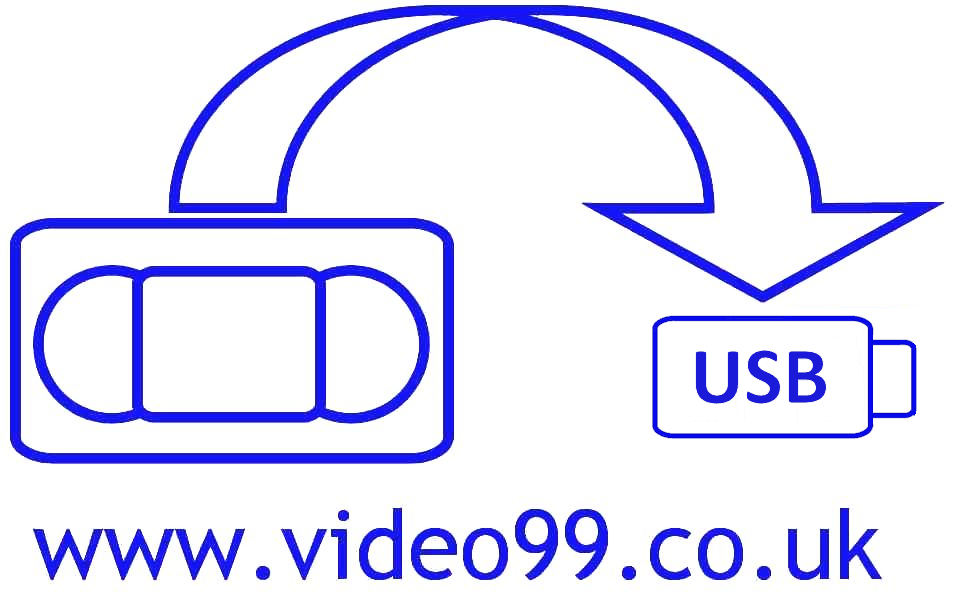 www.video99.co.uk all kinds of video tapes copied to DVD and computer
---
This page provides news and updates relating to the video99.co.uk audio and video transfer business. Regular customers can come back here to see what is new. Warts and all, sometimes you get to read of things going horribly wrong too! It's a little blog.
http://www.bbc.co.uk/news/uk-22824840
According to the Daily Telegraph, almost half of British men still have a hoard of music cassettes or records from their youth - despite no longer having the equipment to play them.
And 40% still have a library of films on VHS or Betamax tapes despite upgrading to DVD, Blu-ray and streaming via the internet. ....and, in a survey, two thirds said they'd like to transfer all this old material to up-to-date formats - but lacked time and know-how.
Well they can all come to video99.co.uk and we will help.
June 2013.

We now have a lovely addition to our MII equipment, the Panasonic AU-750 deck. It does seem quite strongly attracted to the centre of the Earth though (it takes two people to lift it!).


May 2013.

The studio has been redecorated, carpeted and rewired. Just a few details left to sort out, but I can start refitting the equipment now.... Now fully refitted with all equipment, it's a tidier place to work with much better electrical wiring. Electrics by Chapman Electrical, carpets by A.R.Jenkins, decoration by Ivan Langord of Yealmpton.
Another Sony EV-S9000E failed, after being left unpowered for a while during redecoration. The playback picture had squiggling patterning when cold due to capacitors failing in the Digital Timebase Corrector. While there I replaced all the capacitors in the secondary of the power supply. The main display had segments playing up, a capacitor had leaked gunge onto the PCB behind the display, replaced capacitor (under screening can) and all cleaned up for a perfect machine. These machines are getting old now and capacitor failure is a common problem.

Sony HC14E camcorder failed, it died completely after a capacitor dried out in the mains adaptor. Repaired the adaptor but the camcorder was lost. But I had another of the same model which had a burnt out firewire port and failed CCD, so stripped them both down and swapped over the parts from one to another to get one perfect unit. Dismantling camcorders is not for faint-hearted, there are dozens of screws to remove before you start to get anywhere, they are very fiddly.
The

Epson Photo R285

inkjet printer complained that internal parts need replacement. This means that the waste ink tank pads are full. Some software is available, but the key to work it costs a little bit, which allows the counter to be reset. Then I've ordered a waste ink tank add-on.

April 2013

Bought in several non-working JVC DR-MH200 DVD recorders, got one fully working and another provided spares to repair one I had already. Remaining set of three to work on later, I should be able to get one more going but hard disks are the problem, they can't readily be replaced.
A Sony EV-S9000E went down with a strange jagged picture until it had been left on for a while. In the non-working state, the picture could be restored by deselecting the Digital Timebase Corrector from the menus. A sure sign that it had capacitor failure in the TBC circuit, so I popped it into the workshop ready to do a long afternoon's work of replacing all the surface mount electrolytic capacitors. However to my surprise, I found that I had done this already, it must have been the first machine I did that to some years ago. However there are also two through-mounted 1uF non-polarised capacitors in there and these didn't look very good on my Peak Electronics ESR meter. Replaced, and machine now works fine.

March 2013

We've been busy with all three of our printers: The

Epson Photo R285

inkjet printer is used exclusively for printing on DVDs, but the disk tray was not working reliably. After some investigations, the cause was found to be that the tray was "drooping" slightly and so was colliding with the rollers when the disk loaded. By propping up the tray's guide with a box of staples (!), the disk loading is now 100% reliable. The

HP Laserjet 2100tn

has been a solid workhorse monochrome laser printer used for all labels and business printing for many years. However it was heading towards needing another set of pickup rollers and separator pads, so I decided instead to invest in a slightly used

HP Laserjet P3015

, which is much faster and uses less power in standby. For sale: One

HP Laserjet 2100tn

with extra tray, memory upgrade and network port installed. The colour printed boxes option for DVDs uses an

HP Color Laserjet 2605dn

to print the inserts. These printers have a well known weakness in that they tend to such paper dust into the optical assembly, which causes print quality problems. It's also a right pain to get to. I had previously twice stripped down and cleaned the optical block, the last time in September 2012, but I had a feeling something still wasn't quite right with this printer. Prints were darker than they should have been and it didn't print properly at the far right edge of the paper. Closer inspection showed that the block had not been refitted in exactly the correct way last time, which is apparently a very common problem when cleaning it. I stripped it down again, cleaning it while it was apart, then very carefully locating the optical block and checking it by looking at it from the front where the toner carts are installed. After reassembly and recalibration, the printer is now producing fantastic results right to the edge of the paper.--- Update, no the print is faint. Partly caused by a bad black toner cart, but to get things moving quickly I replaced the printer with a refurbished one, £43 inc delivery. Now I can work on the old one in my spare time.
One of my incredibly rare CVC Showcase machines kept shedding a drive belt when being used last week. The drive belts on these are just absurdly hard to get to and replace, but after an hour or so of struggling, a replacement was installed and it now works perfectly.

Replaced all the surface mount capacitors in the Digital Timebase Corrector circuit of a Sony EVS-9000E Hi8 deck, because it was producing strange results when the TBC function was enabled. Now it works perfectly. It's a very big and painstaking job, there are over 30 capacitors to replace and some are quite fiddly, but I've now done this to three of my machines with 100% success.

February 2013

The power supply rebuild of the JVC DR-MH200 was a complete success. In the mean time I've bought another of these machines and I'm working on replacing the hard disk (not as easy as it sounds). A DR-MH300 however had to be taken out of service since the DVD writer became increasingly fussy with which disks it could write to, so that requires a new DVD writer drive which could be hard to source. I do now have the service manuals for these machines which helps.
We still have not been able to tie down the carpet fitters and decorators so that we can get the studio tidied up after the water ingress in December. When we do get them sorted, it will mean we're going to be unable to do any work for about a week, probably around late March. We wanted to get the studio power sockets re-wired at the same time but it looks like the costs are prohibitive so that will have to wait until next year.
The Sony DCT-690 DAT machine broke down, almost immediately followed by the old DAT deck, leaving us struggling for a few hours! The DCT-690 deck had a wobbly internal gear because a retaining clip had popped off, causing the tape guides to fall out of alignment with each other. Really a DAT deck is very similar to a small video deck. Having fixed that, the older Sony deck was also persuaded back into life, getting us back to having a good machine and a spare. But it was stressful for a while. Proved that the Tascam DR-100MKII is capable of lossless digital capture from 48kHz DAT tapes, very impressive (superior to CD quality).

January 2013

One of the PCs used for video capture, bombed out with an impossible-to-recover Windows 7 installation. Even re-installing Windows didn't work, in fact the Solid State (SSD) boot drive couldn't even be reformatted. This is the second Kingston 64GB SSD drive to fail, the other one the SATA data connector disintegrated. I'll not be using Kingston drives again. Fortunately I had a new SSD drive in for a new studio computer I was about to build, so I was able to install Windows and all my required software on that in a day and get the machine back on-line.
A JVC DVD recorder DR-MH200 went out with a bang. The power supplies on these are known for capacitor failure, but in this case the STRG6653 regulator chip exploded, taking out with it a surface mount resistor beneath it, the mains fuse, and I suspect the rectifier too. Parts on order, hopefully it will all work when rebuilt and not just go bang again.
Thanks to Richer Sounds for a good deal on some sweet little Sharp LC-19LE510K 19" TV monitors, two cost £99 each and a third in the sales at just £80.

December 2012 Flood damaged studio! Technically an "escape of water" and we're very lucky that it's generally only cosmetic damage, very little equipment was affected. Even so, it's a proper pain and consuming lots of time.
October - November 2012. We have moved! Now we have a proper studio dedicated to audio and video transfers and editing. The studio is now almost completely set up and is being equipped with some new equipment to increase capacity. Joy all round!

We now have a Tascam DR-100MKII digital audio recorder from Richersounds (they ordered it in especially). This will simplify audio recordings, especially very long ones, and provide studio quality results. It also has a digital input for lossless digital copies from MD and DAT. Thanks to Richer Sounds for supplying that at a good price, even though it wasn't one of their normal stock items.
Replaced an elderly DAT deck with a nice clean low-mileage Sony DCT-690 machine. But the cassette compartment seemed a bit gloomy so I couldn't resist a minor modication and added a diffuse LED so that the cassette is easier to see during use. Purchased a new UPS from Ebuyer so that each of our three main desktop PCs are UPS protected.

Had a breakdown: JVC DR-MH300 DVD recorder refused to start up after a power outage, just a quiet ticking sound. This is not the easiest model to work on because there is no separate power supply board, but dismantled it, replaced the 27uF 35V capacitor in the power supply section (a common fault on JVC DVD recorders of various models), tested other electrolytic capacitors with an ESR meter, reassembled and had the machine back in service within the hour.

September 2012. Slightly poor colour performance from the HP Laserjet 2605dn printer traced to paper dust on the optical assembly mirrors. A real pain to get to but this web site helped, as did HP's technical support people. Unreliable operation of a JVC DR-MH200 DVD recorder resolved by going through the power supply with an Effective Series Resistance (ESR) meter and replacing no less than nine capacitors which were high resistance and/or low capacitance.

August 2012. A couple of weeks off in the sunshine, thanks for patience from those customers whose jobs had to work around that.

July 2012. A hazard of running some antique formats is that the machines can a little quirky. Such it was that the mains filter capacitor of a Grundig 2x4 Super V2000 1984 vintage video recorder caught fire, fortunately when I was in the same room as the machine so was able to dive for the power switch before any damage was done. The video recorder was actually quite simple to repair, but the frayed nerves may take longer.
Our hearts go out to those in our village of Yealmpton who have been affected by the flooding of 7th July 2012. Fortunately we are much higher up.

June 2012. Latest acquisition is a Panasonic AG-7650 S-VHS player, actually two of them. These machines allow for completely variable linear and hifi audio mixing, which is a feature unavailable on virtually any other model of S-VHS machine, and they also include very nice integral Digital Timebase Corrector. Had a Panasonic NV-HS1000 break down on me, the plastic drive spiggot on the loading motor had developed a hairline crack, fortunately I was able to obtain one from a scrap machine of a similar model, but it was quite fiddly to fit since you can't easily get the deck out when a tape is stuck in it. More of these drive components, part number VDP1434, are on order. They are prone also to failure in the NV-HS900 and NV-HS950 models as well as others.

Bought in another Canopus ADVC55 DV capture converter, now we have fourt of these. Also we now have a Sanyo VTC-NX100 Sanyo Beta machine which I've serviced and is in particularly nice condition.

May 2012. Latest equipment in includes another Sony EV-S9000E Hi8 edit deck (late model version with better firmware), and another Sony SL-T50 multistandard Beta machine. Perhaps more importantly though we have another high performance computer built which helps with video capture when there is a lot of work in. Less good was that due to human error, a Philips N1502 machine was dropped and damaged, a mistake that cost several hours to put right.

April 2012. Now we have the second (rare) CVC Showcase machine up and running, and also a JVC SR-DVM70EU minidv/DVD/hard disk recorder which was kindy donated to me in non-working order and I repaired it. I'm never happier than having my head in a piece of kit that other people can't seem to fix.
Business is still very brisk, but a couple of days off over Easter was very welcome.

March 2012. We now have bought in a second, incredibly rare CVC Showcase machine, which is undergoing repair now. Bought in two more of our favourite DVD recorder, the JVC DR-MH300, one in full working order the other which will have to be repaired.
This month's disaster (!): Lost some data on a very important spreadsheet when the boot drive ran out of space. Lessons learned: Regular backups, regular backups and then regular backups.

February 2012. Just to prove to my long-suffering wife that I don't just keep collecting more and more kit, I actually sold a spare UVW1200P BetacamSP player this month, to one of my competitors! Well I do work for competitors too, several of them send me jobs they can't handle.
Another disaster: Boot drive failure on one of my most important computers. Reinstalled everything, it lasted a week and went again! The problem? The SATA data cable on solid state boot drives (SSD) can be quite critical, it was a bit sloppy at one end, replaced it and also took an image of the boot drive onto a spare hard disk to make it easier to recover from this sort of thing in the future. Descovered that the backup and restore feature in Windows7 is next to useless if you are trying to restore to a different drive than the one the backup was made from, how hopeless is that!

January 2012. Now we have yet another of our favourite Digital Timebase Corrector, these things are really hard to obtain but the manufacturer still supports them and so I'm able to get each one "tweaked" to operate just how I like them.
A disaster: Plugged a Firewire cable the wrong way round into a socket (this isn't supposed to be possible but with some plug/socket combinations is an easy mistake), blew up a Canopus video capture unit. It might have been nice if the unit was a bit more robust and so didn't just blow up, but then the manufacturer woudn't have had the pleasure of charging me over £100 to repair it.

December 2011. Now have a Tascam 52 tape deck which means we can handle up to 10.5" audio spools with/without NAB hubs at up to 15 IPS running speed. Exactly where we will store this 35kg monster we are yet to work out!

November 2011. November was hideously busy at video99, and your engineer did rather burn himself out a bit. Also "burnt out" several pieces of equipment which will have to be serviced or replaced over Christmas.

October 2011. Another Grundig 2x4 Super V2000 format machine now added to our collection, which is our favourite model for this format. Now that we have two of these, I'm happy to clear out the older Philips VR2023 and similar machines (so if you want to buy one, let me know).

We now also have another Sony EV-S9000E Hi8 edit deck, taking the collection up to five of these.
A seemingly simple upgrade to a computer system went hideously wrong, as these things can! We our main computer system was not fully operating for over a week. But at the end of it, we now have another machine running Windows 7, and a Solid State boot drive with HD5570 graphics card.
I've had a customer job for a data transfer from 3.5" floppy disks (Mac formatted in this case). This has prompted setting up equipment to also retrieve data from 5.25" 1.2MB floppy disks, which I am now setting up, let's see if there's an interest in this.

September 2011. A very busy time for us! Secam Umatic capability has now been restored with a replacement machine.

August 2011. We now have a BluRay writer so we will in due course be able to make up BluRay HD films with that. In the mean time, it already allows for a useful way to provide BDRom disks of large DV-AVI files for customers who don't want to provide a hard disk.
Oh dear, a breakdown: We have temporarily lost Umatic SECAM capability since our Sony VP-5040 multistandard Umatic player has developed a dead spot on its capstan motor. A replacement part, or more likely whole machine, is actively being sought.
Our off-site storage space has moved and there is now more space to allow for easier access to equipment as required. Actually there is too much stuff there, so if someone is interested in a collection of Philips VR2021/2/3 etc. machines for spares, and spares for them, just let me know. Other scrap machines I have too many of may include various Beta (Betamax) machines from Sanyo and Sony, GPIB test equipment cables and ancillaries, certain BetacamSP players and more.
July 2011. We now have a Twitter account and will be blogging information there in due course. As they say: Follow us on Twitter. After a bit of a disaster at the printers (to be fair, they sorted it out), we now have some lovely new business cards and will send them out with DVDs. If you could use extra ones for your friends and colleagues, just ask.
June 2011. Another Canopus ADVC-55 video capture unit purchased, which helps with setting up tricky and non-standard capture configurations such as certain NTSC tapes to DV-AVI files. Our UVW1800P BetacamSP recorder is now in place and working nicely. Bought in some service kits so I now have added another Panasonic NV-HS950 S-VHS deck to the collection, these are amazing machines with an integral Digital Timebase Corrector, and along with the similar NV-HS1000 make up most of the machines I use for VHS and S-VHS transfers.
May 2011. Now a JVC DR-MH300 recorder added, this is particularly useful for some of my casting agents customers who require off-air programmes to be captured for actors. Also new in, a UVW1800P which will allow us to record onto (as well as from) BetacamSP tapes for studio use.
April 2011. Yet another JVC DR-MH200 Hard Disk / DVD recorder added to the collection, we really like these machines and also know how to service the power supplies to get the best from them. They offer more flexibility than other brands but it's a shame JVC have pulled out of the DVD recorder market. One more Panasonic S-VHS deck in place too.
March 2011. We now have a new Digital Compact Cassette deck to get the very best from this quite obscure audio format. Added a new PCM-701 decoder for (usually Betamax) PCM audio, which is addition to the PCM-F1 unit we already had. Repaired a Sony SL-T50 so we now have extra multistandard Beta equipment available, just in case.
February 2011. PCM-701 and PCM-601 digital audio on video cassettes (usually Betamax) can now be handled.
January 2011. Oddly enough January is always a busy time, this year is no exception.
No VAT rise here, since video99 quite deliberately works under the VAT threshold.
Bought in a replacement NV-HS950 S-VHS video recorder since I was concerned that one of these was getting tired, and I'm only happy when I'm providing the very best results for my customers.
Web form problem experienced in December is completely resolved, it was caused by a well-intentioned change made by my ISP.
Off-site local storage finally filling up with about a ton of obsolete machines, spares, cables and other "will come in handy one day" clobber.
December 2010. A very busy time, I had to limit the amount of work coming in so that I could keep all my promises, which I did, to complete work in time for Christmas. A few customers experienced a delay in my responding to requests on my automatic web form, apologies for that, it was a technical failure outside my control, which is now being worked on.
November 2010. Work overload! Having to limit incoming work for this year now.
Offsite storage available at last, for storing spare parts for older video formats such as N1500. Our loft can breathe a sigh of relief as a ton of equipment has been moved out!
October 2010. The Christmas work is starting to arrive already, so if you have a job to be done in time for Christmas then please get it in as soon as possible before the big rush.
More DVD recorder units (which include internal hard disks) are now on-line and helping to get work done more efficiently.
Did you know: If you plug a miniDV camcorder into a PC via the firewire cable for video capture, that if you manage to accidentally fit the larger (6-pin) firewire plug in upside down, that it will fry the firewire port of your camcorder, possibly with a burning smell and a small puff of smoke? You do now. Guess how we found that out!
To help with uploading video files for customers, we now have a very large upload/download bandwidth allowance with our broadband provider.
September 2010. I've built a new and super-fast computer specifically for video capture in my small studio, which particularly helps with video capture from Umatic and BetacamSP sources. Now, unless there is a good reason to do otherwise, all Umatic and BetacamSP transfers to DVD will be Deluxe Menu. Furthermore, I have bought in a second Sony DSR-11 DVCAM deck to help with video domestic format video capture, DV and DVCAM transfers - this is also connected to the new computer system. All topped off with a new faster network system between computers, the new systems really help to get larger jobs done quickly and efficiently. (If you're interested, new PC has solid state boot drive, 2TB data drive and 6-core processor, hooked up to two monitors. Nice. But not forgetting our Apple Mac customers, the Mac Mini now has an internal 600GB hard disk which helps to speed up data transfers to HFS+ hard disks.) The effect on our electricity bill may be less good, and the gadget budget is well and truly blown for this month.
August 2010. Still house hunting! In the mean time, I have put together another N1700 format machine since I had a large amount of these tapes come in. It has brand new heads and gives super results.
22nd July 2010. The best laid plans.... Our hopes for a move to larger premises came to nothing (apart from a great deal of expense) when the seller changed his mind just as we were ready to exchange contracts. So we are staying right here for the timebeing!
July 2010. We expect to be unavailable for a few days around 12th - 16th July, while we start moving equipment out ready for the move to larger premises. Email will still be answered but we may not be able to tackle much transfer work during this time. Please bear with us and this time, it will all be worth it in the end.
June 2010. Well you know what it's like buying a new place, it takes forever, but things are moving along. We still have full capability here but we're asking a few large commercial contract jobs to wait until later in the year where that is convenient for the customers.
New in, an extra CD recorder system helps with larger audio transfer jobs. On the other hand, with a move imminent, we're selling off lots of spare equipment on eBay, see user name video99_co_uk there.
May 2010. Watch this space.... We may be able to announce a move to larger studios shortly...
April 2010. A little set-back. You hard working engineer Colin has hurt his back. But there's no delay for customers' work which carries on as usual. Some very obscure formats may be just a little harder due to the need to move heavy equipment around.
March 2010. Now in: DVCPRO (DVCPRO25) support, this format is not easy to find transfer services for. That will complete our portfolio of video cassette formats; we now cover essentially every known format in the consumer and semi-pro arenas, as well as the popular studio formats. So we can say now with some pride: video99.co.uk covers the widest range of video cassette formats in the UK. Well you have to be a bit of a video enthusiast to get excited about that.
February 2010. Well we had a very stressful time when one of our most important computers (server) died horribly. Fortunately we were able to get a replacement motherboard in and working the next day and so no work was delayed. We also increased our storage capacity to over 4.5TB. Furthermore the extra processing power allows us to turn around edited and Deluxe Menu DVDs even quicker, so perhaps it was a blessing in disguise.
January 2010. Happy New Year to all of my customers, new and old. There's plenty of work on already but I'm still turning short jobs around next day, even the snow and ice doesn't slow us down.
HDV (High Definition) miniDV tape capability for 1080i, the most popular High Def resolution is now available. This will be added to the miniDV page shortly.
December 2009. It's been very, very busy over the last few weeks with the build-up to Christmas. We're now taking on work for delivery in the New Year and have plenty lined up. Thanks to all my customers over the last year, especially those who have even sent us Christmas cards, it's nice to be appreciated.
November 2009. We have gained two new pieces of equipment this month. Firstly we have a Sony J3 Digital Betacam player, so we can now run Digital Betacam, BetacamSX and MPEG IMX studio tapes at last. This was a major investment, being much and away the most expensive piece of kit we have ever had to buy, but already it has been busy running tapes for several customers. Next we have now imported and serviced a CVC format machine suitable for NTSC tapes from USA. Video99 is probably the only transfer business in the world to support both PAL and NTSC recordings in the very rare CVC format. We can now also run Betacam tapes of the NTSC system for both small and large tape sizes, as well as PAL of course. In other words, we really do have one of the widest range of video cassette formats available in the UK. Other formats planned are at least the most popular HDV High-Def formats on DV tape, and perhaps the more popular DVCPRO tape sizes, though users of both of these formats usually are aware that it's usually easier to play the tape on the original recorder than try to find someone to run them later.
October 2009. The postal strikes are not causing us any particular problem. I always recommend people send their tapes by Special Delivery, and this service is working as normal throughout the disruption. I've had three customers tell me that their disks did not arrive promptly, so I sent out replacements (free of charge) and in both cases those replacements arrived next day. So far, then, so good.
From December 2009 we plan to support all Digital Betacam and Betacam SX formats as a result of the purchase of a very expensive Sony J3 player.
September 2009. We now have an extra two High Band / SP capable Umatic machines available as well as the original one we've had for some time. This gives us more backup and capacity for this important format. Many transfer businesses say they run Umatic but will let you down with High Band or SP recordings. We also cover SECAM and NTSC Umatic recordings, and perhaps uniquely in the UK can handle NTSC SP (High Band) tapes too. We love Umatic!
We are delighted to announce that we now have capability for the obscure professional format called MII (or M2, M11) and this will be added to the web order form shortly. There are very few other UK businesses offering this format.
We have increased capacity by adding a fourth Digital Timebase Corrector / Standards Converter to our systems. These are expensive units, and most small transfer businesses don't have them.
28th June 2009. Ours is a family run business, and we're pleased to announce that the latest addition to the McCormick household: A healthy little boy called Scott arrived at 06:02 on 28.06.09, weight 8lb 1oz. Mother and baby doing fine.
June 2009. Expected at the end of 2009, we plan to offer the obsolete MII (M2) professional video cassette format, we have a Panasonic AU-65H machine coming in for this, but it will need servicing. Very rare.
May 2009. We have a new CD and DVD printer in for improved print quality and to make custom DVD prints more quickly. A spare BVW-22P has been purchased which is particularly helpful for low band Betacam tapes.
April 2009. We have a Sony SL-T30 multistandard Betamax machine now in which helps particularly with foreign NTSC and Secam Betamax recordings.
March 2009. We now have a third Digital Timebase Corrector available to help throughput for larger jobs of many formats. Also now available for use is our third BetacamSP player and the fourth EVS9000E Hi8 edit deck.
Regarding the purchase in of hard disks for my customers: I'm sorry to say that the discount shipping of hard disks for my customers from SVP is no longer available due to a change in their shipping systems. They are still however very competitive and you can order a drive from them for any DV-AVI hard disk transfer I may do for you, and have the drive shipped directly to me. Other suppliers such as Ebuyer, DABS and Amazon can often also accept an alternative shipping address in the same way.
February 2009. We now have a brand new Apple Mac Mini. This will help us to format hard disks for Apple customers who have previously had to put up with the NTFS file format, which Macs can read but not write to.
More S-VHS decks with built-in Digital Timebase Correctors have been purchased, and these will be on-line soon and available to help with "wobbly" VHS and S-VHS recordings.
January 2009. We now have a backup working CVC deck. Not many transfer businesses have one of these ultra-rare machines, let alone two!
Betacam / BetacamSP NTSC capability now available and tested, for the small video cassette size. PAL tapes can be accepted in both small and large cassettes.
A new Digital Timebase Corrector has been installed which significantly increases our capacity for SVHS/VHS and Betamax.
December 2008. We had a very busy Christmas workload, but completed all work in time for Christmas that was promised, and quite a few which were not promised too. We still have plenty of work on, going into the New Year.
New equipment in to be serviced includes: Another Sony EVS9000E edit deck which when serviced will take to four the number of these highly capable units available to us. Also we have a V2000 deck capable of Long Play (XP) recordings, which hopefully will be ready next year. Also in to be serviced is a third BetacamSP player. We now also have an NTSC compatible DVD recorder in, which makes it much easier to create DVDs for viewing in USA/Canada. Another DAT player has been purchased for more capacity on this audio format.
The web site has a new look, much trimmed down for a cleaner appearance, but all the information is still available. Next year (?) it will get a redesign with tabs for easy navigation.
November 2008. The Christmas rush has most certainly started, and we're very busy. We aim to guarantee that all work received by 12th December will be completed in time for Christmas. Work received later than that, we'll do what we can. Turnaround for smaller jobs is still just a few days to a week.
We are proud to announce that now have the exquisitely rare Technicolor/Funai CVC format online at last. There may only be a dozen or so of these machines left working in Europe.
The main video99 web page has undergone a major overhaul to reduce its size and complexity. If you find any bugs, please let me know.
October 2008. You would think that video99 never gets caught out with a tape we can't run. But occasionally even we get a tricky one! In this case, we discovered that Digital8 equipment, whilst capable of playing both PAL and NTSC analogue Video8 and Hi8 tapes, is not capable of playing NTSC Long Play recordings. Not to be outdone though, we bought in suitable equipment just for a single job (so effectively made a loss on the transfer), but still were able to complete the work promptly for the customer. He was delighted, and so then were we. Also this month we have bought in more minidisc equipment so we can carry out pure digital transfers of LP2 and LP4 minidiscs.
Sept 2008. We are now back from our well earned break, and clearing a backlog of tasks over the next week or so. Thanks to my customers for their patience over the last couple of weeks.
Aug 2008. Now with more BetacamSP equipment available for even faster turnarounds on this format.
July 2008. The ComputerActive magazine for this month carried an item on video transfers, and included a mention of the video99.co.uk web site under the Betamax format. Of course, we do all formats, but the recommendation was nice and we are getting in lots of Beta tapes lately as a result!
June 2008. We can now handle Betamax tapes recorded on very early NTSC equipment which ran at the BetaI or Beta 1 speed (1 hour on an L500 tape), as well as the more common BetaII and BetaIII speeds. We are probably the only UK transfer outfit with NTSC Beta1 capability, and even in NTSC countries it will be pretty rare. We are using a professional Sony SLO-320 machine which is in excellent condition.
We presently have on loan a CVC format machine, but may have to return this to its rightful owner (depending on being able to source spares for a second machine). So now is a good time to ask about CVC format tapes from the Technicolor portables of the early 1980's.
Your video transfer engineer Colin is recovering well from a Wisdom Tooth extraction and has now caught up with all transfers so there is no significant backlog. Short jobs are often turned around same day.
We now can cover both the mini cassette and microcassette dictation / answering machine formats. as well of course as regular Compact Cassette and other audio formats.
May 2008. We try to have backup equipment for all important formats so that you will not be let down in the unlikely event that equipment requires service. We are pleased to say that we now have duplicate video equipment online for Digital8 and micromv formats, which joins the duplicates we already have available for VHS, SVHS, Betamax, Betacam, Umatic, V2000, Video8, Hi8 and miniDV.
We also now have in a DCC (Digital Compact Cassette) machine for audio transfers, but require a cassette to fully test this facility. If you have a DCC tape, let us know.
April 2008. We now have an arrangement set up with the excellent supplier of computer equipment and consumables, www.svp.co.uk who will provide hard drives directly to us for customers. You can select any Freecom external hard disk from their web site, and have it sent straight to video99 for your video transfers, at just 99p shipping. This is ideal for customers who require tapes put onto hard disk in DV-AVI format but don't have a suitable drive already. Just contact us for details on the necessary shipping address and coupon code with SVP.
March 2008. For a long time we have been able to handle video tapes from any part of the world. The only exception has been the studio BetacamSP format, where only PAL equipment has been available since very little NTSC equipment was ever sold in the UK. However we now have in a BetacamSP portable player BVW35 in NTSC format. This takes the smaller Betacam tapes only, the ones of the same physical size as domestic Betamax. However we do not yet have an NTSC BetacamSP tape to fully test this equipment. If you have a small BetacamSP tape with an NTSC recording on it, we will do a free transfer for you (provided the equipment proves to be fully working of course)
February 2008. After a short break due to difficulty in obtaining spares, the N1500 (Philips VCR) format is now back and fully available. We have also obtained sufficient spare parts that we hope to be able to continue with this format indefinitely.
January 2008. We are pleased to add the exquisitely rare Grundig SVR format to our portfolio, Grundig model SVR4004. This is useful because recordings on VCR tapes could be any of the N1500, N1700 or SVR formats, and you can't tell which until the tape is played. We believe that video99 is the only transfer company in the world capable of handling all three of these variants. See the VCR format transfer page.
I can be contacted here if you have any questions or comments.

---
We have a new and easy order page, just select what kind of tapes you have and supply your details.
---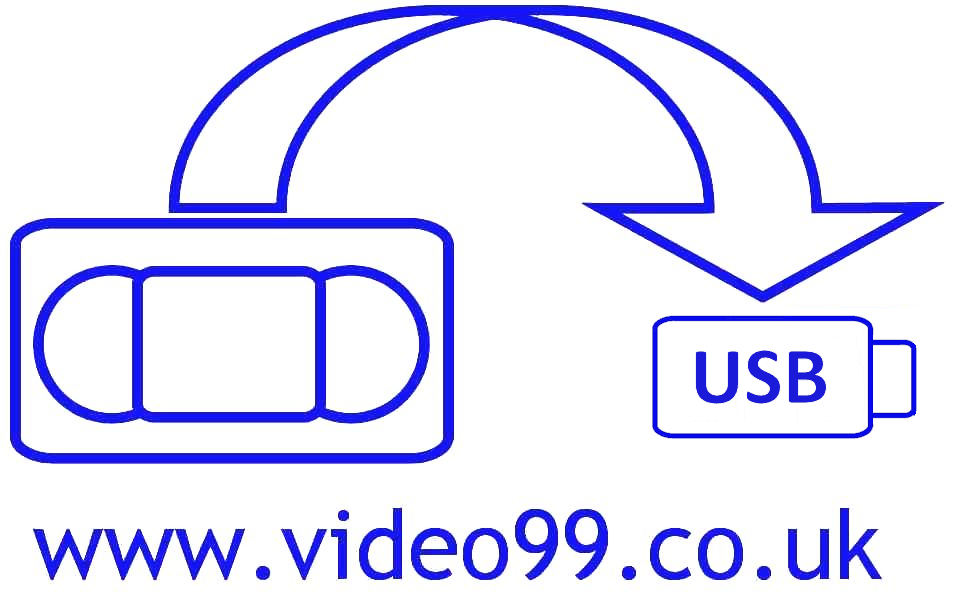 www.video99.co.uk all kinds of video tapes copied to DVD
Visitors since this counter installed on November 13 2005: