The UK's most affordable and flexible Umatic transfers.

A personal service by an engineer with 20 years of video experience. Transfers to DVD, computer and more.

Costs just £17 per tape, extra copies £3.50 or less. Discounts for quantity. Lowest prices in the UK but the highest quality.
---
U-matic tapes are an old semi-professional and studio format which has remained in use for decades. Announced in the late 1960s it is still occasionally used today making it much the longest lived video cassette format in the world. It has been extensively used in the advertising industry and there are vast archives of material on these tapes. Early machines were simply U-matic, often known as U-matic lo-band. Later an enhanced U-matic hi-band was developed, and then the ultimate U-matic SP. There are two tape sizes, and my equipment can take both, as well as international recordings. We have a great deal of experience with this format and a whole multitude of players. Being a professional format, I recommend taking video files rather than DVDs, since video files are higher quality, easier to edit, share and back up.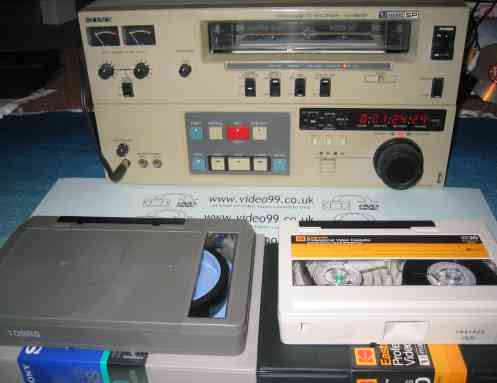 Large Umatic tapes (left) and small ones (on the right) are both covered.

Tape transfers for any of the Umatic formats are £17 per tape, or £15 in larger quantities, making me one of the cheapest transfer services for these tapes. Furthermore, note that other UK transfer companies cannot take all of the High Band or SP variants and international TV systems and so may well let you down. We are probably the only transfer service in the world who support essentially every kind of Umatic recording.

Nearly all customers take video, which can be uploaded, put onto a USB stick or hard disk, depending on quantity and running times. Typically we provide DV-AVI files of 13GB per hour, ideal for all PC and Mac video editing software, and also smaller MPEG4 files of 4GB per hour, ideal for uploading, sharing and playback on portable devices.


For more complex assemble editing of many short items, email me and I'll work out a price for you. You can also request Umatic to miniDV or Umatic to DVCAM.

Note: Ampex branded tapes. Unfortunately Ampex used a tape formula which does not last well. It is very rare for an old Ampex branded tape to work first time, they always require extra attention. For this reason, be aware that there is a restoration charge of £15 per tape for any Ampex branded Umatic tapes. If by some miracle, an Ampex tape does not require restoration work, this would be refunded if you have paid in advance. In some cases however, Ampex tapes may give degraded results for part of the recording or in rare cases may be completely unrecoverable. Please check and tell me if any of your tapes are made by Ampex. Other brands such as Sony, Kodak and BASF do not generally have these issues if they have been stored properly, though Scotch/3M tapes are known for poor magnetic retentivity (self erasing) which can occasiobnally cause problems.

Umatic recording type
PAL
NTSC
SECAM
Low Band

YES

YES

YES

High Band

YES

(YES)=SP

NO *

SP

YES

YES
* Umatic Secam High Band is technically possible but very rare, whereas Umatic Secam SP is believed not to exist. NTSC recordings are handled in Low band and SP recording types here at video99, but few (if any) other transfer companies in the UK fully support these. NTSC High Band recordings are actually SP, we have specially imported equipment for them. NTSC recordings cost £5 extra due to the extra setup time, but it's a small price to pay for the only known fully capable Umatic NTSC transfers in the UK.


PCM 1610/PCM1630 digital audio recordings on Umatic are supported too. These are played back on a specially designed Sony DMR4000 Umatic player connected to PCM1630 decoder which supports RAR (read after read), to give greatly reduce the chances of tape defects affecting the sound. (Even so, tape condition is very critical to this format). Costs £30 for one tape, discounts in quantity. Very few businesses can support this obscure format, even less so with the RAR functionality. Digital audio ecordings made on the PCM100 and PCM-1610 encoders are also supported.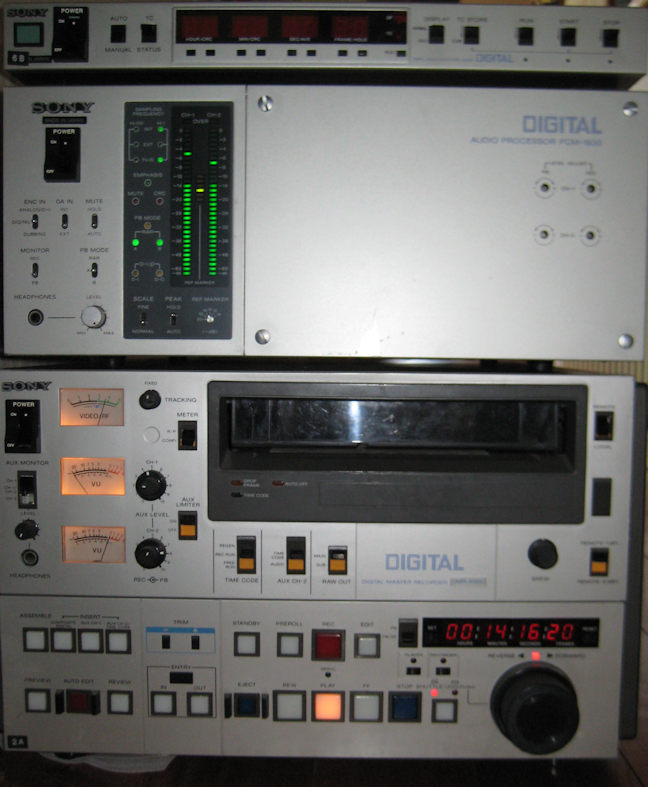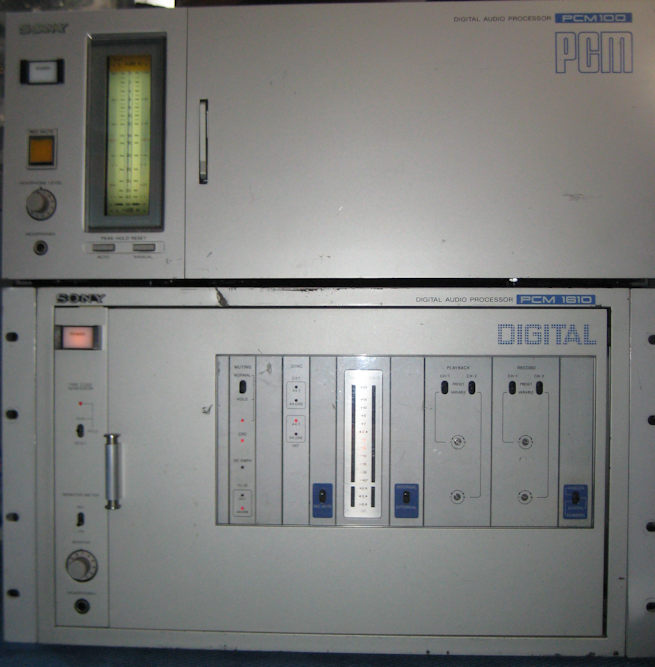 ---
How to request a Umatic video transfer.
We have a new and easy order page, just select what kind of tapes you have and supply your details. I will then confirm the price, or best guess at the price, and let you know the address to send the tapes. Umatic recordings sometimes require particular personal attention, just let me know of any particular requirements. Usually I transfer to video-DVD but options include transfer to computer file, miniDV tape and more.
If for any reason you get stuck filling out the form, just email me and I'll help you personally. It's a personal service I offer, not like some of the big video editing houses. I understand that in many cases you will not be able to tell how much material is on the original recordings.
If recorded on equipment from another country, see the Television systems explained. I can handle low band, high band and SP recordings for the PAL television system. Recordings in NTSC or SECAM foreign television systems can be accepted on either tape size but only for low band recordings at present.
If you want your tapes back after you have the transfers (recommended):
Not everyone needs their tapes returned once they have the transfers, but if you do, please remember to include postage costs. For a single (small) video tape in the UK, this is just £3.40 For larger quantities, and tapes from outside the UK, I will let you know. Ideally can you ensure you send the tapes in a package which is sufficiently large and robust for me to use to send back your original tapes. Usually I will send the work to you ahead of returning your tapes, then when you've confirmed you are happy with the transfers, I will return your tapes. This way I can help you further if necessary - for example you can now see you want a different part of a tape transferred on its own or you want extra copies.

Please read our Terms and Conditions, which form part of the agreement.
---
TESTIMONIALS
Some previous testimonials for www.video99.co.uk Umatic video transfers
We are listed on the independent Freeindex service, you can read and add to reviews there too.


" Many thanks to Colin for the care he has taken to guide us through transferring our historic U-matics into the digital age. A service involving skill and great patience." –– MICHAEL RODD (presenter, of Tomorrow's World fame) lipfriend-rodd.co.uk Some challenging Umatic tapes transferred to hard disk for Mac. 29.09.13





" Whilst trawling for possible companies to carry out some tape to DVD on the internet I came across video99. There was something about the video99 website which set it apart from the rest. Clearly the proprietor was an enthusiast with a great deal of experience and I decided this was the kind of company we needed to sort out some historically important tapes of various formats and transfer them to digital format.

As as there was no telephone number

[It is actually on the web site: 01752 881652]

, I dropped them an email requesting a call back.and within hours I had an encouraging personal reply and a contact number. Suffice it to say that our tapes received prompt and meticulous attention with clear recommendations of what Colin believed the best route forward. The work was completed in an amazingly short time; the complete turnaround of a dozen or so tapes from the time I mailed them to the time I received the copies on hard drive (by special delivery) was less than a week. I cannot recommend video99 too highly. I can guarantee based on my experience that Colin will give you a prompt and professional service at very competitive prices. Unreservedly recommended!" Mark Boulton, Elsa Conservation Trust (Born Free, Joy Adamson). Umatic, BetacamSP and DVCAM tapes transferred to hard disk. 12.03.15

" I have been involved with broadcasting and video most of my career including senior positions at the BBC, Sony Broadcast and Avid and have been at the forefront of video recording technology for most of it. So I believe I am well qualified to say that Colin did an excellent job from start to finish in a difficult Umatic transfer. Not only was he technically excellent but his communications and service were exemplary. Very many thanks." Umatic tape to video file. 26.02.15

"Hi Colin, Just to let you know they came this morning and are wonderful! Thank you so much for doing them so quickly and professionally. My Mum died in 2000 and I had no video of her at all, so to find my Mum, Dad and little brother on them is just amazing. I am completely made up to have found you to be able to transfer these old tapes to DVD, as I have tried University media centres, archivists and even the Bradford Film Museum in the past, to no avail. Your service has been really brilliant from start to finish and I will be recommending you to anyone I know with old formats. To have posted the tapes on Wednesday afternoon and be watching the DVD on Saturday morning surpassed all my expectations. Thank you so much Colin, you have given me something so precious that I thought I would never be able to see. Thank you again. Very kind regards, Jodie" Umatic tapes to DVDs and video files, 14.02.15

"Speedy, professional and courteous service. I'll certainly go to Colin again. Jonathan" Umatic to video DV-AVI file 26.09.13.

"I'd just like to say thanks again for the prompt and helpful service you supplied. The quality of the conversions are excellent and I will most definitely use you again.Clive." Umatic tape to DV-AVI file on USB stick for customer in Italy. 23.04.13

" I recently had the need to transfer old umatic tape footage onto dvd and was surprised that a few machines still exist. Colin's service was fast, reliable and efficient, plus he was promp & informative with any questions i had. I will use his services again in the future - that's for sure! " Umatic to DVD with edits. 23.01.12

"Dear Colin It is not enough to include in few words my gratitude for the job you have done concerning the transformation from umatic tapes data to dvd. Your job is characterized from high standards of professionalism consistently, accuracy and completion.
I am looking forward for further cooperation and again and again loads of thanking. Dimitri, Athens" Umatic to DVD for customer in Greece, 19.10.11
"Dear Colin – the DVD arrived this morning and it is perfect. I can't thank you enough for getting this done in time – it means a great deal to our family. Many thanks and best wishes Emmax" 15.10.11 Four Umatic tapes turned around in 24 hours for customer who needed them urgently to show after a funeral.
"I am very pleased with the transfer from tape to DVD. The quality, considering the unusual format, was excellent and the turnaround by Colin was exceptionally quick. I will definitely be using Video99 again and will recommend to friends and family. Helen" Several Umatic tapes run to DVD. 26.08.11
"Dear Colin Thank you so much for all your expert assistance on the recent transfer job you did for me. I wasn't really sure if there was anything worth salvaging from our twenty three year old Umatic video tape but due to your persistence and hard work you've really come up trumps. We're not sure if we'll be able to manufacture a short run for our bands first gig in twenty one years, but if we do, I have already written your credit into the titles. Thanks again for your sterling work and rest assured, if any of my friends need similar assistance, I shall have absolutely no reservations in recommending you wholeheartedly. Very best regards Steve Crittall, The Name" Band gig tapes made to DVDs and DV-AVI files. 28.07.11
"Dear Colin I have received the DVDs and am really pleased with what you have managed to do with them - they were lost in an attic for 20 years and now i've got great DVD copies. I hadn't seen them for a long time. They have brought back many happy memories of my time at Art school - The service you gave was excellent and you kept me informed all along with developments. I like the way the menu works and you used the descriptions and titles i supplied - the quality is as I expected and remembered from when i made them but they are more than watchable Thanks once again for all your work on this I'm very happy" Mixed Umatic and VHS tapes assembled to DVD, 16.07.11
"Dear Colin The DVD's arrived safely this morning - thanks for doing them so quickly. So you can return the original U-matic.I have some other tapes (Digibeta and Beta SP) to be transfered and will send them off to you in a day or so. All best John" Umatic to DVD with 5 extra copies, turned around same day. 30.04.11
"Colin Fantastic job! Looked and sounded as good as when it was shot 24 years ago. Your tape backing process that fixed the "sticky shed" syndrome brought my U-Matic tape back from the dead miraculously. Many thanks Bill" 16.04.11, pulled off a small miracle and made an unplayable Umatic tape run properly, at no extra charge.
"Dear Colin Yes, arrived safely and with some fear I would be disappointed, not in your skills but what to expect after 33 years!! I played it. Works perfectly and brought back so many wonderful memories. I think it is marvelous that it is possible to view again old and previously obscure films from the past. I am sure I have other film that I shall be sending to you to seek the same treatment." 16.01.11
"Colin - Many thanks for 'rescuing' one vintage (32 Yrs) Umatic tape. The DVD version is excellent. I couldn't have asked for more by way of timely, helpful and personalised service. I know where I will be pointing anyone else I know in need of tape to DVD conversions. Service as it should be. A real pleasure it was." NTSC Umatic tape to DVD. 14.10.10
"Hi Colin I would just like to thank for a very speedy and professional job, especially as it was a bank holiday weekend. Couldn't believe my luck when I found out you converted old Umatic tapes to DVD. Thank you for advising me of the different formats for conversion and the best way to convert for editing on my computer. Once again a great job, keep up the good work. If I find anymore tapes they will be in the post to you. Regards Simon" Umatic to DVD-Rom. 02.09.10
"This is what I love about the internet, finding guys like you who can do the business, I stumbled upon this old tape (as you do), in the loft on Monday by Thursday I have got them transferred to DVD and I am playing them at home...! you can't get much faster than that. Thanks for a quality service mate, and a good price too, all is well they are all great sound tracks good as well. Regards Chris" Umatic SP tape to DVD with special Deluxe Menu for easy track selection.
"Great, DVD all appears to be all ok :-) Thanks again for all your help. Kind Regards, Jenny" Number of TV adverts for a well known chocolate brand, assembled to one DVD and also video files on DVD-Rom and web, for the manufacturer of the delicious product. Urgent job: Customer requested work on Friday afternoon, I received tapes on Saturday, customer had viewable video files waiting on Monday morning with DVDs on Tuesday. 26.08.09
"Many thanks for your first class service in transferring the very old but very precious content of my Umatic tape to DVD. I was amazed to receive the final copies back within 3 days of sending them to you, and so beautifully presented. I had trouble finding someone to copy a Umatic tape, and those I found were far more expensive, so your service was a real 'find'. I would definately recommend you to anyone looking to get tapes converted to DVD Thanks again Wendy" Wedding video on Umatic, copied to DVD and made up with boxes showing colour shots from the tape. 28.02.09
"Hi Colin, WOW! How's that for service? The Post Office guaranteed delivery by Monday and you tell me the work is complete before we even get to Monday. I assume you are a small business. We worked in a similar way ourselves in a different field so we appreciate this level of service and attention to detail. Joy. " 28.07.09
"The DVSs have just arrived and work well. Thank you. Don't bother to return the tapes. I am very impressed by your service. Speed, technical competence, sensible arrangements and a very competitive price add up to excellence. I will certainly use you for any other transfers and would recommend you to my friends. Thanks. GP" Umatic tapes to DVD, 23.02.09.
"Hi Colin, I received the dvds today, thankyou very much, i'm very happy with the transfer and will most definatley use you again if i have tapes to transfer in future. I apreciate your great service. Thanks, Pete" NTSC SP band Umatic tape run to PAL DVD, turned around next day. This customer told me how another company based in Glasgow failed to run this tape and held onto his tape for 6 weeks. Some companies think they can run NTSC Umatic tapes, but video99 has imported SP Band NTSC Umatic equipment for the purpose.
"Hi Colin, I now understand why people have such a high regard for you. The 25year old umatic to dvd transfer was really quick and superb! You even sorted my mess up on paypal at no extra charge! I only hope a lot more people find your website and enjoy the results as I have.Well recommended. Thanks Colin Regards Mike" Umatic to DV-AVI files on DVD-Rom and also viewable video DVD. 04.10.08.
"for sure I am recommending you all over the shop! -) Sue". Umatic tapes to DVD for a renowned TV programme director. 03.10.08
"Video 99 showed considerable patience and skill in recuperating material almost lost forever on old nsc tapes. I thoroughly recommend their professional service and personal attention to detail. Excellent customer service." NTSC Umatic High band tapes restored and put onto DVD. 22.04.08.
"Hi Colin, Just a note to say thanks for the splendid job you did transferring the tape to DVD. This footage is over 10 years old and looks great. Cheers Dave" Umatic high band to DVD. 31.03.08.
"Again thanks very much for pulling out all the stops to help us with this at such short notice, it really helped me out of a tough spot and I'm sure we'll be requiring your assistance in the future."
"Dear Colin, Many many thanks! ... will certainly reccomend you to others. Coco" Quantity of Umatic low and high band, PAL and NTSC systems, and also some N1500 format tapes. 29.09.07
"Good morning Colin I had a look at a DVD last night and was very pleased with the results. I had previously copied to DVD from a VHS tape from the same period but your results are much better, especially the sound quality. Many thanks. ... Again, thank you for a very professional service. Stephen" Umatic high-band to DVD. 25.09.07

---
If you have any questions, just email

me and I'll reply promptly. Also see the video99.co.uk Questions and Answers (FAQ) All material on this web site is copyright www.video99.co.uk and www.colin99.co.uk though trade marks remain with the manufacturers.
Visitors (counting since Nov'05):
---