Video to DVD transfers from video99.co.uk

What is a Deluxe Menu?
A new video title at the start of each video tape, and chapter points inserted at the start of new recordings and subject material. Titles for each chapter of your choice, if the information is provided with the tape. Icons show what each chapter contains. This is all very similar to the kind of professional DVD video you can buy and rent. Up to 90 minutes of video footage copied to each DVD for ultimate picture quality, or around 110 minutes with good picture quality. If necessary I may be able to extract small segments of garbage recording (bits of TV programme mixed with your prized camera footage for example), and I can also clean up the video material if necessary using a semi-professional digital timebase corrector to help improve wobbly recordings. Everyone who commented on this service has been delighted with the results. Cost for most formats is £22 for the first DVD and just £3.50 per extra copy.

An example menu screen is shown below. You can have titles against the chapters too if you wish, email them to me (eg. "The Service, Meal, Fred's Best Man Speech, etc.").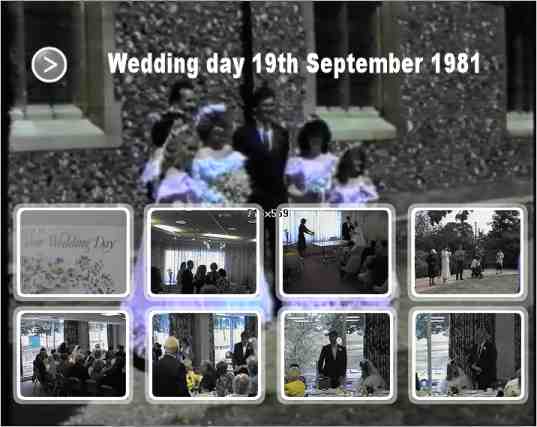 However we no longer recommend DVDs unless there is some special reason you need them. Video files on a hard disk or USB stick (depending on running times) are higher quality, easier to edit, share and back up, so a far better archive format.


If you are not sure about anything, just ask, I'm here to help.
Back to video99.co.uk