Video8/Hi8/Digital8 transfers video99.co.uk

The UK's most affordable and flexible transfer service of Video8, Hi8 and Digital8 to DVD or video files.

A personal service by an engineer with 20 years of video experience.

Costs just £12 for up to 2:30 hours, extra copies £3.50 or less. Discounts for quantity. Lowest prices in the UK but the highest quality.
---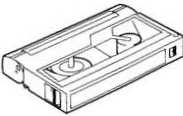 Video 8 and the higher performance version Hi8, were much the most popular type of camcorder sold right the way through the 1990's and were available until about 2010. Picture and sound quality is very good, and at best can be outstanding. Since the 8mm tape is completely different to VHS, no Video8 or Hi8 to VHS adaptor could ever exist, we need to play these tapes on the appropriate equipment.
You have come to the right place for your Video8 and Hi8 to DVD transfers, video99 has simply the best 8mm video equipment. I can transfer your camcorder tapes to DVD with brilliant pictures and sound, using my semi-professional Hi8 edit systems costing well over £1000 each. The signals are processed through a Digital Timebase Corrector to remove any flutter and wobble, and get the benefit of a digital dropout compensator in my players. Then the video signals are handled in S-Video form for the ultimate in colour performance, to my DVD recorder or computer system where it is recorded to DVD with outstanding picture and HiFi stereo sound. I can also deal with PCM digital audio recording tracks (most people can't do this). What all this means is that the results will be much better than you can get by just playing the tape in a camcorder. I've had cases of customers coming to me after other video transfer companies were unable to handle LP recordings and international recordings, but video99.co.uk won't let you down.
Hi8 camcorders from 1998 onwards may include Hi8-XR (Extended Resolution) technology with suitable XR tapes. If your tapes are recorded with this feature, let me know since I will make a point of selecting appropriate equipment to get the very best from your recordings.

One of several identical Semi-professional Video 8 / Hi8 edit decks used for copying camcorder tapes to DVD.
Basic Menu, £12: Up to 2:30 hours on one DVD, but most camcorder tapes are only 90 minutes which fits nicely. The menus are limited to just a title, but you get a chapter point every 5 minutes so it is easy to move around the DVD. Extra copies of these DVDs cost just £3.50 each and are recommended.
Deluxe Menu £18: Up to 1:30 hours on one DVD, so most camcorder tapes fit in one go. Nice menu icons showing what is on that part of the recording, and if you email me with titles I will put them on the DVD for you too. I place the chapter breaks at points of interest or new recordings. These menus look like professionally recorded DVD films. Extra copies are very cheap, just £2.50 each, and well worth taking.
| | |
| --- | --- |
| Tape type | Running times (maximum) |
| Video 8 or Hi8 MP90, ME90 | 90 minutes SP or 180 minutes LP |
| Video 8 or Hi8 MP120, ME120 | 2 hours SP or 4 hours LP |
| Digital8 on MP90 tape | 60 minutes SP or 90 minutes LP |

Around the year 2000 a new variant of 8mm video recording arrived, called Digital8, marketed by Sony and Hitachi. Camcorders of this type use standard Hi8 video cassettes, or Digital8 cassettes which are essentially the same, to record digital signals of the same type as other digital camcorders. The quality is excellent and with suitable equipment, it is possible to transfer these recordings to computer or DVD in a completely digital way, retaining outstanding performance.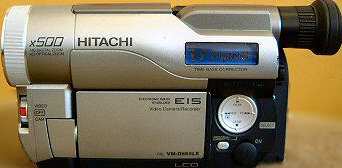 Hitachi Digital8 camcorder.
You can't tell by looking at an 8mm video cassette whether it has an analogue Video8 / Hi8 recording on it, or a Digital8 recording. A clue may be in the vintage, recordings prior to year 2000 will be analogue, and later than that could be either. If you have only a Video8 or Hi8 camcorder or player, and get a Digital8 tape to play, you see a grey screen full of speckles and the sound will just be a loud buzz. Since I can transfer all of Video8, Hi8 and Digital8, there will be no problems with any of them. Some transfer outfits will get caught out by Digital8 recordings as they cannot run them. Furthermore I can handle recordings made on equipment from around the world, at no extra expense.
Basic Menu, £12: Up to 2:30 hours on one DVD, but most camcorder tapes are only 60-90 minutes which fits nicely. The menus are limited to just a title, but you get a chapter point every 5 minutes so it is easy to move around the DVD. Extra copies of these DVDs cost just £3.50 each and are recommended.
Deluxe Menu £18: Up to 1:30 hours on one DVD, so camcorder tapes usually fit in one go. Nice menu icons showing what is on that part of the recording, and if you email me with titles I will put them on the DVD for you too. I place the chapter breaks at points of interest or new recordings. These menus look like professionally recorded DVD films. Extra copies are very cheap, just £2.50 each, and well worth taking.
Also available, Video8/Hi8/Digital8 to MPEG or AVI(DV) files for your own computer editing. The price is small quantities is the same as Deluxe Menu. For larger quantities of tapes there are good discounts possible. In particular, if you would like to transfer Video8, Hi8 or Digital8 to hard disk, the price is just £7 per hour using the very high quality DV-AVI file format. Just email me for details.
There is a limitation of the Digital8 format: Hi8 or Video8 90 minute tapes record for 60 minutes with the Digital8 format unless LP (long play) is used to extend this to 90 minutes. If LP (long play) mode has been used using a cheaper Video8 tape, it is possible that the recordings may not play so well, occasional blocks and patterns are possible. So far I've never experienced this effect on my equipment.
* Note about NTSC recordings (USA television standard): Other companies in the UK may say they can run these, but most will get stuck if your recording is in Long Play. We have imported Hi8 NTSC equipment from USA for this reason and so won't let you down.

---
How to request a Video 8 to DVD transfer, Hi8 to DVD or Digital8 to DVD or video files.
We have a new and easy order page, just select what kind of tapes you have and supply your details.
If for any reason you get stuck filling out the form, just email me and I'll help you personally. It's a personal service I offer, not like some of the big video editing houses. I understand that in many cases you will not be able to tell how much material is on the original recordings. In which case, assume that the tapes are fairly full and send payment accordingly, I will refund any surplus by means of a cheque sent with your finished recordings.
If recorded on equipment from another country, see the Television systems explained.
If you want your tapes back after you have the copies (recommended):
Not everyone needs their tapes returned once they have the transfers, but I do recommend it. For a single video tape in the UK, this is just £1.50 For larger quantities, and tapes from outside the UK, I will let you know. Ideally can you ensure you send the tapes in a package which is sufficiently large and robust for me to use to send back your original tapes. Usually I will send the transfers to you ahead of returning your tapes, then when you've confirmed you are happy with the work, I will return your tapes. This way I can help you further if necessary - for example you can now see you want a different part of a tape transferred on its own or you want extra copies.

When you receive your tapes back, you may notice that the record tabs have been switched to safe. The first thing I do with a tape is make sure that it cannot be recorded on, so protecting your important recordings.
Please read our Terms and Conditions, which form part of the agreement.

If you have a Video8 or Hi8 video recorder, click here to join the Video8/Hi8 Video recorder Yahoo group, it's free.
---
Mould
All video tapes can develop mould due to poor storage, such as in a loft, shed or garage. Tapes stored indoors in the UK virtually never have mould problems, though some foreign climates can be more hostile to tapes. With large formats like VHS or Beta, the mould is a nuisance but if it's not too severe then it will peel off the tape when it is played. But with the very thin tape used in 8mm cassettes, even the smallest amount of mould will "glue" the tape together and cause the tape to snap in a distinctive long tear starting from the top or bottom edge of the tape as it is played. If a tape has snapped with this long tear along its length, I always know that it is a mould snap, and simply splicing the damaged tape out will probably not be enough to make the tape playable, since it will snap again. Most video transfer businesses will simply give up if there is any hint of mould on an 8mm tape, but here at video99 we're not put off so easily. We've developed a technique for clearing mould from 8mm tapes, but it is a very slow and manual process so it does add to the cost of transfer. In the case of a tape with minimal mould build-up, this may be as little as £5 extra on the transfer cost, but if the tape is very mouldy then it could be around £30.

If the tape is very mouldy, then furthermore the picture and sound are adversely affected even if the tape snapping problem can be resolved, and it can make running the tape very slow and difficult as mouldy tapes can clog the heads of the players. I can generally
get an idea of just how bad a tape is going to be by visually examining it, to advise on whether it's worth attempting the process. Fuji branded tapes seem to be particularly susceptible to mould build-up, where other brands of tape stored in identical conditions may be almost perfect.

If you think your 8mm tapes might be affected by mould email me to discuss it.


---
TESTIMONIALS
Some previous testimonials for www.video99.co.uk Video8, Hi8 and Digital8 video transfers
"Video99 offered a straightforward, tailored and hassle-free service for converting my video8 tapes. Colin was extremely patient and informative at every stage of the process. Originally I requested DVD copies of the tapes, but on Colin's advice I chose to go for a digital format instead, for easier editing, sharing and backing up. Even though I never suggested that I needed the videos converted within any particular timeframe Colin finished the job extremely quickly. I'm very happy with the results - nearly all of the footage came out really well (Colin forewarned me about the few tapes which had some faults), even tapes filmed in 1990. If it's not already clear enough, I would highly recommend Video99! Alison" Video8 to video files for Mac. 03.10.14

"We collected the parcel from the post office Monday and have just had the opportunity to view some of the video and we are really impressed. We're so pleased that we sent the camcorder to you and that you were able to extract the footage - it was really priceless, and we had effectively written it off until now.
Your service has been amazing, your communication was frequent, fast and detailed - we knew exactly where the process was at, at all times. Your service was also incredibly fast, with our response and payment being the bottleneck. And for you to extract a damaged tape from a destroyed camcorder that had been sat in storage for almost ten years, and recover all but a few seconds of video was the cherry on top.
Would we recommend you? We would, and without a moments hesitation.
I don't know if you will use this email as a testimonial, but if you do, We would simply say to anybody reading it and thinking of using your service to stop shopping around and fill the form in. A competitive price, excellent quality, and incredible service.
Thanks Colin. Mark " Video8 tapes to hard disk, including one which was stuck in a wrecked camcorder. 20.05.14

"Hi colin. Dvds work great thank you. Really impressed with the service you offer. Professional and speedy. Will definitely recommend you. .in fact I already have. Kind regards Carron" Video8 to DVD, 25.04.14

"Colin. I have now been able to review the work you have done with my 18 tapes and am extremely happy with what you have achieved in a very fast turnaround. Great work! You have salvaged some wonderful memories for us and I know my wife will be delighted. I was particularly impressed with your high quality of customer care and communication with me. I shall certainly recommend you to friends and family and to anyone else who reads this on your website. Barry" 28.01.13 VHS, Video8 and miniDV tapes to video files on hard disk.

"Video99 provide an excellent service. Thorough and technically brilliant, Colin managed to rescue my footage which I thought to be wrecked, and provided an excellent email communication through out the service; super quick, patient and friendly in his responses and explanations. I will certainly be returning and shall wholly recommend Video99 to all my family, friends and professionals!" - John Turrell, filmmaker/videographer Video8/Digital8 tapes to hard disk. Name used with permission.

"I worked for 30 years in the graphic design industry and used a host of third-party firms for related technical services; I can honestly say that in all those years I never worked with a more responsive, helpful, thorough or efficient company than video99. Adrian" Video8 tapes to DV-AVI files for Mac user. 09.01.14

"Absolutely fantastic service, very knowledgeable, very reasonable price, amazingly quick service and will definitely use again myself and recommend to family and friends. Many thanks, Alan". Video8 tapes to DV-AVI video files for use with PC. 27.11.13

'Another great job – transfer of Hi8 video from tape to digital media. No matter how small the task, Colin excels through efficient service always offering helpful advice and options. Kind regards,Richard' Video8/Hi8 tapes to DV-AVI files. 06.11.13

"Hi Colin, I've received and checked all the discs and hard drive. They are all fine. Thank you SO much for all your hard work. You've done an excellent job. I know it was a lot of tapes but you've produced a lovely series of discs. I would recommend tour services to anyone. Speedy, excellent quality and plenty of communication. Thanks so much Best wishesNick" Video8 tapes to both DVD and DV-AVI files on hard disk. 31.10.13

" I also wanted you to know how much I've appreciated your help, your professionalism and the excellent job you have done with my video media. I'm thrilled to have the files on digital now and you've made the whole process easy and worry-free. I will definitely be recommending you to friends and family! Thanks so much,~Laura" Video8 and VHS tapes to DV-AVI files on hard disk. 26.10.13

" I am a repeat customer and each time I have been extremely happy with both the quality and speed of service. I always feel I have left my memories in trustworthy and professional hands. Cosi" Video8 tapes to video files for Mac. 26.06.13

"I shipped 23 hi-8 tapes and 20 Mini DV tapes along with a 2Tb harddrive to put the videofiles on, from Norway to this company in England. I took the chance... Imagine sending THE most precious and valuable family memories you an think of, with no backup at hand(I did'nt have a copy at home), abroad to a foreign company... Wow.. Breathtaking! I was truly nervous. The result proved me wrong.
Communication beforehand was excellent. There were E-mails back and forth, clarifying all sorts of questions I had. Can we ask for more? No!
I got a message stating that the tapes were runnig now, and my harddrive with all the data on it, was shipped immediately aferwards. Can we ask for more? No!
What about the quality? I did'nt expect too much from these 18 year old tapes, but guess what, I was surprised by the quality. I got more than expected. The economy in this project... Well... My time is valuable, and all the hazzle Iv've already had trying to capture this footage... Man... I wish I knew about video99 before I tried doing it myself. Value for money is unbeatable, especially if compared with with overall quality of the work. I am senior consultant within the CAD business, and I expected to be able to do this myself. I have never in my life been more beaten up professionally. Hat's off.. I updated my Facebook status with this story, and my friends immediately hit me with lots of questions. This company can expect more tapes from Norway. Thanks for saving my precious family memories, I got misty eyes looking through my footage, and it was embarrassing having my wife and teenagers around. regards Tor" Hi8 tapes to video files for customer in Norway, 13.06.13

"Colin - your advice on what to do was invaluable, your many communications clear and welcome and the production was swift. 10 out of 10 for expertise and all round service! Chris" Video8 tapes to DVD, 04.06.13
"Hi Colin Got the hard drive today and must say it's great to see the videos again. We have not seen most of this footage for over ten years and spent all afternoon going through the video files. Thanks for recovering so many of the tapes recorded with the faulty camcorder. I have another hard drive already to make a backup as you suggested. Once again, thank you for going the extra mile and keeping me informed of progress, your service is excellent and I will recommend video99 to my friends. Regards Nick" Video8 tapes to hard disk. Several had been recorded on a camcorder which was out of alignment, so I set up a player to "match" the defective recordings and so recover the tapes which would otherwise have been lost. 23.05.13

"Thank you very much for your fantanstic service. It was great that you kept me informed throughout the whole process and I was pleasantly surprised how quickly my DVD's arrived in the post. I shall definately be using your service again and recommending you to family and friends. All the best. Malik" Video8 to DVD with extra copies, 24.04.13

"I happened to come across Video99 via a well known search engine and was encouraged to make use of their services as a result of reading the testimonials left by previous customers. I am extremely glad that I did. The owner 'Colin McCormick' could not have been any more helpful or professional with my request which was to transfer 10 Video 8 tapes to DVD format. He also transferred the content of the old tapes onto DV-AVI files which will allow me to edit the content at some stage in the future. The entire process, including postage both ways, was completed in a matter of days and the end result was absolutely fantastic. I would certainly recommend Video99 to anyone seeking an efficient and quality service. Len" 19.04.13

" For quite a few years I'd been worrying about what to do about a precious collection of family videos. I wanted to get them onto DVD, but did not have the equipment or skill to do the best job. Some of them were showing signs of age or had issues such as cross colour or Hanover bars which needed specialist equipment. Additionally, I had the usual concerns about treasured tapes getting lost in the post or damaged or destroyed by an incompetant employee. As my tapes were Video 8 I was also limited since many video transfer sevrices didn't offer this option. I stumbled upon Colin and decided to give video99 a try. I was immediately impressed by his enthusiasm for the subject and his knowledge of, and ability to deal with, a vast number of different tape and video formats. Colin has now transfered a number of tapes for me. Each one comes out on DVD with far better quality than I could have expected and his charges are very reasonable. Despite a heavy workload, Colin appears to take a great deal of care over the process and a lot of pride in doing a good job. In all, a truly excellent service that I wouldn't hestitate to recommend unreservedly; and have done so. If only there were more companies out there like this. Robin." 01.02.13

"I have now had an opportunity to review the Hi8 video you transferred for me. I am delighted with the result. Overall you have provided an excellent service.It was clear and authoritative throughout. The associated reassurance was really important given that I was entrusting you with the only footage of family members and events. I would hesitatingly recommend you to anybody with a similar requirement. Nicholas " Video8 tapes to DV-AVI files for editing on a Mac. 26.01.13

"I have been very impressed by the speed and professionalism of your service. It's only 4 days since I posted my 10 tapes to you and I now have more than 13 hours of video on my computer. You have answered my questions and kept me informed at every stage. Happy to recommend you to friends and family. Many Thanks,John" Video8 tapes to DV-AVI files on hard disk 08.01.13

"Great, efficient service, highly recommended. Thank you! Ros" Video8 to DVD 23.12.12

"We were very pleased with the service we were provided. We had 12 Video8 tapes transcribed to DVD and all were returned in excellent condition for an excellent price. We would definitely recommend Video99's services to friends and family." - Mr & Mrs Whitehead. 07.12.12

"Colin,Please accept my thanks for the excellent quality of the DVD's that you produced from my 20 year-old analogue Hi8 tape.The service you provided was personal, very quick, high quality and at a cheap price - I cannot fault it. It is such a refreshing change to get such personal service these days. I have already recommended you to my work colleagues and wish you well in an endeavour where you obviously enjoy pleasing your customers. Regards, Mike" Hi8 tape to DVD and DV-AVI file on DVD-Rom. 05.12.12

"The transfers were great quality and the service first class. [Colin/Video99] was really friendly and responsive via email and the turnaround time could not have been faster. ThanksStu" Video8 tapes to DVD 17.09.12

"A great service with a quick response. Very reasonably priced for what amounts to a very professional service. I would highly recommended Video99 forall your audio and video transfer needs. Shaun in Sandbach" Video8 to DVD, 30.06.12

"Hi Colin, DVD's have arrived safely and I am very happy with them . I was pleasantly surprised by the quality of the PAL recordings from 1991 – they are excellent considering they are 21 years old! I was very impressed by your prompt service, quality of the transfers and the reasonable price - I will definitely recommend you to my family and friends.Thanks again for all your help. Regards, Rob" Number of NTSC (USA television system) Video8 tapes to PAL DVDs. 01.04.12

By way of a testimonial, I have to say that it is extremely rare to find such a prompt, efficient and yet very personal service as yours. I would not hesitate to recommend you unconditionally and it has been a pleasure to deal with you. Again, sincere thanks
Peter" Video8 to DVD, 09.02.12

"Hi, Colin just to let you know that I was very pleased with the quality and speed of the work you did for me. The Video and Video 8 tapes that you converted for me onto my external Hard Drive turned out better than I could have hoped for. Thank You Cecil" 28.01.12

"I used Colin @ Video99 to transfer my precious Video 8 tapes, documenting my daughters early years, to DVD. He provided reassuring guidance, and a friendly & prompt service. The DVDs were with me in only a few days and the original tapes also promptly returned. I can really recommend him. Lynette " 19.01.12

"Thank you Colin, DVDs all received safe and sound, and you've done a great job with them. I had waited years and years to get them converted, because I was waiting to find someone I could trust with what are, to us, priceless tapes. The moment I saw your website I knew that you were that person…and so it has proved! Thanks a million…more tapes will be sent soon. David" Video8 tapes to DVD 14.12.11

"Unfortunately it's words are inadequate in expressing my genuine gratitude to you for the service that is beyond measure, I did recently in a idle sort of way just now look at similar services (your competitors if you like..) and I can say if had not found your website, I do not think I could placed my trust in these other companies (talk about shooting yourself in the foot!!!, as after all these are 15+ year old obsolete Hi 8 tapes we are talking about…) – anyway I can only echo others very positive experiences , and the only way I can thank you is by whole heartily recommending your service, my motley assortment of 19 Hi 8 cassettes were convert to DVD, from posting to you on Saturday, to receiving on Thursday, very speedy, however for me more important than speed was your communication, you rapidly responded to each and every email query (not matter how trivial or silly) with great care, insight and knowledge . Mr. Hayer" 18.11.11

" I have been thinking for some time about converting all my home movie tapes to a format for my PC but found most companies somewhat impersonal, expensive and I had doubts about trusting my precious family memories with a stranger. You do not have to have any such doubts with Colin - he is a gentleman who is as good as his word. My films were converted and returned promptly and communication was excellent. It is such a joy to have easy access to all those home movies. Colin did a great job at a reasonable price and it has made my family very happy ..... thank you!' regards Mike" VHS, Video8 and minidv tapes transferred to DV-AVI files on customer's hard disk. 06.10.11

"I have lots of camcorder tapes but have been reticent about letting anyone convert them to DVD. I had assumed that no-one else would appreciate their sentimental value and that they might go missing or be damaged in some way. When I found Video99's website and contacted Colin I felt I had found a company with the personal touch who would listen to my specific requirements and who could be trusted with my treasured possesions. I sent two tapes on Wednesday and by Thursday had received confirmation of their safe receipt followed by e-mailed copies of the box covers. The completed DVD's were received on Saturday morning and the quality is excellent. I now intend to use Colin's services to convert more of my tapes and would strongly recommend him to anyone." Video8 tapes to DVD, 17.07.11
"Colin's service is excent, I contacted him on a Saturday regarding some Hi8 tapes in long play that I could not get converted to DVD anywhere. I posted them to Colin on the Monday and received them back on the Thursday, excellent quality of my very precious memories all on DVD. Once again thank you Colin 15/07/2011"
"Colin - DVDs have arrived safe and sound and in perfect working order. You've managed to do in a couple of days something I've beeen trying 10 years to resolve - a friendly, professional and highly efficient service. I'll definitely recommend it to friends. Thanks once again. Peter" 07.07.11 Several Video8 tapes to DVD.
"Very impressed with the service ~ high quality recordings from Hi8 tapes to DVDs, quick and really efficient. Highly recommended. Big thank-you Colin for producing professional quality DVDs from tapes that had been 'lost' for 18 years. Triggered some long forgotten memories and captured them forever. Can't thank you enough. Simon Hadman, Hampshire" Hi8 to DVD, 03.07.11
"You provided a very safe pair of hands for our precious tapes. Your service was incredibly efficient and we appreciated being kept in good contact. It has been lovely to see the old footage on our laptops. Thank you very much. J. King, Bristol" 7 Video8 tapes to DVD, 19.06.11
"Many thanks for an excellent and highly professional job, Colin. I am extremely impressed with the speed, quality and cost of the service and I'll definitely be passing on your details to all my friends and family. I would have absolutely no qualms about trusting my precious filmed memories to your care again. I'd also like to say what a pleasure it has been to deal with you. Your responses have been unfaillingly courteous, helpful and timely - if only every business treated its customers this way! Best wishes - and thanks again, Perry" Video8 to DVD, 14.06.11
"Hello Colin The tapes arrived yesterday and today I can confirm all is well. Many thanks for your excellent service, At was a little unsure whether to send these precious memorys to unknown destination, but your first e mail gave me the confidence to proceed. You have informed me of progress continually through the process and have managed to organise the timeline of the five Video8 tapes which had very little id or markings, perfectly. it was a joy to watch the 5 DVD's you created, bringing back many precious memories, which previously were on unplayable tapes, stored in a drawer for 10 plus years. I would recommend anyone who has old Video8 tapes that are full of memorise, to use your service to permanently convert them onto a DVD format ensuring the recording are preserved forever. Andy" 06.05.11
"VERY FAST & EFFICIENT SERVICE WITH EXCELLENT COMMUNICATION. WILL RECOMMEND TO FRIENDS AND FAMILY Stuart" 30.04.11, Video8 tapes to DVD
"Colin, Thank you for the DVD's that arrived this morning. Some of the images on them are a great suprise...........thank you again. I am very happy with the DVDs and think that your service is second to none. I certainly will use video99.co.uk again. Much appreciated, Martyn" Digital8 tapes to DVD. 19.04.11
"DVDs are fantastic, Colin was very helpful as I wasn't sure what was on my Video8 tapes or even if they were Video8! He also managed to turn them round very quickly Thank you very much, I shall definitely use Video99 again. Louise." Mixed Video8 and Digital8 recordings to DVD, 22.03.11
"Colin, thanks for the excellent results from our video 8 tapes. Your efforts to salvage footage from our tapes that had been folded over by a defective camera have ensured our family memories will be treasured forever. The quality of the DVDs are outstanding and we thank you for the time and effort you expended to ensure you obtained the best results. I will certainly recommend you to all my friends and family. Regards Mick" Damaged Video8 tapes recovered. 20.02.11
"Both the overall service, and the particular help given by Colin, were excellent. I wholeheartedly recommend video99. Ann" Video8 tape to DVD, 31.01.11
"We found a mixture of family betamax and video 8 tapes, from 1986 to 1998 and contacted Colin McCormick of Video 99 to enquire as to how best convert them to dvd. We were offered excellent advice and we soon realised that we were in good hands. Our tapes were soon converted onto dvd's in optimum resolution and they had been put into chronological order (not an easy task) and well labelled. The turnaround time was extremely prompt and all carried out for what we felt was a very fair price. We will be using Video 99 again in the future and would certainly have no hesitation in recommending this service. Jeff" 04.01.11
"Colin, Thank you for the return of the disk, very pleased with the quality and pleasantly surprised that the turnaround was so fast, much less that the time quoted, what a lovely change from being let down. Can you please arrange to send the tapes back to me, next week. Once again, many thanks and thank you for the great service. Anthony" 11.12.10, Video8 tapes to DV-AVI files on USB drive for Mac editing.
"Thank you very much for your prompt, virtually return of post service, in converting my ten video 8 tapes which I was was otherwise unable to view on my defunct camcorder. My wife and I have spent some time watching the DVDs and recalling all the memories dating back to the early 90s. The DVDs work fine on both my DVD player connected to our TV and on my computer. It has all been well worthwhile making the modest expenditure." 19.11.10
"Colin, thank you for expert advice and fast service in transferring our Hi8 video tapes onto DVD. The playback quality of the DVDs are outstanding, considering the tapes were over 10 years old. We would recommend your services to anyone wanting to transfer video tape to DVD. Thanks again. Ian" Video8 to DVD 27.10.2010
"Just a quick note to say that all is fine and we are having fun remembering old times. Service and speed of service excellent. Will happily recommend you and certainly use you again regards Tom" Video8 to DVD. 24.10.10
"I meant to get back to you - to thank you for the hard disc - the results look great! Special thanks for your close attention to detail, the quick communication exchanges & attentive service! Kind regards Martin" Video8 tapes to hard disk. 08.10.10
"I would like to say,how please I am with the friendly advice and the great service I received from you.My films were sent to you and the DVD'S returned all in four days,and I would certainly recommend your company to my friends and family.in fact to anyone.I would definitely use you again,should the need arise.Again so many thanks to you. Sandra" Collection of Video8 tapes put to DVD, 22.09.10
"Colin All the DVDs play very well thank you. As you say, you have done a great job with the damaged tapes. My Mrs is delighted. Kind regards David" 18 Video8 tapes, some which would not play on a normal camcorder, all recovered to DVD. 12.09.10
"Absolutely first class service. I was stuck after frankly appalling service from Jessops, so went home to research home transfers (video8 to DVD) online. Within an hour or so of sending a rather personalised, specific requirement to video99, Colin emailed back confirming he could cover the request and was very helpful. Once I had sent the tapes I had the DVD back amazingly quickly and the originals tapes a couple of days later. Brilliant service and would use again without doubt. Thanks again Adrian" Selected segments from Video8 tapes put onto DVD. 11.08.10
"Exactly the way doing business should be - quick, efficient and hassle-free! Highly recommended service. Thank you. Angie" VHS and Hi8 tapes to DVD. 23.07.10
"Video 99 provided an excellent 1st class service from my first contact to receiving my old home videos on DVD's. I will definitely use them again and have recommended them to friends and family. Sinead" Video8 to DVD. 22.07.10
"I just wanted to thank you so much for copying my Video 8 tapes to discs. It was such a surprise after all these years to be able to sit and watch things we had long forgotten about. I was totally amazed at how well they came out, having sat in a dusty cupboard for years I really thought anything on them would be lost. I have uploaded them on to my computer and also to a spare hard drive so will have them, hopefully, forever. Thank you again for your very professional, friendly and efficient service. I would recommend your services to anybody in need. Best Regards Sandra. Video8 tapes to DVD. 22.07.10
"Colin Just to let you know the Video8 tapes arrived safely back today. Thanks so much. I've run out of words to express how much I appreciate your service, so feel free to use on your website any of my comments in this, or previous emails, as an endorsement of your service. Awesome. Thank you. Good luck with the possible future move. Richard" Video8 to DVD, 06.07.10
"Hi Colin, Got the DVD's. Fantastic. Thank you very much. Just what we wanted. The menu makes it look really good and easy to use. Cheers, James" Digital8 tape to Deluxe Menu DVD. 21.06.10
"Video99 provides a super quick and personal service at a fraction of high street costs. Colin transferred 10 of our Hi8 home videos to DVD and we can at last relive these happy memories. I strongly recommend. Jeremy" Video8 tapes to DVD following customer's special requests. 24.05.10
"Colin Received the two DVDs yesterday and we watched them as a family during the evening. They are fantastic; thank you so much. There's a load of stuff on them we'd forgotten about. I've got around six others which – if that's ok – I'll send over the coming weeks and months. I'm inclined also to send the tapes that [another transfer business] transferred, as the DVDs they sent aren't anything to write home about." I've heard a lot about that other business. Video8 and VHS-C tapes to DVD, 12.03.10.
"Colin The DVD's arrived safely yesterday morning. I cant believe that I posted the 6 tapes to you on a Saturday morning and received the completed DVD's back in the post on the following Friday morning. The quality is excellent and they all play just fine on both my DVD player and on my computer. Thank-you so much. I'd like to thank-you for your excellent customer service - such a rarity these days. It was great to have the progress updates by e-mail - very reassuring. I have visions of you in a little workshop piled high with exotic electrical equipment and computers :-)" I've been rumbled. Indeed I do have a little workshop piled high with exotic equipment! But there's much more equipment than my small workshop will hold. Video8 tapes to DVD, 20.02.10
"Colin, The DVDs have arrived safely and I'm very pleased with them. Thanks for the prompt service. I especially like the way you did the covers with snapshots of the videos. Regards, Mark" Three Video8 tapes to Deluxe Menu DVDs with colour printed boxes.
"I shopped around online for ages, looking for someone to convert a load of video8 tapes to DVD. The prices being quoted were crazy. Then I discovered video99 and was amazed by how cheap they were – but then worried about what the quality would be like. I needn't have worried. I have to say that this company is one of the few these days to offer brilliant customer service, excellent quality output and at incredibly cheap prices. Can't rate them highly enough and will certainly use them again when I have more tapes. Sue" Quantity of Video8 tapes transferred to DVD. 14.01.10
For older testimonials, hundreds of them, see the archive of testimonials.
---
Can I play Video8 or Hi8 tapes on my Digital8 camcorder? Which Digital 8 camcorders play Video8 or Hi8 tapes?

Which Digital8 camcorders support analogue Video8 or Hi8 playback? I've been asked which Digital8 camcorders play Video8 or Hi8 tapes. Most, but not all, Sony Digital8 camcorders can also play older analogue Video8 or Hi8 recordings. Here is a list I have put together from information collated from user manuals. Note that the European models have an E after the model number, whereas NTSC market models do not, but otherwise the features are likely to be similar. The DCR-TRV350 appears not to have been sold in Europe. Many Sony European PAL models such as the DCR-TV120E which support analogue playback, also support NTSC tape playback provided the tape was recorded in SP (Standard Play) speed. They do not play LP (Long Play) NTSC recordings, and note that some such as the DCR-TRV310E do not support any analogue NTSC playback. The list is supplied as-is with no responsibility for errors, and is (c) copyright video99, 2011-2013.
| | |
| --- | --- |
| Camcorder Model (Sony unless stated) | Hi8/Video8 playback? |
| DCR-TRV110E | yes |
| DCR-TRV120E | yes |
| DCR-TRV125E | yes |
| DCR-TRV130E | no |
| DCR-TRV140E | no |
| DCR-TRV145E | no |
| DCR-TRV147E | no |
| DCR-TRV210E | yes |
| DCR-TRV230E | yes |
| DCR-TRV235E | yes |
| DCR-TRV238E | yes |
| DCR-TRV239E | yes |
| DCR-TRV240E | yes |
| DCR-TRV241E | yes |
| DCR-TRV245E | no |
| DCR-TRV250E | no |
| DCR-TRV255E | no |
| DCR-TRV265E | no |
| DCR-TRV270E | no |
| DCR-TRV285E | no |
| DCR-TRV310E | yes |
| DCR-TRV320E | yes |
| DCR-TRV325E | yes |
| DCR-TRV330E | yes |
| DCR-TRV340E | yes |
| DCR-TRV341E | yes |
| DCR-TRV345E | yes |
| DCR-TRV350 | yes |
| DCR-TRV355E | yes |
| DCR-TRV356E | yes |
| DCR-TRV410E | yes |
| DCR-TRV420E | yes |
| DCR-TRV430E | yes |
| DCR-TRV460E | yes |
| DCR-TRV461E | yes |
| DCR-TRV480E | yes |
| DCR-TRV510E | yes |
| DCR-TRV520E | yes |
| DCR-TRV530E | yes |
| DCR-TRV620E | yes |
| DCR-TRV720E | yes |
| DCR-TRV725E | yes |
| DCR-TRV730E | yes |
| DCR-TRV738E | yes |
| DCR-TRV740E | yes |
| DCR-TRV820E | yes |
| DCR-TRV828E | yes |
| DCR-TRV830E | yes |
| DCR-TR7000E | yes |
| DCR-TR7100E | yes |
| DCR-TR8000E | yes |
| DCR-TR8100E | yes |
| Hitachi VM-D865LE | yes |
| Hitachi VM-D875LE | yes |
| Hitachi VM-D975LE | yes |
| (c) Copyright 2011: | video99.co.uk |
If you are interested in Video8 or Hi8 video recorders, join the free Yahoo group.
---
If you have any questions, just email

me and I'll reply promptly. Also see the video99.co.uk Questions and Answers (FAQ) All material on this web site is copyright www.video99.co.uk and www.colin99.co.uk though trade marks remain with the manufacturers.
Last updated 17 November 2013
Visitors (counting since Nov'05):
---