Betamax to DVD transfers from video99.co.uk

The most affordable and flexible Betamax transfers in the UK. To DVD or video files.

A personal service by an engineer with 20 years of video experience.

Cost to DVD just £13 for up to 2:30 hours, extra copies £3.50 or less. Discounts for quantity. Lowest prices in the UK but the highest quality.
---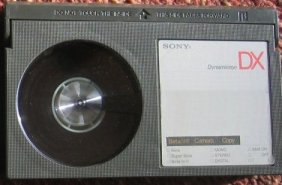 A typical Beta (Betamax) tape
You may have seen my Beta video pages already. From that arose a steady stream of requests to transfer Beta (Betamax) tapes to DVD. Many early portable recorders with cameras were Beta. The world's first camcorders were all of the Beta format, so there are a wealth of precious memories on Beta tapes. For almost 10 years now, since the earliest DVD recording equipment was available, I've been making people happy by carrying out the highest quality Betamax to DVD transfers. Beta can give significantly better results than VHS, and my equipment gets the very best from your tapes. Video99.co.uk has a wealth of expertise in Betamax to DVD transfers and has the very best equipment.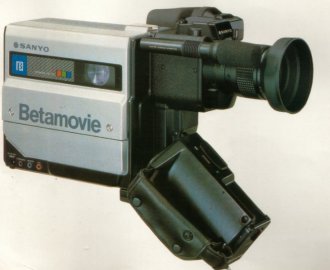 The world's first camcorders were Beta.

I can transfer all normal domestic Beta (Betamax) tapes to DVD, with the best possible picture quality. If your Beta tapes may be recorded with HiFi stereo BetaHiFi sound, let me know and I'll be able to use this to get brilliant sound quality too. As well as UK recorded tapes, I can do NTSC and SECAM television system transfers for Beta tapes recorded on equipment from anywhere in the world.
I offer several services:
Basic Menu, £13: Up to 2:30 hours on one DVD, with top quality pictures and sound. The menus are limited to just a title, but you get a chapter point every 5 minutes so it is easy to move around the DVD. Extra copies of these DVDs cost just £3.50 each and are recommended.
Deluxe Menu £18: Up to 1:30 hours on one DVD, with top quality pictures and sound. Nice menu icons showing what is on that part of the recording, and if you email me with titles I will put them on the DVD for you too. I place the chapter breaks at points of interest or new recordings. These menus look like professionally recorded DVD films. Extra copies are very cheap, just £2.50 each, and well worth taking.
Also available, Betamax to DV-AVI files for your own computer editing. For 10 hours or more the cost is just £9 per hour. Just email me for details.
You might find this useful, it gives you a guide of how long each type of Beta (Betamax) tape runs for.
Tape type

Running times (maximum)

for PAL

Beta L830

3 hours and 35 minutes (215 min)

Beta L750

3 hours and 15 minutes (195 min)

Beta L500

2 hours and 10 minutes (130 min)

Beta L370 (unusual)

1 hour and 38 minutes(98 min)

Beta L250

1 hours and 5 minutes (65 min)
Probably uniquely within the UK, video99 also supports the NTSC Beta I recording speed, as well as the more popular Beta II and Beta III speeds used with the NTSC television system for international recordings. Also handled are the quite rare SECAM recordings made on French, Middle Eastern and other foreign equipment. What this means is that if you have a Betamax tape recorded on equipment outside the UK, video99 is the only transfer service who can definitely handle your recording and will not let you down. The first NTSC Beta tape will be £15 rather than £13, due to setup time, but any subsequent tapes are £13 for the Basic Menu service.

Betamax to DVD transfer; the highest quality service in the UK.
---
How to request a Betamax video transfer.
We have a new and easy order page, just select what kind of tapes you have and supply your details. If for any reason you get stuck filling out the form, just email me and I'll help you personally. It's a personal service I offer, not like some of the big video editing houses. I understand that in many cases you will not be able to tell how much material is on the original recordings, I will give you an estimate of costs initally and we can deal with payment once completed. Some models of Betamax machine may be taken as part or full payment for Beta transfers, so if you have one to dispose of, do mention it to me.
In days gone by, customers usually took DVDs which would be £13 for up to 2.5 hours. However these days, nearly all customers prefer video files on a USB stick (for perhaps one tape) or on a hard disk (more than one tape), which cost around £9/hour assuming 10+ hours. I would never recommend taking DVDs unless there is some special reason you require those, since video files are higher quality, easier to edit, share and back up, and so a much better archive format.
When you receive your tapes back, you may notice that the record tabs have been removed. The first thing I do with a tape is make sure that it cannot be recorded on, so protecting your important recordings.
Note that some studio formats Betacam and Digital Betacam tapes look very similar to domestic Betamax tapes, but they require different equipment and do cost more. We also support PCM digital audio recordings from Beta tapes.

Please read our Terms and Conditions, which form part of the agreement.
---
More interesting reading on the Beta (Betamax) format.
See my main Beta in the UK web page too.
I now have a useful page on how to service Sanyo Beta video recorders, fitting reel idlers and belts to them, and where to source parts. I have also scanned in the entire service manual (28MB download) for the Sanyo VTC-NX100 front-loading Beta video recorder, and this is helpful for servicing most Sanyo models.
Urban myths, true or false.
Beta is better than VHS: TRUE. Due to a higher video write speed on Beta, it is true that a good Beta video recorder will outperform any VHS machine in certain respects, particularly bandwidth (often quoted as vertical lines, nothing to do with 625 lines on the UK PAL TV system), and video noise. Some VHS models made a real effort to overcome these weaknesses but were always struggling with a fundamentally simpler and cheaper format. On the other hand a good SVHS recorder will outperform any normal Beta recorder in all important aspects. The only advantages of VHS over Beta are a slightly higher linear tape speed which gives a marginally better mono sound track on VHS, and a slightly longer playing time using similar tape technology of 4 hours as opposed to

3 hours and 35 minutes on Beta. (I know 5 hour

VHS

tapes exist, and if the same tape were loaded in a

Beta tape, you would get a tape which should run for around 4 hours 30 mins.) As well as improved picture quality, another advantage of Beta over VHS is much smaller cassettes. A minor technical advantage is also that the autostop system used for Beta is a very reliable magnetic sensor, whereas VHS

used a cumbersome optical tape-end sensor system which caused a great many breakdowns is early days in particular..

There used to be a

Beta to VHS adaptor: FALSE. This is a magnificent gadget that you load a Beta tape into, then pop into a VHS recorder and you can play the tape. I like this myth because people still write to tell me that it is true, and that I don't know what I'm talking about when I say: NO SUCH ADAPTOR COULD EVER HAVE EXISTED! I'm glad we've cleared that up.
Sony lost a fortune on the Beta format. FALSE. Millions of Beta format machines were sold and the professional Betacam version has been a huge success in TV studios the world over. In economic terms, Sony will consider the Beta format to be one of their biggest ever product lines.
Sanyo and Sony are the same company. FALSE. Though the two companies have often co-operated technically, and both backed the Beta format. The Sanyo Betamovie camcorders where rebadged Sony units, but this is probably the only occasion Sanyo used Sony equipment. A look inside a Sanyo VTC-M40 Beta Hifi video recorder will show a large amount of the Hifi electronics are sourced by Sony. Sanyo also backed Video8 rather than VHS-C in the later analogue camcorder days, but as time went on, virtually all other manufacturers dropped VHS-C in favour of Video8 too. The two companies have backed differing high density DVD formats, which is a sign that they may be growing apart. Sanyo and Fisher ARE the same company.
Beta came out before VHS: NOT REALLY. In the UK, both formats arrived at pretty well the same time, and unlike in the USA, they both had similar running times from the start.
Beta was more expensive than VHS: NOT REALLY. Sony machines tended to be more expensive than Sanyo. The VTC5150 from Sanyo was £239.95 in Comet in 1984, a price which compared favourably with any VHS models of the time, and making it a best-seller.
Beta tapes are smaller than VHS: TRUE. Beta tapes are significantly smaller in length and width, but are exactly the same depth as VHS

tapes.

Beta tapes run for less time than VHS because the tape runs faster to get a better picture: FALSE.

I've seen this drivel written on a web site which is supposed to be a encyclopedia. The only reason the longest

Beta tapes run for less slightly time than equivalent VHS because they have a lot less tape loaded in them, hence they are much smaller and lighter. In fact Beta tape runs much SLOWER than VHS and gets a higher resolution of picture. How? It's complicated, but the video writing speed is faster on Beta due to a carefully designed head wrap system. In effect the Beta format packs more information onto less tape.
Beta machines are larger than VHS: FALSE. Some early Beta machines were larger than similar vintage VHS

models

, but later models were of similar size or even smaller than typical VHS

equipment of the same vintage. The Sony SL-F30 for example, is just 8cm deep. Sony

Beta

machines are usually heavier than other makes of either format.

TV studios use Betamax. FALSE. They use Betacam

which is not the same as domestic

Beta (Betamax).

The blank tapes are sometimes compatible though. You CANNOT play domestic

Beta tapes on Betacam equipment, even though they will physically fit, you will get fast sound and no picture. I know, I've tried it! I can also transfer Betacam and BetacamSP and Digital Betacam studio tapes to DVD and video files.
Here is a BBC pamphlet from arund 1984 showing new releases on VHS, Beta, V2000 and Laserdisc.
---
TESTIMONIALS
We are listed on the independent Freeindex service, most customers now put reviews there.
Below are some of the testimonials that people have instead just sent to me by email.
"Colin at Video99 brought my very old and worn Betamax tape back to life for me and onto a flash drive in no time. I had forgotten the details of what was on the tape but nothing was too much trouble for Colin as he sorted out various problems and found the bits I needed. I would highly recommend this speedy service. All the best, Elspeth" 15.08.17

"Both myself and family would like to thank you from the bottom of our hears for a truly fantastic job well done on transferring all films from both the mini DV cassettes and solitary Beta to DVD and DV-AVI which was nearly as old as me. We have just sat down to watch the films and it was a quite emotional experience being able to view our treasured family recordings from years gone by. A thoroughly proffessional service and we can,t thank you enough. We just have to make time and get the rest of family to come and watch the films. All the best Colin and I would not hesitate to recommend you to my friends & family should they ever require such a service. All the bestSandy" Beta and mnidv tapes to hard disk and DVDs. 23.01.17

"I was impressed with the immediate response to my enquiry from your web page and your courteous and personal contact through email, also by the speed at which you returned the DVD and Betamax tape. I was delighted with the
result of the quality and would recommend your services. Many thanks. Dorothy" Beta to DVD 30.10.15

"Having found some old Betamax tapes at the back of a cupboard at home, I wanted to get them transferred to DVDs. The labels on the tapes said it was my brothers 1st Birthday and my Christening (which was in the 80's so I was eager to see them). Baring in mind I had never seen these videos before, I was really excited at the prospect of seeing them but also a bit cautious at sending them away knowing I could potentially lose some family videos. I'd been looking online for companies that could do the video transfers when I came across Colin's site Video99. It really stood out to me in terms of the Testimonials. There were so many of them and they were all complimentary to the service provided but also to the man behind the video conversions Colin. I thought I'd give this company a try. From the instant I sent the first email to Colin, he was in constant contact giving me plenty of information and options. The turnaround time from sending the videos, to getting them sent back to me was phenomenal. I was surprised at how quick he had done it. I've now been able to watch them and will surprise my parents with the videos at Christmas, thanks to Colin and Video99. If anyone is reading this and would like to get some videos transferred, then I would 100% recommend Video99! Again thank you for your service and helping me keep some treasured memories.Sel G. Beta tapes to DV-AVI files. 09.08.15.

"Colin, Received and everything is working ok. Thank you for being able to do it for me. Excellent service from the first email to the completion of the job. Very thorough and knowlegeable. First class service. Again very many thanksBarry" NTSC Betamax tape to PAL and NTSC video files on USB stick 06.06.15

"It has been absolutely fantastic dealing with Colin in converting my old beta tape to a video file and DVD. A true professional in every way. Excellent communication, speedy service and extremely high quality of work. There is no doubt I will recommend video99 to others. Thank you so much for your excellent work. I am very very pleased! Beverley" Beta to DVD and a DV-AVI file on USB stick. 24.02.15

"Dear Colin Thank you very much for the speedy return of the DVDs, which arrived yesterday (Friday). I was delighted to received them back so quickly, having only posted them to you on Wednesday. I have watched them and am extremely pleased with the results. I was incredibly impressed with the ease and efficiency of the process and would not hesitate to use your services again or recommend you to my friends and family. Thank you so much.Ed" Single Beta tape to DVD 29.11.14

"An excellent speedy service with plenty of good communication, advice on what I asked for and what I needed was greatly appreciated Jimbo." Beta tape to DVD, with just the important part selected out. 20.05.14

"Hello Colin. I am really pleased with the DVDs that arrived today. I have tried both and find that the pictures are sharp and clear. Excellent sound and excellent service. It felt as if my grandfather was sitting in the room with me.
Once again, a big thank you for your service. Please add this to any website that you have. Best wishes Jane" Beta to DVD with chapter points inserted as per customer's requirements. 18.03.13

""Hi Colin,I just wanted to say thank you for doing such a professional job on my wedding video and on the transfer of our reel to reel tape, the results were amazing. Treasured memories of family members now gone which we can pass on to our children . You are a true professional and a pleasure to deal with.Thanks Deirdre" Beta video to DVD and open reel audio tape to CDs. 08.11.13

"Just like to thank you for your professionalism and communication.Nice to have someone who knows his business and offers stunning customer service and a great price! Thoroughly recommend your services to anyone who wants old style top quality with promises always kept.Will certainly use you whenever I need a job well done. best wishesjohn" Beta tape put to DVD with edits to the content as requested by the customer. 27.10.13

"Hi Colin I am really thrilled with the DVD and with your very efficient service at a very reasonable cost. I inquired locally and the cost was double yours. I was going to give up but went on line and found your website, what luck! I am telling all my friends about you and hope that you have some more business from them. I will also add how quickly the DVDs were recorded and you kept me informed all the way. Once again thank you so much for your very professional service.Annette" VHS and Beta tapes to DVD. 19.09.13

"Received the disc today and it plays just fine. I'd like to thank you for a really top-notch service - competitively priced, efficient and with good communication. Feel free to quote me on your web-site! I will certainly recommend you to anyone I hear of who has tapes to transfer. Best regards,Nick" Single Beta tape to DVD. 12.09.13

"Your package arrived here, safely, yesterday (Friday) morning. The original Betamax cassettes (and inoperable player) had been collected from us, by courier, on Tuesday for delivery to you by Wednesday. You converted the material and restored it on DVD (including a duplicate) by Thursday. All these stages were accomplished, without delay or complication, after a preliminary enquiry - no more than six days ago. The result is a compilation of our daughter's daily routine; taking her first steps and sounding her first words at the age of just under ten months, in October 1987. The original recordings were captured in reduced lighting on an old, borrowed camera. Nonetheless, what we can now see (and hear) has a completely acceptable degree of brightness, clarity and fluency of movement. The events, from all those years ago, may last a mere thirteen minutes on today's flat screen - but that happy time in her life will be cherished for the rest of time in our life. As such, the achievement is beyond valuation. Thank you. Stephen & Julia" Beta to DVD, traded in a non-working machine. 18.08.13

"Thank you so much for copying our Betamax tapes to DVD so efficiently and quickly. The finished result is excellent and brings back many happy family memories from nearly thirty years ago. I especially appreciate the trouble you went to in order to use as few DVDs as possible. Paul " Beta tapes to DVDs,24.06.13.
"When I wanted to convert our nearly 30 years old betamax tape to DVD, I had to search on Google. I found a few impressive websites but the satisfaction ratings are not so high. Then I came across Video99 website and I was pleased to find it as the ratings are all high. I took a risk and emailed Colin who answered me back very quickly. His communication is very impressive and very prompt, answering all my questions. The tape was in such a state, he had to repair that in order to be able to watch. He asked my permission for that warning me for about the extra cost. His service is excellent. This tape is very precious to us bringing back all the memories of our childhood and thanks to Colin, we're able to enjoy this very emotional experience again. He even gives us a video file link which we can download onto our computer. I would highly recommend Colin to everyone who is thinking of DVD conversion from the old tapes. Myat" A very challenging NTSC Beta tape cleaned up and run to DVD and video file preview. 11.06.13

"DVD, memory stick and original Betamax arrived this morning . Thanks so much for swift service, great communication and quality transfer. Will be using your service again and again. Nic Ayling, TV Producer." 02.02.13 Beta tape to DV-AVI file.

"Colin, Many thanks for the DVD transfer you did for me from my old Betamax tape. It arrived yesterday and I am delighted with the result. Your service is excellent and I would certainly recommend you to other prospective clients. Professional job . Completely satisfied. Christopher,France" 10.01.13

"very efficient well-organised service, very pleased with the result from our old Beta tapes. Peter " Beta tapes to DV-AVI files for editing on a Mac. 12.10.12

"Hi Colin, Thank you for the prompt turn round, also, your high standard of customer care & communication would be hard to beat. An old Betamax tape saved to DVD, containing footage I never thought I'd clap eyes on again. But, after three decades of lying around in an old box full of junk, the images & sound have been brought back to vibrant life - delighted. I wouldn't hesitate in recommending Video99. Best regards, James 23.09.12" Beta tape to DVD.

"Hi Colin A quick note to let you know that the DVD's arrived and work perfectly. I would like to thank you for your prompt and efficient service. Not only did you recover the images from a 27-year old tape that we wrote off 20 years ago, you cleaned up and presented it in such a way that it is more conveneint and enjoyable than the original! 40 Minutes at the end of the tape turned out to be a never viewed (and long forgotten) priceless clip of my son's 1st birthday. I will recommend your services without hesitation. Kind RegardsAdrian" Beta to DVD for customer in Ireland 02.05.12

"Colin, I have reviewed the DVDs and they are all fine. Remember them like if it were last week.All I can say is that you have given a fantastic level of service with a fast turn around, considering I gave you 9 tapes to deal with. Some of the items were of over 30 years ago now, quite amazing. I now have to consider if I go again with some of the other tapes I still have. Once again Colin just like to say thanks for such a professional job done. RegardsIan" Beta to DVD 22.04.12

"Well, the DVD arrived on Saturday and what can I say?! The quality is amazing and it brought back such good memories - it was even a holiday that my nan and grandad came on (who sadly passed away a few years ago) so it was a real tear jerker! Thank you so much for your prompt turnaround, excellent communication and all round amazing service. I will definitely let you know if I find any other old Betamax tapes!" Beta to DVD 14.03.12

" Colin – thank you so so much for such a great service, and for being so accommodating. Your regular contact, and speed of response was second to none, and I have already forwarded your details to many of my friends! I had those old betamax videos for years, and always thought it would be a hassle to get them transferred to disc, and really expensive! The fact that you emailed me as soon as you received them, priced them up so quickly, and then got the discs to me within a week was just brilliant – my only regret is that I left it so long to do! And your prices are so much lower than any other company that I found – actually a third of what my local shop was going to charge! Thank you again!! Rebecca" 27.02.12

"Hi, My grandad has been dealing with you, and he emailed you before from this account regarding the american betamax conversion to uk dvd. He said that he was asked for some feedback on his experience in dealing with you. I can tell you that I spoke to him this morning and that he is absolutely over the moon, ecstatic! He was devastated when he thought he had recorded over his only working version of the tapes and that he had lost them forever. I have helped him from the start in searching for someone who could help him transfer the originals onto dvd for him, and we had almost given up after a long search. When he found you , it was our last hope and now he has recived the dvds, i havnt seen him happier in a long time. He said that the service was quick, and he felt he could trust you throughout , overall a excellent and very professional service. His words to me this morning when i asked him what exactly he wanted me to say to you in the email were, quite frankly i would go as far to say , to me he is the best person in the world right now! Thankyou, and i hope you continue to provide such a great service and your business is a success" NTSC Betamax tapes run to PAL DVDs, 13.02.12

"Dear Colin, I am really happy and do appreciate all the help in transferring my betamax tapes to dvd. Me and my husband could not believe we could watch again our wedding and our son's bday. All the updates that you've given me through email made me assured that I can TRUST you. Again many thanks to you, Colin. Thanks and regards,Leonora" Beta to DVD, 18.01.12

"Dear Colin Apologies for the late sending of this mail: the DVDs arrived on Wednesday - totally amazing, thank you so much for doing it so quickly. For what it's worth: you deliver an incredibly valuable service - and do so most professionally - and I think you can charge much more than you do. Many thanks and kind regards Esther" Beta to DVD, 04.11.11

"Colin, many thanks for the DVD that arrived safely yesterday. After being unable to find a local company to do a Betamax tape to DVD transfer, I was initially reluctant to send off my tape in the post. However I must say that I was delighted with the quality and speed of your service, being able to view the content of my fathers tape for the first time was a real pleasure as you know it contained material of great significance to our history and can now be seen by younger generations of the family." Beta to DVD, 14.08.11
"Colin The DVDs arrived today and I've just watched one of them. I'm amazed that your transferring of a 32 year old Betamax tape has come out so well, and it was wonderful to watch the programme for the first time sine the live broadcast in 1979! I'm extremely grateful to you for your expertise and the efficiency with which you transferred Betamax to DVD. Many thanks again Sue" 04.08.11
"I would definitely recommend your services to anyone requiring similar work - extraordinarily speedy, efficient and your customer services is next to none." Betamax tape repaired and run to DVD, 29.06.11
"We were delighted to receive the DVDs of material Colin had transferred from old Betamax tapes. It was amazing to see a young version of my husband what wonderful memories after 28 years he has changed a bit!!" Many thanks Colin we will certainly recommend you to anyone we know who wants to get material transferred. My husband is now searching through old VHS video tapes to see if any are worth transferring if we can't buy up to date versions - again some very young versions of people we know. Chris" 07.06.11
"Colin, I am not only very pleased with the results but also very impressed with how quickly you turned it all around. This recording is now upgraded to the digital era! Thanks, Jon" Wedding tape on Beta converted to DVD, completed same day, 05.05.11
"I have a 25 yo Betamax tape which contained a recording of a 30min TV programme. Some years ago I had it copied to VHS but the quality was poor. I sent the original Betamax tape to video99 and requested a conversion to DV-AVI format. I was given advice and regular emails throughout the process and received the new file and my original tape back within a week of posting it. Best of all the conversion was excellent and better than I expected. Cheers, Colin" Beta to DV-AVI files on DVD-Rom disks. 21.04.11
"Colin, Just a final word to thank you for all the help and advice that you have offered me.I received the beta videos today which brings to a conclusion a most enjoyable experience.For so often today ,the purchase of goods or services falls way below expectation and one approaches this with a certain amount of trepidation.My only knowledge of you was from your website,and I was trusting you with videos which were almost thirty years old and as you now know were irreplaceable.>From start to finish you have restored my faith in human nature.Just like that well known product ,you do exactly what you say on the tin. Once again many thanks, Regards, Stuart" Beta to DVD, 29.03.11
"Hi Colin, I would like to take this opportunity to thank you for all your time and effort in completing my Betamax to DVD transfers, not to mention the good advice you gave me at the start. I wasn't expecting the quality to be great considering many are over 25 years old and were stored in a shed, but I'm pleased with what's come back and thank you for mending the one that was broken. Jenny" 41 Beta tapes run to DVD with extra copies.
"We found a mixture of family betamax and video 8 tapes, from 1986 to 1998 and contacted Colin McCormick of Video 99 to enquire as to how best convert them to dvd. We were offered excellent advice and we soon realised that we were in good hands. Our tapes were soon converted onto dvd's in optimum resolution and they had been put into chronological order (not an easy task) and well labelled. The turnaround time was extremely prompt and all carried out for what we felt was a very fair price. We will be using Video 99 again in the future and would certainly have no hesitation in recommending this service. Jeff" 04.01.1
"Colin, I received the DVD`s today, and I am thrilled with them. The quality is actually quite good, I can remember one of the tapes was not so good when we used to play it. Thank you so much , it has brought back lots of happy memories, and was well worth every penny. Thank you again. Colette." Beta tapes to DVD 22.11.10
"The DVD arrived today - and it is excellent. I'm really pleased. Considering the tape has been lying in a dusty drawer for about 25 years, I'm really impressed at the quality of the footage. My starring role on Newsnight has been revitalised!" Beta to DVD 01.11.10
"I thought I'd never get to watch this drama again as it is not available on VHS video or DVD anywhere (believe me I've tried looking online). The picture and sound are a very professional quality. I recommend using video99 for any video transfer to dvd, especially if a player for the format of your film is no longer available. A great way for preserving those special memories. Thank you. Tanya" Beta to DVD 04.09.10
"Many thanks Colin the dvd arrived safe this morning,and plays fine on my equipment. My wife and i were very pleased with the outcome, as this video was taken so long ago in betamax format. I would recomend your work very highly. Thanks again Billy" 18.08.10
"Hi Colin DVD is great! Thanks for excellent service in super fast time. I have no hesitation recommending your services to anyone. Regards David" Beta to DVD 25.07.10
"I have just received the DVDs on to which you transferred my old Betamax video tape and I just wanted to say that I could not have been more impressed with the speed and efficiency with which you carried out my request. Your fee for your work was very reasonable, much less than I had expected to have to pay. I will certainly recommend your service to all my friends and colleagues. Thank you very much. Cheers, Terry" Beta to DVD, 22.07.10
"Hi Colin Just to let you know that the DVDs have arrived and the quality is very good. I am now happy for you to return the video. Many thanks for providing such an excellent service. You have kept me informed at each stage of the transfer from betamax to DVD, making suggestions along the way that I had not considered. Your rates are very competitive. I will be searching out other DVDs for transfer and will recommend you to family and friends Many thanks Eileen" Beta to DVD, 15.04.10
"Hi.colin thanks for doing those betamax to dvd transfers and audio tape transfers I am very pleased with the results.ray" Beta to DVD, cassette to CD. 31.03.10
"you run a great fast service with good communications and would recommend you to anyone. Thanks All the best Ron" Beta and Video8 tapes to DVD. 26.02.10
"Colin, Just a note to let you know that the DVD s arrived safely this morning. I have watched it, and am so pleased to see film clips of years gone by. It is priceless .Thank you so much for taking care and for excellent service Maggie" Single Beta tape to DVD, 02.02.10
"I found Colin to be extremely helpful and the service first rate. I received a DVD of some old Betamax footage within a few days of posting him the original tape, (which cost me half of what other websites were charging)! Many thanks Colin – I'll certainly recommend you to friends! Many thanks again, Tom" Beta to DVD, 14.12.09
"Colin at Video99 is a consummate professional, with very high standards. These include technical excellence and very good, helpful communications. Video99 did a first-class job for me and gave a special discount too." Quantity of Beta tapes to DV-AVI files on hard disk. 05.11.09
"Hi Colin The DVDs arrived promptly and my Dad has thoroughly enjoyed reminiscing over the contents. He feels there no need to return the original tape so just bin it if that is ok. We would like to thank you for your very quick, efficient and helpful service. If we need anything else transferred we will definitely be in touch. Thank you again. Chris" Very difficult (sticking) Beta tape, eventually found one machine which would play it and the results were quite good in the end. 09.10.09.
"Colin Fantastic service, and you can quote me on this.." NTSC Betamax tape to PAL DVD. 26.09.09
"Thanks very much for all your efforts in transferring the tapes for me. I particularly appreciated (a) the ability to have a quick conversation now and again to understand all the options and to ensure that I got exactly what I was looking for, and (b) the way you kept me fully informed as to progress. Turn round times were excellent and, if I ever discover any more tapes that I need transferring, I definitely will get in touch with you again! All the very best, Chris" Betamax tapes to Deluxe Menu DVDs and also DV-AVI video files on hard disk. 13.09.09
"Colin Very many thanks for the DVDs received safely today. I am most grateful to you for dealing with this so promptly. One of the sailors featured in the programme, was a great friend who we raced with for several years. He has recently died and we are attending his memorial service. I plan to give one copy to his sons - who also appear in the programme. Hence the urgency. I am so pleased with the quick turnaround. I would not hesitate to come to you again or recommend you. Regards, Victor" Urgent Beta to DVD transfer, turned around same day. 03.09.09
"Hi Colin I have received my DVD today and i was amazed at how well you had managed to copy the Betamax video as it 24years old. I am well impressed with it and would recommend you to anyone without hesitation. Kind Regards Pam" Beta and S-VHS tapes put to one DVD. 25.08.09
"Dear Colin, Received the DVDs today in good order,brought back a lot of cherished memories,thanks to your brilliant efforts I cant praise video99 highly enough,and to top it all the price was amazingly good, I would have no problem in recommending your good self and video99 to any one wanting that little bit more extra personal service,without a hyped-up price. Many many thanks. John" Betamax wedding tape to DVD. 20.08.09
"Dear Colin, I received the hard disk and the DVD's today and they are all playing great on my DVD player/TV as well as my Apple MacBook Pro. Thank you for such a prompt service - 5 days from Dublin to Plymouth and back again! I was afraid when our old betamax machine chewed the tape that we might have lost the footage, but thankfully you were able to bring us back to 1982 to see us as kids and a few loved ones since passed on! I won't hesitate to recommend you, even for doing it from Dublin as I did. I used An Post's 'courier post' service (which hands it over to FedEx in the UK) to make sure the tape got to you securely. It cost me over €40 just to send it but well worth it. Priceless camera footage." Beta to hard disj DV-AVI files and DVD, for customer from Ireland. 31.07.09
"Dear Colin, Thanks a lot for the DVDs - they are great quality and I am very impressed with the service. Thank you so much, Catherine" Five Beta tapes edited down to one DVD. 20.07.09.
"I was very pleased with the recordings made to DVD. From the original 25 year old beta tape I was not expecting too much, but the quality of the recordings made onto DVD were excellent. I was also impressed with your customer service throughout and that the whole process from my initial request to receiving my DVD copy was carried out within one week. I also found the Video99 website very helpful and informative. I would not hesitate in using your videotape to DVD transfer service again and would certainly recommend it to anyone else looking for a similar service. Best Regards, Chris" Beta recordings split up and assembled on two DVDs, so that individual recordings can be selected from the DVD menu screens. 11.07.09
"Dear Colin Thanks for the great service and brilliant communication regarding my order. There was absolute gold dust on the tape after all, and thanks to the effort and trouble you went to, you've rescued lots of nice memories from 27 years ago. Best of luck in all you do. Regards John" Single Beta tape to DVD. 23.06.09
"Hi Colin, Thanks for the DVDs which have all been distributed and which all work fine. Please return the tape when convenient and thanks for doing such an efficient job, which is much appreciated. Regards, Elaine" Betamax to DVD, 6 copies, with colour printed boxes. 16.06.09
"Hello Colin, It's arrived today, everything is great - all disks read good, ZIP unpacked properly, so you can delete the master files now. Good video quality, actually it's better than I expected from this tape. Thank you! Alex, Cyprus". The customer required Betamax to DV-AVI file transfer which I would normally do to hard disk, but with shipping costs from Cyprus we decided to use Winzip spanned file set on DVD-Rom disks. 27.05.09.
"I've now looked at the video, and it's fantastic. It loads in my editor fine, plays perfectly, and considering age & format etc picture seems fantastic. Offering hard drive files is a great service, and I'm impressed it's all been so easy. Once I've edited it down, added DVD menus and such my parents will be delighted. Thanks for such a great job, Paul" Betamax tape to USB hard drive DV-AVI file. 18.05.09
"First class job. You've rescued 25-year-old stuff I thought was lost forever. Many thanks." Betamax to DVD-Rom DV-AVI files for computer editing. Work was done by way of a swap for a non-working Sanyo VTC5000 Beta video recorder. 17.05.09.
"I would just like to say how pleased I was with your service, you make it a very personal experience and it is obvious you care for your customers and their precious recordings. I would not hesitate to use your service again and i would certainly recommend you to any one I know with similar requirements. Regards, Vince." Beta tape from abroad with mixed NTSC and PAL recordings, put to DVD. 15.05.09
"Hi Colin, Your DVD arrived safely this morning, I am delighted with the results. Really excellent job as well as your great communications and help. You provided exactly everything to my requests and your suggestions were of great assistance in deciding the final product and the unnecessary inclusion of faulty original material. I will certainly recommend you to my friends. Many, many thanks again. Cheers Fred" Single Beta tape to DVD, selected just the part of interest. 30.03.09.
"Hi Colin I don't know what to say . Fantastic job, we haven't seen the tape for over twenty years . You made my wife cry. You are a super star Thanks Mike" Quite poor Beta tape recovered in good quality. 19.03.09
"Colin; Just to let you know I've received my DVD's this morning and I am very happy with them. I mean, the video is actually "21 years old", so I coudln't ask for more.... I'd definitely recommend your services to my friends and will keep sending my videos to you as I've been let down by 2 differents companies "Black Cat Video" & Mr Scan" Thank you very much! Regards Maria" NTSC Betamax tape, with slightly defective recording, recovered to DVD, 10.03.09. Just shows that video99.co.uk is the UK expert on Betamax!
"Hi Colin, Thank you so much for the dvds. They are great. I've just finished looking through them and they have brought back so many great memories, I can't wait to see my dads face when he recievies them for his 60th birthday. I am so impressed with the quality of the transfer and on how quickly you were able to do them. If we find any more tapes i will send them on to you. Thank you once again. from Lisa." Quantity of Beta tapes put to DVD with colour printed boxes. 20.02.09
"Dear Colin, thank you so much for your brilliant expertise in putting files from computer disk onto DVD for me. I am sure it is a difficult task with all the different formats and I know you had to work at it to get a good result.I am so pleased with what you did for me and the work and time you put in on it and all at reasonable cost. I was also very pleased with the Betamax videos that you transferred onto DVD for me including some super 8 cine film that I had put onto a Betamax tape years ago, mainly family events content. I now have all the various cine and video tapes on a few disks that I can watch anytime with minimum disruption.You made a few copies for me also which I gave to my sons at Christmas. You provide a very comprehensive service and I cannot recommend you too highly. Kevin" 15.02.09
"Hi Colin, I have just watched Tape 6, Jim'll Fix It, on my Sony 46" LCD TV, you have made me a very happy man, no noise bars just wonderful pictures. Such an improvement on the transfer of tape to DVD I had done locally.Considering these tapes are nearly 30 years old and the original analogue signal recorded came from a communial aerial I think you've carried out a truly magnificent job of which you should be justifiably proud. I can't thank you enough. You've probably gathered I'm rather pleased with the work you've done. I shall certainly recomend you to anyone requiring transfer of tape to DVD. My very best wishes to you and thank you again. Ken" Beta tapes to DVD, 07.02.09
"Colin, The DVD has arrived and it plays perfect on my player, I would like to thank you for the service that you provide,a quick efficient and value for money service that is unfortunately hard to find these days. I will be pleased to recommend anyone wishing to transfer video recordings to DVD to use you're service. I am happy to say that the original tape is not required by me Yours sincerely Brian" Single Beta tape to DVD. 22.01.09
"Colin Many thanks for the DVD which has arrived safely and, as you say, is excellent. I wondered if you would even be able to get it to play, so having something with this quality is a real bonus. Many thanks for your efforts. Best wishes Perry" Beta to DVD, 13.01.09
"Colin Thanks for your Email. I've only just picked this up, but I confirm the DVDs were received this morning. I had a quick look at one of the DVDs and it seemed to be fine. I am very impressed with how quickly you have turned this around, so many thanks for that. If any of my friends and colleagues are looking for a similar service I will certainly recommend you. I actually went to you following an article in an olde edition of Computer Active where they mentioned your website and the service you provide." Beta to DVD, 03.01.09.
"4 DVD's arrived in tip top shape today thank you. Have just had a sneak preview and they are all now wrapped up ready for Christmas. Very pleased thanks. Beth" NTSC Betamax tape to PAL DVD. 23.12.08
"Colin, received copies this morning, so they will make great christmas presents. Viewed them this evening and I'm well please with the transfer contents and your packaging. Thanks and kind regards Gilly" Beta to DVD. 20.12.08
"DVD safely received yesterday and I have just had a chance to look at it this afternoon. You have done a brilliant job on the wedding video. The quality that you have managed to extract from a 23 year old Beta tape in NTSC is amazing – especially considering how poor the original tape was. On top of this you have done it all by return of post and at half the price of several other places I looked at. If I had gone elsewhere I doubt whether they would have produced such a good result and in most cases they had a turnround time of a fortnight or so which would have meant that I wouldn't have received the DVD in time to give to my wife at Christmas. One very happy customer! Many thanks Nick" NTSC Beta to PAL DVD. 13.12.08

"Brilliant, absolutely fantastic !! As I said, I was unsure of the contents of the tape, but your transfer and the associated indexing and title pages really surpassed what I was expecting. I cannot express how happy I am with the quality of service that you have provided. Regards, Ian"

Beta to DVD (Deluxe Menu option) transfers for the family of wrestler Count Bartelli (Geoff Condliffe), names used with permission. 05.11.06
For older testimonials, hundreds of them, see the archive of testimonials.
---
If you have any questions, just email

me and I'll reply promptly. Also see the video99.co.uk Questions and Answers (FAQ) All material on this web site is copyright www.video99.co.uk and www.colin99.co.uk though trade marks remain with the manufacturers.
See my Beta (Betamax) web page.
Visitors (counting since Nov'05):
---