The UK's most affordable and flexible audio transfers.

A personal service by an engineer with 30 years of audio experience. Transfers to CD, computer and more.

Discounts for quantity. Lowest prices in the UK but the highest quality.
---
Despite our name, video99.co.uk is also a leading audio transfers service, offering an exceptionally wide range of audio formats. We can run audio to CD, MP3, computer or minidisc, just let us know your requirements.

Recordings are generally made on our Tascam DR-100MKII and SS-R250N professional audio recorders, using a digital link for playback of digital audio formats (Minidisc, DAT, DCC, DTRS, ADAT, PCM-F1 etc.).


---
Reel to reel
Reel-to-reel audio domestic two-track and four-track (stereo or mono) tapes, up to 7" spools at both 3.75 and 7.5 inch/second speeds costing around £18 per hour (depending in complexity). Lower speeds can also be handled where required too. Now also available: Two-track and four-track recordings on spools of up to 10.5" with NAB centres and speed up to 15 inches per second, with our specially modified and fully serviced Ferrograph tape deck, costing around £22 per hour.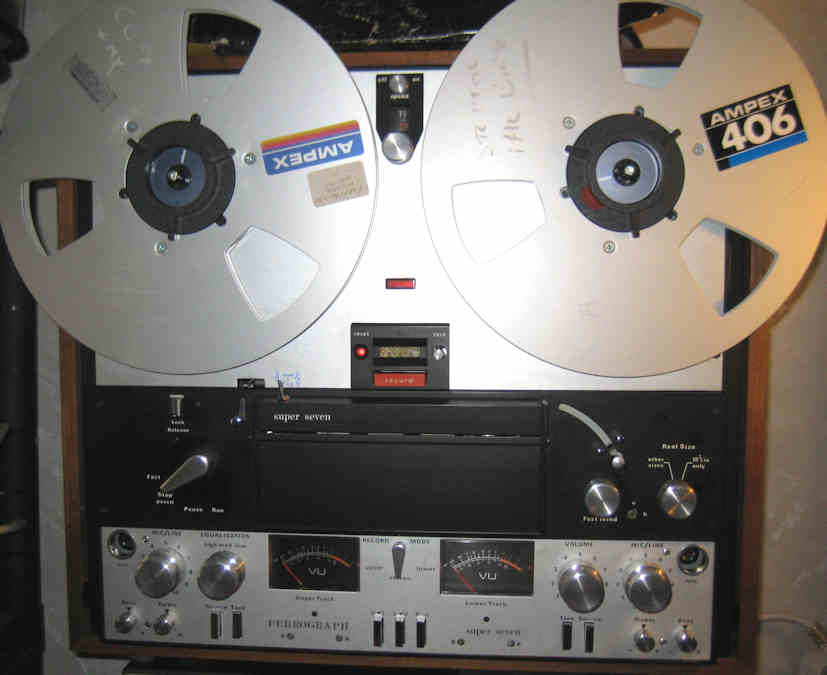 Ferrograph professional tape deck.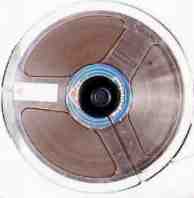 A domestic tape spool

---
Minidisc
MD minidisc to CD including LP2 and LP4 at £12 per hour. Transfer to CD or computer will be carried out in a pure digital data stream for the best possible results.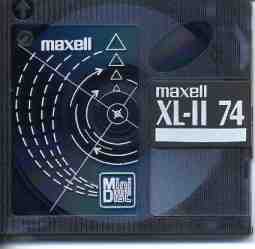 ---
Cassette
Cassette (Compact Cassette) to CD or computer (including Dolby B and Dolby C recordings) at £12 - £18 per hour depending on complexity, utilising a three-head dual capstan cassette deck of outstanding performance. Do can see my YouTube video of servicing one of my cassette decks.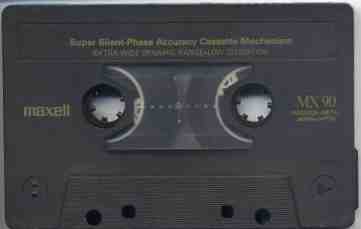 Digital Compact Cassette DCC
Digital Compact Cassette DCC to CD or computer transfers now also available, starting at £16 per tape. DCC was a digital audio format marketed by Philips from 1994 to 1996. Despite excellent technical results, it was not a commercial success. Transfer to CD or WAV files can be carried out in a pure digital data stream for the best possible results.

---
System DC International Cassette DCI

An extraordinarily rare audio format by Grundig from around 1965, these are larger than the more familiar Compact Cassette. Tapes are typically marked Grundig Cassette DC90 or DC60. Audio transfers from DCI cassettes are supported at £30 per tape.
See my YouTube video on this equipment.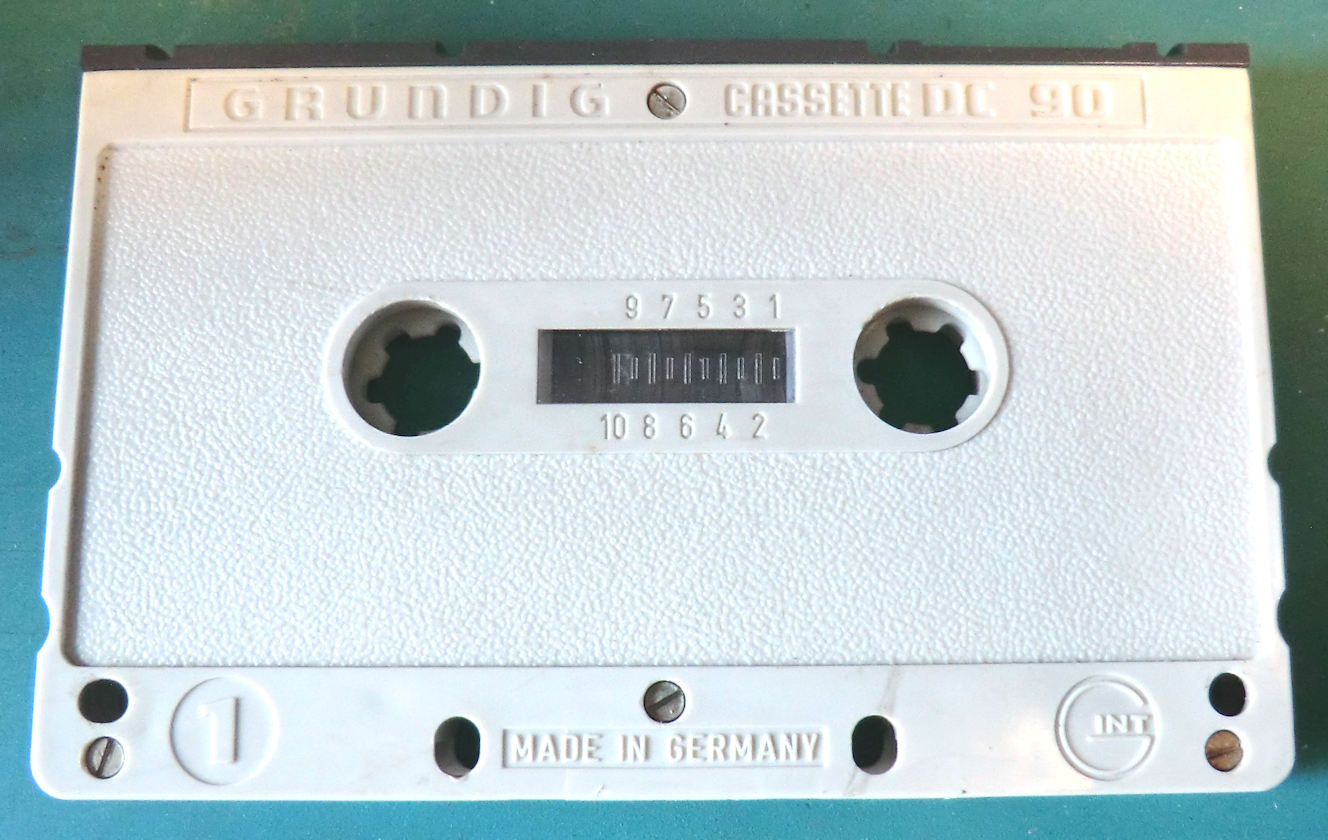 ---
DAT (Digital Audio Tape)
DAT Digital Audio Tape (32k, 44k and 48kbit/s recordings). DAT to CD or audio files at around £16 per tape depending on complexity. Transfer will be carried out in a pure digital data stream for the best possible results. If I am supplying WAV files, I can retain the 48kHz sample rate if your tapes are recorded in that format (superior to CD quality). Our machines presently include a Sony DTC-690, PCM-7040 and a Tascam DA-30MKII, all of which have digital outputs for connection to our Tascam DR-100MKII and SS-R250N professional audio recorders.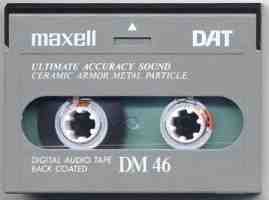 ---
Microcassette and Mini Cassette
Microcassettes are usually used as dictation machine / answerphone tapes, I can run Microcassette to CD or audio files at both 1.2 and 2.4 speeds. I can also run Minicassette (Mini Cassette), usually these tapes are used in professional dictation equipment. Both cost just £14 per hour, less in quantity.

Microcassette (left) and Minicassette (right) tapes are very similar and often confused.
---
Philips EL3779 tapes for EL3582, EL3583, EL3585, EL3586 dictation machines
The Phlips EL3779 is a dictation machine format which used approximately cassette width tape in open reels. Machines were made during the 1960s. The tapes will not work in a normal quarter inch open reel player, they need to be played in their own exceptionally rare machine. Cost is usually £30 per tape.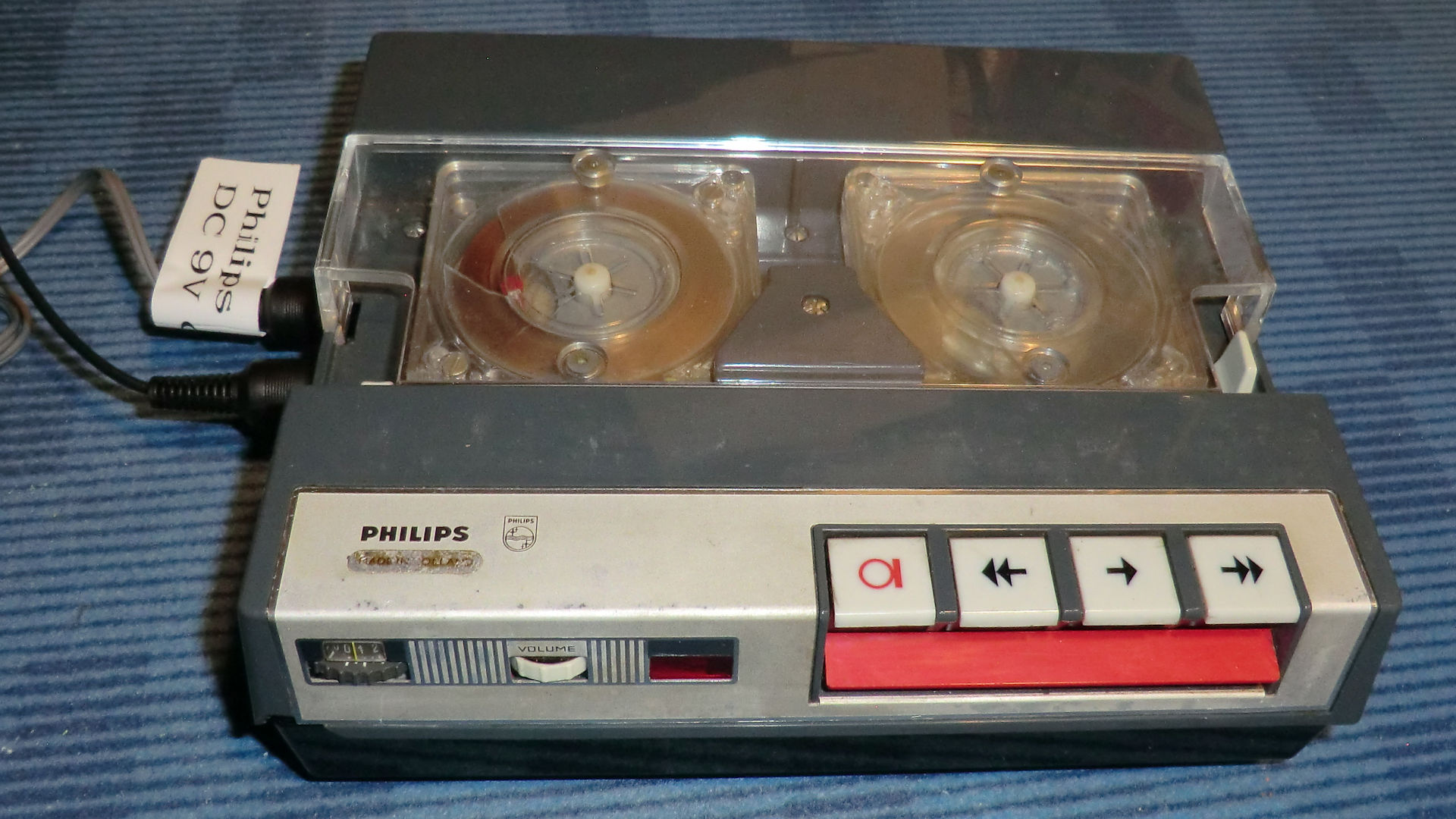 This Phlips EL3583 machine was featured in my YouTube video.

---
Audio tracks from video tapes
Audio tracks from any kind of video cassette can be transferred to CD or computer file. This includes Hifi or linear audio tracks from VHS, Betamax etc., and camcorder tapes of all types.

We can run PCM digital audio recordings of the PCM-F1 format (including PCM-501 and PCM-701) usually recorded on Betamax but may be any video cassette. Very few transfer companies handle the PCM F1 format, and even fewer can accept both PAL and NTSC tapes. Beta tapes are played on equipment which is specifically designed for use with these decoders, so have the PCM switch which disables the D.O.C circuit for best PCM performance. The cost of PCM-F1 transfers is typically £25 for up to 80 minutes. There is the option of a pure digital transfer of PCM-F1/501/701 tapes at just £6 extra per tape: very few audio transfer services have a pure digital transfer option available for this format. Just email me with your requirements.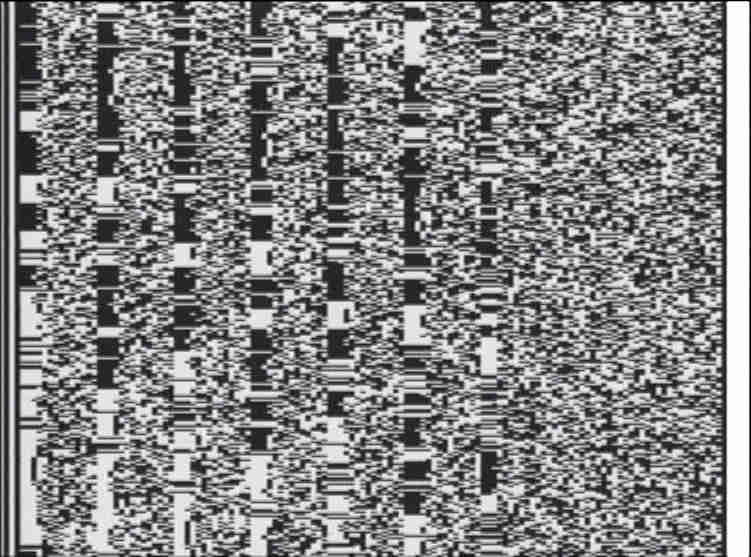 If you see this kind of image on a screen when playing (usually) a Beta or Umatic video tape, then it is likely that you have a digital audio recording. This one is the PCM-F1/501/701 format.


Also available is capability for PCM digital audio recordings made on the Sony EV-S800, EV-S900, EV-S700U, and Pioneer VE-D77, which could record up to 6 sets of digital stereo recordings on an 8mm video cassette in audio-only mode. The cost for this is around £16 per hour, it's a very rare format.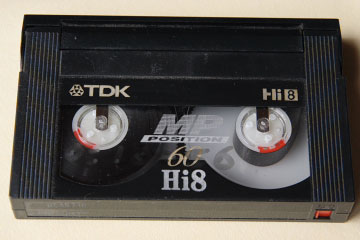 PCM 1610/PCM1630 digital audio recordings on Umatic are also available. These are played back on the specially designed Sony DMR4000 Umatic player connected to PCM1630 decoder which supports RAR (read after read), to greatly reduce the chances of tape defects affecting the sound. (Even so, tape condition is very critical to this format). Costs £30 for one tape, discounts in quantity.
See our YouTube video on this format.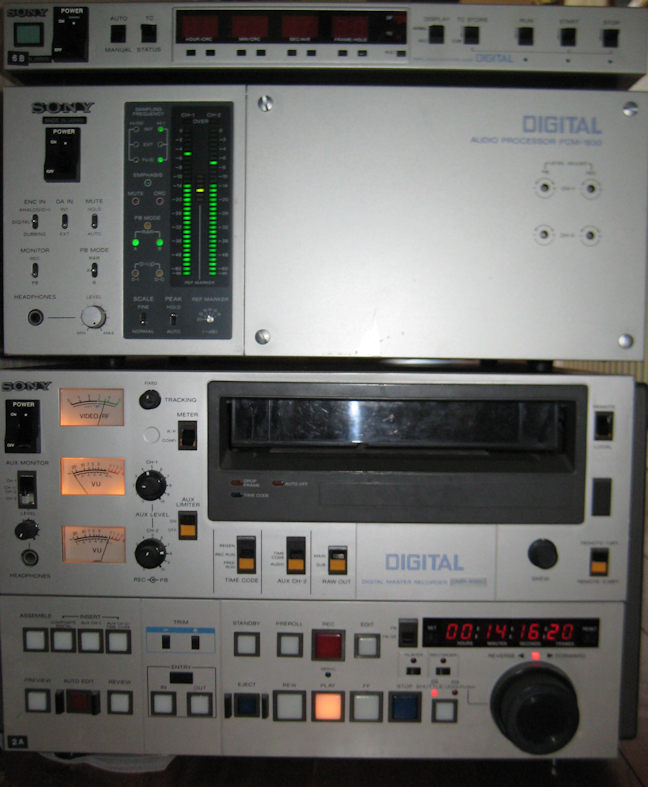 Hi8 tapes were used on a range of professional PCM 8-track recorders, including the Sony PCM-800, Tascam DA-88 and Tascam DA-98HR machines. We have all three of these, so can support both 16 and 24 bit variants. The format is known as DTRS (Digital Tape Recording System) but is sometimes just referred to as DA88. For one-off tapes the cost is usually £30, falling to £25 for 10+ tapes. They are supplied as four stereo WAV files to cover the 8 audio tracks, and are extracted from the equipment via a pure digital route.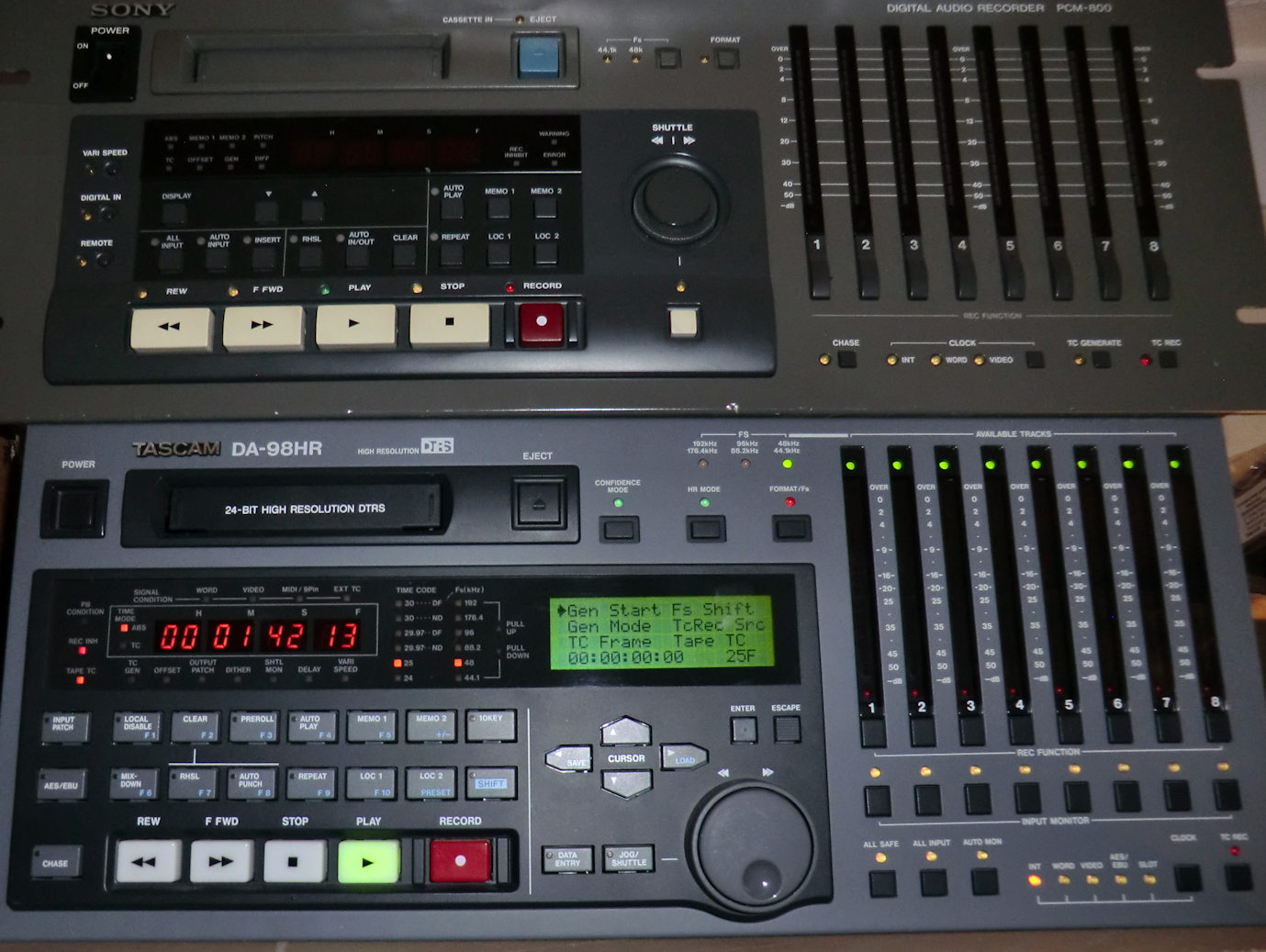 A competing format to the above was ADAT from Alesis, initially offering 16-bit then later 20-bit recordings on the ADAT type II format. This format is also supported, with pure digital capture via the Alesis AI-1 interface. 16-bit recordings are supplied as 16-bit WAV files, whereas 20-bit recordings are supplied as 24-bit WAV files since that is the next higher bit depth supported by the Tascam SS-R250N. Each tape is run up to four times in order to provide all eight channels as four stereo WAV files. The format records on SVHS tapes which may be marked Ampex 489, Maxell Audio Pro or TDK ADAT Digital Audio Mastering. For one-off tapes the cost is usually £32, falling to £25 for 10+ tapes.




We have done a set of YouTube videos about PCM-F1 transfers.
For professional recordings, email me details.

---
8-track tapes
8-track cartridges were often sold as pre-recorded titles in the 1970's, but recorders also existed to allow recording onto blank tapes. I can run 8-track tapes in stereo to CD with track splits. Priced around £10 - £25 per tape (depending on quantity and complexity), I now have brand new 8-track equipment in to get the very best results. Sometimes these tapes require special attention if they are snapped, have parts missing or disintegrated, or the tape pack is improperly wound. There can be a small charge for this work but it's usually only about £5 - £10.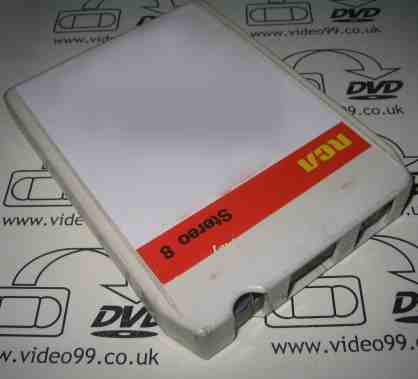 ---
What I don't do
I don't generally run vinyl to CD transfers and at the moment don't know of any company that does this, sorry.

---
Testimonials and social media.
We are listed on the independent Freeindex service, you can read and add to reviews there. Most customers use that method for testimonials now.

We also have a collection of fascinating testimonials from some famous names, see the famous names testimonials page.

Please also subscribe to our YouTube channel where you can see some of the work we do and fantastic equipment we have. Some useful ones to start with include:
Replacing the motor on a Aiwa cassette deck
A tour of the studio
Review of Tascam SS-R250N audio recorder
PCM-F1 digital audio


We are listed on the independent Freeindex service, most of the newer reviews are on that site now. Below are some of the older ones (2008-2016).


"I have been fortunate to have worked with Colin at video99 on projects ranging from showreels for my work in the Camera Department of the film industry to salvaging family memories from ancient, long-forgotten formats. Each enterprise is approached as though it were a major motion picture and his skill and sensitive suggestions have enhanced all we have done. And he drives a Hillman Avenger. With thanks and best wishes, Alastair, Associate BSC, ACO." Minidv and microcassette audio tapes to files on hard disk. 27.05.16

"Colin at video99 gave me a great service, and at a very, very reasonable price. Responsive, excellent value for money and with the extra care to put additional track splits in to make it easier to find certain parts of the 1965 recording. Thoroughly recommended.
Richard" Open reel audio tape to CDs. 27.01.16

"I can wholeheartedly recommend Colin's work. He was prompt and courteous and always helpful, and he transferred my old Dictaphone tape (it had belonged to my late father and was very precious to us as it is the only recording we have of his voice) to CD and MP3 format to a really high quality in a remarkably short time. He is clearly someone who takes great pride in what he does, and who is very skilled at it. Many thanks for taking such good care of something so important to my family.Helen" Microcassette to CD and MP3. 13.01.16

"I chose Colin from the many reviews on the website emphasising his personal service. It was all true. It was so nice to feel I was dealing with a real expert person, not the admin department of a faceless company. Colin was very helpful and the results are everything I'd hoped, with CDs and MP3s giving new life to the contents of a 30-year-old cassette tape. S.H." Casstte to CD with CD-Text and track titles printed on CDs, also MP3 files with metadata. 13.12.15

"Just to let you know I have received the reels, I would like to thank you again for all your hard work, you have no idea how happy I am with the transfers. you do some amazing work. will highly recommend you. many thanksClaire" Open reel audio tapes to WAV files. 26.2.15

"I chose video99 to transfer an old audio tape to CD by reading the excellent customer feedback. Colin was extremely helpful, efficient and speedy in carrying out the transfer and we were delighted with what he produced onto CD. Would certainly use him again and would highly recommend him to anyone else. Nice to be dealing with a friendly professional on the end of an email too.Julia, West Sussex" Audio cassette to CDs with track splits and tidying. 08.02.15

"Thank you so much for the excellent transfer of my tape to CD. Not only was the quality excellent but also the efficiency of your service. I posted the tape on a Friday and received the CDs the following Tuesday. You can't do better than that! Best wishes, Will" DAT tape to CD. 05.11.14

"Colin I am delighted with the CDs received today. Brilliant service when I think that I posted the mini-disc less than 48 hours ago and here are the CDs! The results are perfect - far superior to the results I have obtained when using my PC via the "Audacity" programme to do this. I will certainly have further work for you soon and shall without hesitation recommend you to friends. Thank you very much for the care and attention given to my order. With kind regards Roy" MD in Long Play digitally transferred to CD, retaining original track splits. 23.10.14

"Colin iv got the cd and tapes back and played the cd, Great, no problems and thanks. I'll certainly keep your details so if i need anything else also to pass onto others. Thanks again RegardsAllan" 04.10.14 8-track jingles tapes to CD.

"I sent Colin 3 cassettes that my darling Mum made for me, in which she is in conversation telling me all about my early life.. and that of hers and her family's. I lost my Mum almost 4 years ago now, and it is so comforting for me to be able to hear her voice whenever I want, coupled with knowing that when those old fashioned cassettes do eventually give up the ghost, that I will still be able to hear her on cd and on an MP3. Had I not had the recordings put on cd, I might have lost my Mum all over again!! It's all been a bit of an emotional roller coaster, but I am so so happy with the outcome. Colin has been very helpful, he replied to my emails promptly and offered me an extremely professional and speedy service. I whole-heartedly recommend him to put anyone's spoken memories onto a lasting cd, you will not be disappointed..Elsje x" Cassette tapes to MP3 and CD, 22.07.14

"Tapes and videos from loved ones are so very precious and Colin has made sure that I now have lasting memories of my family. You can trust him to look after them and I would recommend his services without hesitation.Sue " Audio and video tapes to CDs and DVDs. 22.06.14

"I'm happy to recommend you, you did an awesome jobs on tapes that were almost 30 years old and I'm amazed and delighted by what a great job you did. Thank you so much. Stephen" Some difficult cassette tapes transferred to audio files. 12.04.14

"Hi Colin,I just wanted to say thank you for doing such a professional job on my wedding video and on the transfer of our reel to reel tape, the results were amazing. Treasured memories of family members now gone which we can pass on to our children . You are a true professional and a pleasure to deal with.Thanks Deirdre" Beta video to DVD and open reel audio tape to CDs. 08.11.13

"having spent 45 years in retail and leisure,helpingand advising people, it was nice to come upon colin@video99.co.uk I wanted a cassette tape converted into c'ds,and he was so helpful from start to finish.having come across many "fly by nights"and "whats in it for me's" in my career,it was a pleasant experience. "the service was excellent, the results were excellent, and i have no hesitation in recommending colin@video99.co.uk for any type of work, as i am sure he would provide the same level of courteousness in any sphere. keith" Cassette to CD. 26.10.13

" Hi Colin, the tapes are perfect and as fresh as I remember them nearly fifty years ago!!!! Many thanks June " reel-to-reel audio tapes on CD. 17.08.13

"I can add nothing more to what people have already said in praise of your service - friendly, quick, helpful and highly professional - and I will seek your services again. Thank you. Michael" AT to CD, 21.04.13

"Colin, thank you so much for doing exactly what you say on your website! Your speedy emails about our old cassettes were much appreciated, and the resultant transfer of their contents to CDs is amazing - and all within a few days. Thank you very much: service highly recommended. Best wishes Jane" Cassette to CDs with various track splits and editing. 19.04.13

"Excellent service with helpful, professional advice on the best way to proceed with poorly recorded cassette (music) tapes which Colin transferred to WAV files. The results were far better than I'd expected and I will use video99 again without hesitation. Many thanks. Tony B., Liverpool." 23.02.13

"I recently had my songs transferred from 5 DATs to digital at Video99. I have to say that I was incredibly impressed by the results. Colin has transferred the tracks at exactly the same sound quality as was on the DATs - other websites I looked at were only prepared to copy the data as MP3s. It has been years since I had heard most of the recordings and they took me right back - the tracks sounded as clear as the day I recorded them.
Not only was I impressed by the results, but also by Colin's professionalism, friendliness and personal service throughout the process. He got back to me straight away (while a competitor only managed to respond to my query after Colin had finished the job). He was upfront about the whole process and only charged me once he had checked that the quality on the DATs was good enough for transfer. I knew exactly what I was going to pay with no hidden extras.
He got the job done in extra quick time - I posted the DATs on the Tuesday and had a DVD in my hands on the Saturday. I live in Buckinghamshire (quite a way from Plymouth) so distance is not a problem.
On one of the tracks, I had left a long dramatic pause, and Colin understandably split the track into 2 (I hadn't provided full tracklisting for this DAT as I didn't actually know what was on it). Within half an hour of telling Colin of the problem, Colin had re-copied the song and transferred it to me over the internet. I was seriously impressed by how quickly he was able to help me.
I would therefore have no hesitation in recommending Digital 99 to anybody who wants to transfer their digital data. And to anyone who has DATs lying around and wants to get them copied and heard again - do it now! The pleasure of hearing long-forgotten tracks is really really worth it. I'm so pleased I managed to get my songs transferred before the DATs degraded with age. And by using Video99, I have those songs in the best possible sound quality.
Chris" DAT tapes copied digitally to WAV files supplied on DVD-Rom. 12.02.13

"Great to have such quality with all the static gone & far better volumes with the story starting off in late 1800s! Certainly I will recommend you to anyone who needs such service. Many Thanks. Frances" Family history was recorded on Microcassette dication tapes, run to CDs with track splits to make them easy to play. 05.02.13

"Dear Colin, I am delighted with the work you have done, painstakingly converting my old Videos into DVDs, my audio cassettes to WAV files and putting them onto discs. I was so worried they'd have deteriorated so much that they couldn't be saved, but you have done it, and it's so wonderful to be able to see the earliest videos of my babies once more. Best wishes Melanie" 01.11.12

" Been a pleasure to have our treasured tapes and videos copied. The whole process was very clear and quick and friendly, I would happily recommend Colin and Video 99 to anyone wanting a good and professional service" DAT to CD, VHS to DVD, 10.10.12

"Thank you Colin for a smooth, courteous and efficient transfer service with technical advice when needed. Bonamy" DAT to DVD-Rom. 14.09.12

" Just to confirm, the CD arrived today - you did a great job in improving the quality, thank you so much. This recording, more than anything else, is very precious to me, as I never documented my feelings around that time - this is all I have. I really appreciate your excellent and efficient work, and have recommended you to lots of people." Cassette to CD with digital noise reduction to clean up what had been a poor recording. 02.03.12

" I used Video 99 to transfer precious tapes and videotapes to CDs and DVDs.Their service was careful and efficient. Colin kept me informed at every stage of the proceedings and was flexible in formatting the discs in the way I wanted. I'm pleased with the results and would recommend Video 99for this service. Jim " Audio tapes to CD, video to DVD, 06.02.12

Great service – Colin is very helpful. Really pleased with the sound quality of my CD. Will definitely use Video99 again. Sharon" Open reel tape to CD. 02.02.12

"Very impressed with the speed of your service and delighted with the product. I thought the recordings of my deceased parents and my children when they were tiny had been lost forever. To hear a 35-40 year old recording brought back a lot of happy memories. Your suggestion of splitting it into tracks was great. Again many thanks for a cost effective solution. " Open reel audio tape to CD 30.11.11

" After locating "video99" on the internet I sent 3 video tapes and 1 highly treasured 25 year old audio cassette tape to Colin. Very impressed with both the quality and speed of service. The whole process took less than a week from start to finish. Delighted with the outcome and have no hesitation in recommending the service Colin provides at "video99" Richard November 2011"

"Hi Colin Thanks for the MP3 files and the CD's that arrived this morning. Bearing in mind I only posted the cassette tape to you 2 days ago, this is an extremely fast and efficient service. The transfer form tape to MP3 file is flawless and it has been very special to be able to listen to the recording of my brother and I from 28 years ago ! I would recommend you and your work to anyone, Best wishes, Louise" Cassette to CD and MP3 files, 01.11.11

"I had some spool tapes from over 40 years ago and one, in particular, was very dear to me as it was a tape letter from my parents and friends. It was sent to me in 1969 when I young, alone and abroad. It had my dad's voice on it and he passed away a long time ago. Then I "found" Colin, who, with his exceptional service and efficiency, transferred the letter tape onto CD. It has been very emotional for me, my brother and my children being able to listen to these voices from the past. I cannot thank Colin enough. Now, as I write, I am listening to the first music tape he has transferred. These were made for me by my brother so long ago and were the only music I had access to at the time. I listened to them over and over again but the quality is still good. Janet" Open reel tpaes to CD, 25.10.11
Thank you, Colin, for helping us to regain our memories.

"Many, many thanks Colin, not only for the sonically excellent conversion of my old PCM F1 tapes, but the highly efficient manner in which you turned the job around, and the friendly advice along the way. I cannot recommend your services highly enough. Thank you." Betamax PCM-F1 audio tapes run to CD using my latest 701ES converter. Super results! 06.05.11
"Thank you so much for the excellent transfer of my VHS and audio tapes to disc. I was a bit nervous about sending off irreplaceable personal recordings to someone I'd found as the result of an internet search - but my concerns were entirely misplaced. I was very impressed by the promptness of both your communications and the transfers; and I am delighted with the care you have obviously taken and the quality of the transferred audio and visual content. Jos." Video and audio cassettes put to DVD and CD. 01.03.11
"Hi Colin The CDs arrived safely yesterday and play fine on my equipment. As I suspected, I'm more than happy with the sound quality, it's been great to hear the recordings again after so many years. I have unearthed some more old DATs so will be sending them to you shortly for the same treatment - I know they will be safe in your hands. Thanks so much for the great personal service you have given me - fast, efficient, great quality and all at a reasonable price. Couldn't have asked for more. I have already recommended you to my friends! Best wishes Stella" DAT to CD, 06.02.11
"An extremely prompt and personal service. Felt highly valued as a customer and it was made clear at each stage the quality that would be achieved. Just lovely to hear my late Dad's voice from 1961!" Cassette (from earlier recording) to CD, with audio enhancements. 26.08.10
"Dear Colin, Thanks so much for the CD's - i've listened to them both and they're perfect - exactly what we wanted. Thanks also for sending them back to us so promptly, I was able to post Gen's CD to her in time for her birthday (today) and I know it will be a fantastic surprise for her to hear the voices of all her friends and family - recorded 14 years ago. I can't wait to hear from her! I have been very impressed with the service you have provided and really appreciate the effort you have put into transferring our dictaphone tapes. I will certainly recommend your service to friends and family and will no doubt be in touch again in the future with more transfer requests. Take Care Kind Regards Kate and growing bump! :-)" Microcassette to CD 16.08.10
"Colin, The CDs arrived today and are all working fine. I can't thank you enough for your care and kindness in producing these CDs. Dad will be so delighted to hear the voices of his family (many of who have long since passed away). Thank you so much. The CDs are so professionally done. Have a very happy summer. With best wishes and warmest thanks, Helen." Several ree-reel audio tapes run to DVD. 28.07.10
"We have been very pleased with the quality of the work you have done for us as well as the service you have provided. Keep it up. Regards Derek" Cassette to CD. 14.04.10
"Hi.colin thanks for doing those betamax to dvd transfers and audio tape transfers I am very pleased with the results.ray" Beta to DVD, cassette to CD. 31.03.10
"I received my cd transferred from old audio tapes from over 40 years today. To hear families members from so long is very moving. I have been hesitating over getting the transfer done for nearly three months now, since the death of my mother. Having contacted Colin, however, I have been so pleased I have. I have been most impressed with the service Colin has provided, from the speed of reply (initial reply within two hours of my enquiry) (complete service completed within six days) to the quality of sound on the cds which is very clear. Colin has kept in touch at each stage of the process, which has been straightforward and professional. If you are looking for a top class, professional service, use video99." Reel-reel tapes to CD. 27.02.10
"Hello Colin, just received the discs ALREADY. Brilliant. The sound is really good. We are so pleased that you have managed to transfer our precious tape recordings of our children from 50 years ago, to discs. The reproduction is first class - better now than on the tape. Thank you such much. We would recommend you to any of our friends and acquaintances. An Excellent service. All the best from Angela and Peter" Reel-reel tapes to CD. 25.02.10
"Colin, Now we're cookin'... You was right all the way...very nice sound indeed!" 8-track to WAV files on computer, on out brand new 8-track player. 21.02.10
"Colin. The audio CDs arrived today, and we are absolutely delighted with what you have achieved with tapes that hadn't seen daylight in so many years. The way you have made each track selectable with an index, and also the attractive colour front for the DVD case, is more than we expected. We whole-heartedly recommend you to any one seeking restoration work of a similar nature. Many thanks. Brian and Maureen" Open reel tapes to CD and also put online for previewing. 14.02.10
"Dear Colin I received the dvd safely this morning. It plays with very good reproduction on both my computer and dvd player. Thank you for an excellent service, and I shall certainly use your company again for my other casette tapes. Mary" Actually it was CD not DVD, from a reel-to-reel audio tape. 08.10.09
"Colin Many thanks for the return of the CDs which we are very pleased with. The service you provide is very efficient, professional and good value. We were particularly impressed that you took the trouble to upgrade the quality from the original recording, and would have no hesitation in recommending video99. Kind regards Julia" A number of cassettes transferred to CD. 22.09.09.
"You've been prompt, helpful and professional, and I certainly shan't hesitate to use you again if I need similar help. Very many thanks Cassie" Microcassette telephone answering tapes transferred to CD. 08.09.09
"You have shown that you not only cope with unusual technical problems but with odd personal quirks of your clients/customers Reg." Audio cassette and DVDs with audio recordings, made up to a new edited DVD with Audio tracks. 27.08.09
"Hi Colin, I've listened to the entire DVD now and am very pleased. It is great to be able to hear the sound of 'Flying Scotsman' that I recorded from the train I travelled on 40 years ago. I would certainly recommend your service as it is personal, quick and very good value for money. Kind regards Mike" Reel-reel audio tape run to DVD-Rom WAV files, with digital noise reduction applied. 19.08.09.
"Hi Colin The CDs arrived safely yesterday – and I played them through and was very impressed with the quality of the sound. It was wonderful to hear my old grandmother again. I have found your service to be extremely professional and quick and would totally recommend you to my family & friends – in fact I am considering transferring the family movies..." Then later: "I just wanted to add to my feedback, that in addition to being extremely responsive and efficient, yr service is very good value for money – I am still getting quotes back from people that I contacted at the same time as I did you, and their prices are up to double your charges. Thanks once again! Carolien" microcassette to CD, 17.07.09
"Hi Colin, All is well! I have received the CD's so you can send the tapes back. Many thanks! Kind Regards Francis" DAT to CD, with manual track splits inserted. 01.07.09
"THANK YOU. You have done a great job. The sound, as you claim, is indeed easily as good as the original. A most professional job. In the not too distant future I shall have some more of the same for you to do for me." Minidisc to CD with tracks split as per customer timings. 23.02.09.
"Colin I received the disks today loud & clear - fantastic! The clarity of the recordings you have achieved took me back almost 50 years, to those distant Christmases with long gone relatives enjoying themselves. I had moist eyes from laughing, woeful musical ability and sentiment. I can listen to them again with ease, and pass them on to other members of the family for them to relive their own memories. Thanks again. Peter" Reel-to-reel tapes to CD. 18.02.09
"Hi Colin CDs arrived this morning and working fine. Nice job. Many thanks Jack" Betamax PCM-F1 studio audio tapes to CD. 24.12.08
"Colin The CD arrived this morning. I am delighted. Many thanks. The service that you provide is outstanding in every respect. Mike" Cassette to CD with audio restoration. 17.12.08
"Video99 provided us with a fast, efficient and personal service at a modest cost. Highly recommended. Philip, Colchester". Cassette to CD 02.12.08
"Colin Thanks for the CDs - I've listened to the first disk and it's everything I hoped for. It brings back memories of my father and the stories he told wonderfully.Beautifully presented too. I've recommended your service to another colleague! Microcassette to CDs, provided in boxes with pictures provided by the customer, 27.11.08
"Colin thanks very much for the 2 x CD's 1979. They are great Cheers, Kelly" Cassette to CD. 07.11.08
"Friendly, fast service and a good job well done. Colin" Minidisc to CD and DVD-Rom. 13.08.08.
"Hi Colin, The CDs have arrived and the quality is indeed superb - thank you very much for that and also for titling the tracks. A very fast turnaround too - I didn't expect them so soon! Regards, Rob" DAT to CD. 10.08.08.
"Colin: The CDs just arrived, and I listened to part of the recording. As you said, it's far from perfect, but you have worked wonders on it, and my mother's voice came alive for me; it's very moving and I know will be much appreciated by the rest of my family. I am impressed with the entire process, which has taken very little time, and has been conducted by you with fairness and enthusiasm I don't often experience! Many thanks for this - it's very welcome. You can be sure that I will recommend you to others. With best wishes Les" Microcassette (telephone answering machine tapes) to CD. 11.07.08
"Colin: I have received the 2 CDs and they are working fine on my equipment. This is excellent work and I am so impressed by how quickly you have done the Transfer from tape to CDs. I shall certainly recommend video99.co.uk to my friends: other places were going to take at least 2 weeks and I needed the cd to urgently. Once again, many, many thanks for your wondrous service. Kind regards, Sarah" Cassette to CD. 28.05.08
"It was a relief to find someone who could pick out the bits of the tape that were worth recording for posterity and dumping the rest - and at a very reasonable cost. I've done this before and ended up with a CD that wasn't selective and cost me much more! Thanks again! Lorraine" Reel-to-reel audio tape edited down to CD according to customer requirements. 11.05.08
"Colin, Many thanks for the CDs, they are fine, everything I was hoping for is there. Best Regards Andy" 8-track cartridge to CD, 13.04.08
"The CD is of a quality that i did not expect, you did a great job. many thanks for your services, rest assured that should i need further services of a similar nature in the future you will be the one i contact, Regards Bernard." Cassette to CD 17.03.08
"It was a pleasure working with you. You were very professional, fast and the service is excellent. I also appreciate how well you communicated with me throughout the process. I will definitely recommend your services. Joan. " DAT to CD 04.02.08
"All sounds fine Colin good job. Chaz" Betamax PCM-F1 digital audio to CD. 13.02.08.
---
How to request an audio transfer.
To request an audio transfer, please email me with your requirements and include your postal address. Audio recordings require particular personal attention, just let me know of any requirements. Usually I transfer to CD but options include transfer to computer file, minidisc tape and more. We have an easy order page, just select what kind of tapes you have and supply your details.

Ideally can you ensure you send the tapes in a package which is sufficiently large and robust for me to use to send back your original tapes. Usually I will send the audio files or CDs to you ahead of returning your tapes, then when you've confirmed you are happy with the transfers, I will return your tapes. This way I can help you further if necessary - for example you can now see you want a different part of a tape transferred on its own or you want extra copies. I recommend audio files rather than CDs, since they are easier to edit, share and back up, can be higher quality for some formats, and overcome the 80 minute limitation of CD. For audio files I typically provide WAV files for easy editing, and if required, smaller MP3 files for easy uploading and sharing.

We do NOT run audio to a computer sound card because this is not the highest quality. Instead we always transfer to professional quality Tascam digital audio recorders, to give you the very best sound quality.
Please read our Terms and Conditions, which form part of the agreement.
---
If you have any questions, just email me and I'll reply promptly. Also see the video99.co.uk Questions and Answers (FAQ) All material on this web site is copyright www.video99.co.uk and www.colin99.co.uk though trade marks remain with the manufacturers.
Visitors (counting since Nov'05):
---