Video99 is one of very few business who can handle the rare and fragile MII professional format.

A personal service by an engineer with 20 years of video experience. Transfers to DVD, computer and more.

Costs £35 per tape, extra copies £3.50 or less. Discounts for quantity, and excellent quality.
---
MII (sometimes incorrectly known as M2 or M11), was introduced in 1986 as Panasonic's answer to Betacam SP. MII tape is a metal formulation, and the cassettes come in two sizes, the larger of which is almost identical to VHS, and the smaller is around 3.6 by 5 inches or 9 by 13 cm. The format failed badly in the market place, but was used for a short time by a few UK television channels (Thames Television) as well as videographers as a cheaper alternative to Betacam SP.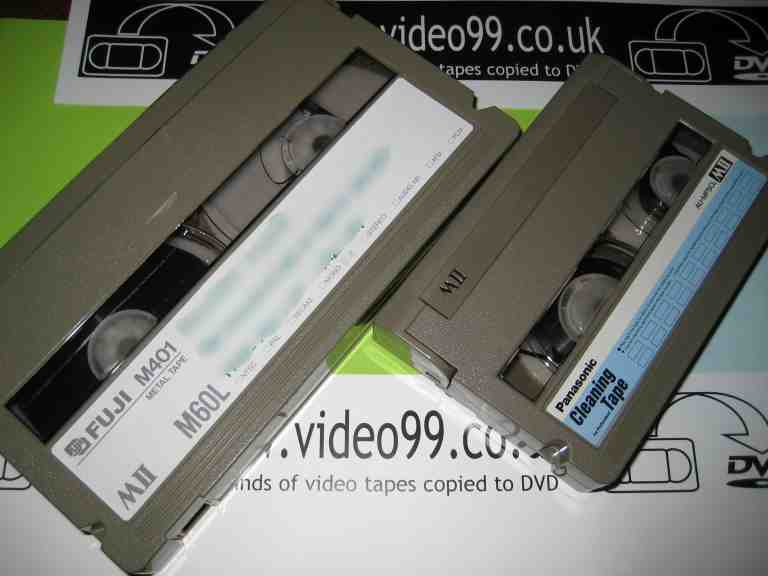 Professional MII tapes (large size on left and small size on the right of this picture).
Just as Betacam SP was an improved version of its predecessor Betacam (itself derived from Betamax), MII was an enhanced of its predecessor, the failed M format (derived from VHS), effectively a case of Beta winning over VHS. Technically, MII is at least equal to Betacam SP, but Panasonic lost out to Sony's Betacam SP format which had already gained a strong foothold in the professional market. Furthermore the machines had a reputation for being somewhat less robust than their Sony competition, and as a result the format lasted only a few years. Tapes may be marked M20S, M60L, M90L.
Tape storage is particularly critical for this format. The tape is very thin, much thinner than VHS tape for example, despite the larger tapes looking similar. As a result, if the tapes have been stored badly such as in a garage or loft, then a mould grow on the tape surface will make the tape very prone to tearing and snapping. Though I have a system in place which can help to clear mould from tapes, it is very time consuming, expensive to carry out, and even then there will probably be imperfections in the recording. But if the tapes have been looked after properly, then MII can produce excellent results.

Transfers to DVD:
Being a professional format, I don't recommend DVDs for MII tapes, but they are possible if you particularly need them for some reason
Transfers to video files:
Options include transfer to DV AVI (13GB/hour) or very large 10 bit YUV-AVI format files on hard disk or USB stick. Just email me to discuss your requirements.

Please note that I cannot handle the earlier M format (used VHS tapes) which may not have even been released in the UK. I do not presently support the NTSC television standard for the MII format.
---
Below is one of our fully operational MII decks, this one is the Panasonic AU-750. Machines of this type are very rare.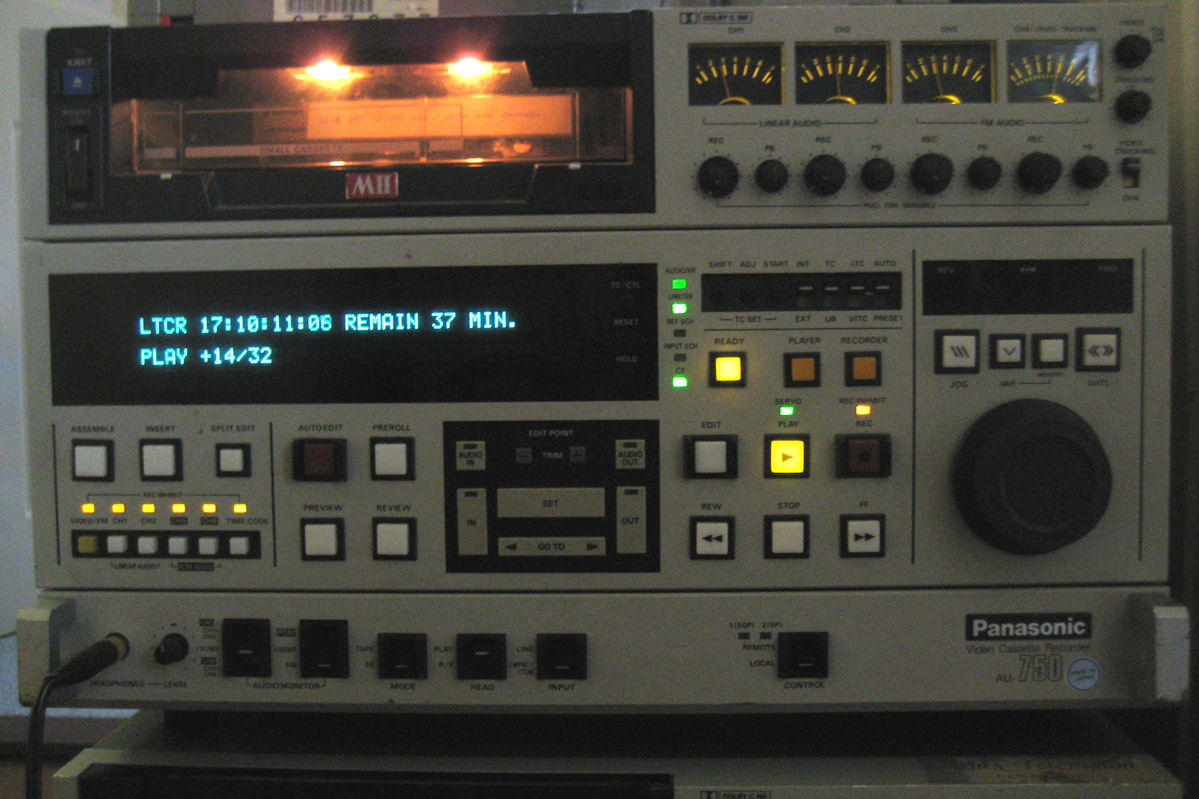 ---
How to request a MII video transfer.
Just email me with your details and requirements and I'll reply promptly with all the information you require.
We have a new and easy order page, just select what kind of tapes you have and supply your details. It's a personal service I offer, not like some of the big video editing houses. I understand that in many cases you will not be able to tell how much material is on the original recordings.
If recorded on equipment from another country, see the Television systems explained. Only PAL recordings are accepted for MII.
If you want your tapes back after you have the copies (recommended):
Not everyone needs their tapes returned once they have the transfers, but if you do, please remember to include postage costs. For a single video tape in the UK, this is just £3.40. For larger quantities, and tapes from outside the UK, I will let you know. Ideally can you ensure you send the tapes in a package which is sufficiently large and robust for me to use to send back your original tapes. Usually I will send the DVDs/video files to you ahead of returning your tapes, then when you've confirmed you are happy with the transfers, I will return your tapes. This way I can help you further if necessary - for example you can now see you want a different part of a tape transferred on its own or you want extra copies. If you have reasonably fast broadband, I can possibly upload the vide files to you directly for one or two tapes.

Please read our Terms and Conditions, which form part of the agreement.
---
TESTIMONIALS
Testimonials for www.video99.co.uk MII video transfers (not many yet, it's a rare format).
We are listed on the independent Freeindex service, you can read and add to reviews there too.


"We had a set of information films about working textile machinery in museums in the North of England that were recorded on MII tapes. Colin gave us a good price for the conversion work, offered lots of expert advice on audio and turned the job around really quickly. Thanks for all your help with this project, Colin. We're really pleased with the quality and having access to the films again will help our gallery technicians keep our historic machinery running." 26.07.16. Museum of Science and Industry, Manchester. http://www.msimanchester.org.uk/
"Thanks Colin, the transfers are great. Thanks again for your promptness and fantastic service. Have a lovely Xmas and New Year , Jami" MII and BetacamSP tapes to video files. 21.12.14

"Thank you so much for transferring my set of MII tapes. I had some precious footage that only existed on MII tapes which had been stored for 13 years. video99 were the only company in the UK I could find who can transfer the MII tapes to digital files. The service was very speedy and I found Colin to be very knowledgeable in his field. Many thanks again! James" 26.10.13

"Many thanks for the conversion of my MII tapes they were well beyond any sort of use, decayed and mildew but thanks to your many efforts they were salvaged! Ian" MII tapes had been badly stored and had become mouldy, a real problem with such a thin tape construction. Cleaned the mould off using my own constructed polishing rig, then ran them to DVD. 24.05.12
The format has only recently been introduced, and is very rare, so more testimonials will appear in due course as further transfers are carried out for this most obscure and difficult format.

---
If you have any questions, just email

me and I'll reply promptly. Also see the video99.co.uk Questions and Answers (FAQ) All material on this web site is copyright www.video99.co.uk and www.colin99.co.uk though trade marks remain with the manufacturers.
Visitors (counting since Nov'05):
---