The UK's most affordable and flexible microMV to DVD transfers.

A personal service by an engineer with 20 years of video experience. Transfers to DVD, computer and more.

Costs from just £13 per DVD, extra copies £3.50 or less. Discounts for quantity. Lowest prices in the UK but the highest quality.
---
The smallest video ever invented is the microMV from Sony (occasionally misspelled to microDV). Micro MV is capable of very good results despite its diminutive size. However it has not proven to be very popular and getting tapes transferred to DVD can be a challenge. The UK models are DCR-IP1E, DCR-IP220E, DCR-IP55E, DCR-IP5E and DCR-IP7E (pictured below). MicroMV to DVD transfers are now available here of course, with excellent quality.
If you have tried to transfer microMV material to a PC yourself, you may have found supplied Movieshaker software can be unreliable and few other software packages support microMV import. For this reason I usually run microMV to computer or DVD using a high quality s-video analogue capture, which provides consistently reliable results with no "dropped frames" (shudders in motion) and no lip-sync issues.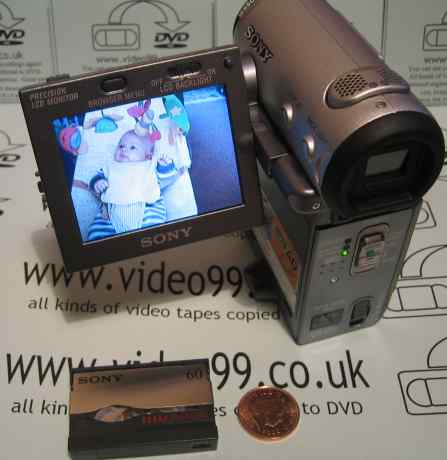 MicroMV camcorders use the smallest video tapes in the world and can give very good results. For scale, the coin is 1p, whereas the cute baby is Alex.
Transfers to DVD:
Basic Menu, £13 per tape: The menus are limited to just a title, but you get a chapter point every 5 minutes so it is easy to move around the DVD. Extra copies of these DVDs cost just £3.50 each and are recommended.
Deluxe Menu £22 per tape: Nice menu icons showing what is on that part of the recording, and if you email me with titles I will put them on the DVD for you too. I place the chapter breaks at points of interest or new recordings. These menus look like professionally recorded DVD films. Extra copies are cheap, just £3.50 each, and well worth taking.
DVD-ROM £15: Up to 1:30 hours on one DVD-Rom in top quality MPEG2 video files. If you have a lot of tapes, microMV to hard disk files.
Transfers to other formats:
Many customers complain that it is hard to properly capture micromv video files from their camcorders for editing, and if you have this problem I can help by providing DV-AVI files which are easy to edit with any modern computer. For quantities of 10 or more hours, I will do this to hard disk for you at £9 per hour plus postage costs.
Options include transfer to MPEG2 files, DV AVI format files on hard disk, or even copy to miniDV. Just email me for details.

If you have a micromv camcorder, click here to join the micromv Yahoo group, it's free.
---
How to request a microMV video transfer.
We have a new and easy order page, just select what kind of tapes you have and supply your details.
If you prefer, you can instead just email me with your requirements. I will then confirm the price, or best guess at the price, and let you know the address to send the tapes. Digital recordings sometimes require particular personal attention, just let me know of any particular requirements. Usually I transfer to video-DVD but options include transfer to computer file, miniDV tape and more.
If recorded on equipment from another country, see the Television systems explained.
If you want your tapes back after you have the DVD copies (recommended):
Not everyone needs their tapes returned once they have the DVDs, but if you do, please remember to include postage costs. For one or two video tapes in the UK, this is just £1. For larger quantities, and tapes from outside the UK, I will let you know. Ideally can you ensure you send the tapes in a package which is sufficiently large and robust for me to use to send back your original tapes. Usually I will send the DVDs to you ahead of returning your tapes, then when you've confirmed you are happy with the DVDs, I will return your tapes. This way I can help you further if necessary - for example you can now see you want a different part of a tape transferred on its own or you want extra copies.

Please read our Terms and Conditions, which form part of the agreement.
---
TESTIMONIALS
Some previous testimonials for www.video99.co.uk Micromv video transfers
We are listed on the independent Freeindex service, you can read and add to reviews there too.


"I can fully recommend Video99 as officially the Holy Grail of video transfers. Colin is a technological master and a consummate professional: the whole process was completed with more efficiency, quality, and communication than a German football team. We can now enjoy treasured old family footage for many years to come. Best,Leo" micromv tapes to DV-AVI files on Mac formatted hard disk. 09.04.14

"May I say that your service has been second to none. There are lots of companies on the web offering videotape transfer services but none could beat the level of service you provide. Right from my first contact with you, you have been helpful. However, what I have found outstanding is the speed, quality, simplicity and cost of your service. You converted my tapes and dispatched the results to me on the same day you received them! I would recommend you to anyone. Regards,John" Micromv tapes put onto USB memory stick as DV-AVI files for easy editing. 13.01.13

"Colin, I have safely received the tapes. Thanks for your advise and info. I have been greatly impressed by the service you have provided me and could not recommend you more. Thanks very much. Yours, a very happy customer, Matt" Micromv tapes to DV-AVI files on hard disk 28.07.11
"I must say that I was extremely impressed with your work. Just five days from me sending 32 MicroMV tapes to receiving the finished DVDs is a very impressive turnaround time. You have some of the best conversion prices anywhere in the UK and your video transfer quality is superb. Everything was easy and hassle-free. I am very pleased to have done this work through you and I would most definitely be recommending your services to my colleagues who require similar video conversion done." 14.05.11
"Hi Colin, I have received the DVDs and I'm very very happy with your work. Thank you so much for a very good response, quick work and fantastic result. I think you can send back the tapes now. Definitely will recommend you to my friends and I will come back to you again. Many Thanks, Natalia" Large quantity of micromv tapes to DVD. 07.06.010
Hello Colin Yes thanks the DVD arrived today and played it right through. Can you please return the tape. The reproduction is superb, just as good as the original, and thanks for the pics on the front cover, it really 'personalizes' it. Many thanks Ian" Micromv to DVD including box with printed covers. 21.02.09
"Hey Colin, Watched a few of the movies you transferred for us and it's all good." micromv to DV-AVI files on hard disk. 09.11.08
"The DVD arrived safely and work very well. Ulisse" micromv to DVD, 08.11.08
"DVD's arrived yesterday. Have watched the 2005 one which is great. Have not had time to look at the other one yet but I am sure it will be fine. Thank you again - I am passing your details to a friend of mine who is interested. Kind regards. Catherine" 09.10.08
"Colin, I was very pleased with the work you did for me. At present my family are trying to persuade me to return to South Africa early next year. If I do decide to go no doubt I will be back in touch with you again. Best wishes, Charles" micromv to Deluxe Menu DVDs, 04.11.08
---
If you have any questions, just email

me and I'll reply promptly. Also see the video99.co.uk Questions and Answers (FAQ) All material on this web site is copyright www.video99.co.uk and www.colin99.co.uk though trade marks remain with the manufacturers.
Visitors since this counter installed on November 13 2005:
---