miniDV, HDV, DVCAM transfers from video99.co.uk

The UK's most affordable and flexible miniDV, DV, HDV & DVCAM transfers.

A personal service by an engineer with 20 years of video experience. Transfers to DVD, computer and more.

Costs from just £13 per DVD, extra copies £3.50 or less. Discounts for quantity. Lowest prices in the UK but the highest quality.
---
Most small camcorders sold since around year 2000 have used the miniDV digital video tape format. These can produce outstanding results, far too good to be wasted by copying onto VHS. Much better that the recordings are transferred to DVD which retain the quality, are easy to jump around from one scene to another, and last much better than any video tape. Since miniDV tape is completely different to VHS, no miniDV to VHS adaptor could ever exist, we need to play these tapes on the appropriate equipment. You have come to the right place for miniDV to DVD transfers, video99 has the experience to get the best possible results.
I usually transfer miniDV recordings using a fully digital process which means that there is absolutely no loss of picture or sound quality in the transfer to DVD. However, if you wish the time and date indications to appear on the finished DVD (either permanently or few a few seconds at the start, as you wish), I can do this by making a top quality analogue transfer to DVD for you. The results are still outstanding, because I use the high quality S-Video connection method throughout my equipment.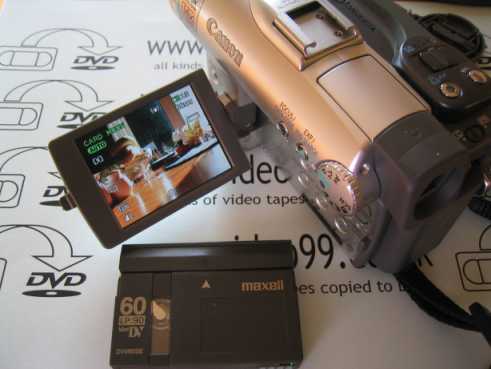 Modern miniDV camcorders can produce outstanding results.
Both Standard Play and Long Play recordings can be copied to DVD, though I would always recommend using Standard Play for maximum quality and to be sure the tapes will play on any camcorder. If you have full sized DV tapes (unusual, not to be confused with DVCAM below) these can also be handled providing they are Standard Play.
Transfers to DVD:
Basic Menu, £13: Up to 2:30 hours on one DVD, but most camcorder tapes are only 60-90 minutes which fits nicely. The menus are limited to just a title, but you get a chapter point every 5 minutes so it is easy to move around the DVD. Extra copies of these DVDs cost just £3.50 each and are recommended.
Deluxe Menu £22: Up to 1:30 hours on one DVD, so camcorder tapes usually fit in one go. Nice menu icons showing what is on that part of the recording, and if you email me with titles I will put them on the DVD for you too. I place the chapter breaks at points of interest or new recordings. These menus look like professionally recorded DVD films. Extra copies are just £3.50 each, and well worth taking.
DVD-ROM £15: Up to 1:30 hours on one DVD-Rom in top quality MPEG2 video files, or 20 minutes of DV-AVI files ideal for editing. If you have a lot of tapes, miniDV to hard disk files start from just £7 per hour for DV-AVI file format.
Transfers to other formats:
Options include transfer to MPEG2 files, DV AVI format files on hard disk or USB stick, copy to miniDV or even DVCAM. Just email me for details.
---
DVCAM transfers
DVCAM is a semi-professional / small studio digital tape format which offers the same performance as miniDV but is designed to be more rugged and reliable. DVCAM recordings can be made on regular miniDV tapes, or the larger DV size tapes. Usually though people use dedicated DVCAM cassettes which carry the DVCAM logo. You may not be able to tell by looking at it, whether you have a DV or DVCAM recording, but we can handle both. We can also accept both PAL and NTSC television standards in either format.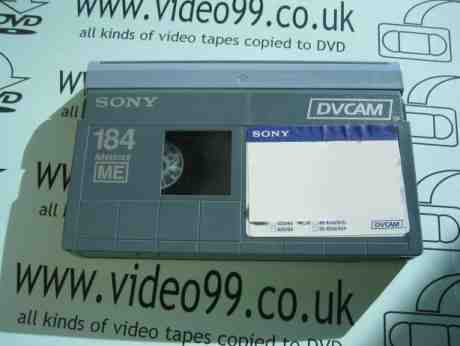 DVCAM recordings are usually made on tapes carrying the DVCAM logo. This shows the full-sized DVCAM tape.
Transfers to DVD:
Basic Menu, £15: Up to 2:30 hours on one DVD, but most camcorder tapes are only 60-90 minutes which fits nicely. The menus are limited to just a title, but you get a chapter point every 5 minutes so it is easy to move around the DVD. Extra copies of these DVDs cost just £3.50 each and are recommended.
Deluxe Menu £22: Up to 1:30 hours on one DVD, so camcorder tapes usually fit in one go. Nice menu icons showing what is on that part of the recording, and if you email me with titles I will put them on the DVD for you too. I place the chapter breaks at points of interest or new recordings. These menus look like professionally recorded DVD films. Extra copies are just £3.50 each, and well worth taking.
DV-AVI files £10.50: Lossless DV-AVI files are £10.50/hour (for 10+ hours) or sometimes less, just email me for details.
---
We also support miniDV and full sized DVCAM sized tapes recorded in HDV format, which can be run to DVD, DV-AVI files in standard resolution, or MPEG2 (uncompressed original tape data) High Definition video files. Cost for HDV transfers is generally 50% more than standard definition DV tapes. HDV 1080/60i, 1080/24p, 1080/30p, 1080/50i , 1080/25p, 720/30p ,720/24p and 720/25p are all supported since we have Sony HVR-M15AE and HVR-M15E players. Just email me for details.
---
How to request a miniDV / HDV/ DVCAM video transfer.
We have a new and easy order page, just select what kind of tapes you have and supply your details. I will then confirm the price, or best guess at the price, and let you know the address to send the tapes. Digital recordings sometimes require particular personal attention, just let me know of any particular requirements. Usually I transfer to video-DVD but options include transfer to computer file, miniDV tape and more.
If for any reason you get stuck filling out the form, just email me and I'll help you personally. It's a personal service I offer, not like some of the big video editing houses. I understand that in many cases you will not be able to tell how much material is on the original recordings.
If recorded on equipment from another country, see the Television systems explained.
If you want your tapes back after you have the DVD or hard disk copies (recommended):
Not everyone needs their tapes returned once they have the DVDs, but if you do, please remember to include postage costs. For a single video tape in the UK, this is just £1. For larger quantities, and tapes from outside the UK, I will let you know. Ideally can you ensure you send the tapes in a package which is sufficiently large and robust for me to use to send back your original tapes. Usually I will send the DVDs to you ahead of returning your tapes, then when you've confirmed you are happy with the DVDs, I will return your tapes. This way I can help you further if necessary - for example you can now see you want a different part of a tape transferred on its own or you want extra copies.

Please read our Terms and Conditions, which form part of the agreement.
---
TESTIMONIALS
Some previous testimonials for www.video99.co.uk miniDV/HDV/DVCAM video transfers
We are listed on the independent Freeindex service, you can read and add to reviews there too.


Whilst trawling for possible companies to carry out some tape to DVD on the internet I came across video99. There was something about the video99 website which set it apart from the rest. Clearly the proprietor was an enthusiast with a great deal of experience and I decided this was the kind of company we needed to sort out some historically important tapes of various formats and transfer them to digital format.

As as there was no telephone number

[It is actually on the web site: 01752 881652]

, I dropped them an email requesting a call back.and within hours I had an encouraging personal reply and a contact number. Suffice it to say that our tapes received prompt and meticulous attention with clear recommendations of what Colin believed the best route forward. The work was completed in an amazingly short time; the complete turnaround of a dozen or so tapes from the time I mailed them to the time I received the copies on hard drive (by special delivery) was less than a week. I cannot recommend video99 too highly. I can guarantee based on my experience that Colin will give you a prompt and professional service at very competitive prices. Unreservedly recommended!" Mark Boulton, Elsa Conservation Trust (Born Free, Joy Adamson). Umatic, BetacamSP and DVCAM tapes transferred to hard disk. 12.03.15

""Colin provided fantastic service throughout, and carried out a great conversion of all of our tapes. Not only does he obviously understand all the technology, the turnaround time, even though it was Christmas, was very quick. Perhaps most important of all, he is very organised, responded to all queries quickly, gave good advice and kept us fully up to date with progress. Highly recommended. Hakan" minidv tapes to video files on hard disk, 10.12.16.

"Thank you Colin for rescuing many hours of ancient footage that I feared lost. We are very pleased with the quality, speed of service, comms and price. We will be recommending Video99 to our friends who may have unplayable MiniDV format tapes! Thanks Again Julian" Customer was struggling to play some tapes on his camcorder, I worked out what the problem was (not all PAL camcoders can play NTSC tapes) and ran them to DV-AVI files on a USB stick. 15.09.16

"Extremely efficient service, reasonable price and so quick! Really helpful and informative emails and would highly recommend Colin's services to anyone. Denise." miniDV tapes to video files on hard disk, 01.09.16

"I have been fortunate to have worked with Colin at video99 on projects ranging from showreels for my work in the Camera Department of the film industry to salvaging family memories from ancient, long-forgotten formats. Each enterprise is approached as though it were a major motion picture and his skill and sensitive suggestions have enhanced all we have done.
And he drives a Hillman Avenger. With thanks and best wishes, Alastair, Associate BSC, ACO." Minidv and microcassette audio tapes to files on hard disk. 27.05.16
"Many thanks for such great service. I've been wanting to get a miniDV tape converted to DVD for a few years but didn't know where to go or who to trust with these special memories. I'm glad I put my faith in you Colin. From initial enquiry to discussing options and receiving the end product you have provided absolutely superb service. I'd recommend your service without hesitation. Thank you so much. Graham " miniDV tape to DVD and video files by upload. 1305.16
"It has been a pleasure to use Video99. It was clear that Colin values every customer and gives them his full, personal attention. The work was returned to me promptly and exactly as I had asked for it. Stronly recommended. John." I generally recommend miniDV tapes are run to video files, but this customer particularly wanted DVDs, so six tapes run to three DVDs. 28.02.16

"Just want to say how impressed I am with your service from initial enquiries through to delivery of the files you have provided a very fast & professional service. I initially tried to do this job myself but after several failed attempts I luckily did a web search and found video99 – the cost was well worth the many hours I would have wasted trying to complete the job at home! Not only was the advice you gave up-front comprehensive but also very clear for a non-expert and that was very much appreciated too – an excellent service from start to finish, thank you. Roland" minidv tapes to DV-AVI and MPEG4 video files. 10.02.16
"It was a easy, quick and friendly service all for a brilliant price. I wouldn't hesitate to use you again in the future. Becky" miniDV to DVD. 18.11.15

"I was really pleased with Colin's fast and friendly service. Turnaround was very quick; Colin replied very quickly whenever I had a question or needed advice during the process. I was recommended video99 by a friend and I'd have no hesitation in recommending him to others. Martin." miniDV tapes to video files. 14.09.15

"Swift and flawless service at an unexpectedly low price. Lots of useful information and guidance given at each stage. Has all the hallmarks of a family run business with a genuine interest in delivering quality and value. Dr A E H, York" minidv and Video8 tapes to DV-AVI files, 03.06.15

"Great communication throughout the whole transfer process. Very good rates and great postal price. Lots of information about services and other transfer rates along with information on editing programmes. The method I choose was mini dv tape to usb device. Speedy service. Good packaging. The device works great on my system and is ready for editing. Colin is a great guy to do business with. Nick spencer of chalkproductions." miniDV HDV tape to high definition video file on USB stick. 24.05.15

"Dear Colin, I'm sorry for the time it has taken me to respond but I just wanted to confirm that I have been able to read all three files OK. You will no doubt have noted that the package was safely delivered on Wednesday, less than 48 hours after I had sent the tapes off, but I needed to find the time to load it into my video editing software to verify the contents. I was worried at first because I initially just double clicked on the file and the default media player refused to display a picture, just sound. Once imported into Powerdirector, however, they played fine. I would like to thank you for your extremely fast turnaround of the media and the professional approach throughout, not to mention extremely good value for money. I would happily recommend video99 to anyone who needed such a service. Gwyn." HDV tapes to lossless High Definition MPEG2 video files on USB stick. 20.04.15

"A first class, professional service designed to put the customers wishes first, whilst providing honest recommendations to suit your needs. Excellent value for money with a genuine desire to keep costs as low as possible. I entrusted my most precious memories with Colin and thanks to his skills I will now have them for much longer than I could of hoped for. Highly recommended service all round.Carmen" 18 miniDV tapes to DVD, rushed through before Christmas. 21.12.14

" We are watching the tapes now and they are magic! The quality is excellent, and fantastically edited. Thank you so much for such a great service and priceless product! Now we have the data files, I finally feel these home videos are safe and secure." Video8 and miniDV tapes to DV-AVI files on hard disk, rushed through before Christmas. 20.12.14

"The whole experience of using video99 has been stress free, seamless, quick and transparent. Communication has always been very prompt. I asked for my tapes to be captured on a portable hard drive and everything has been captured at a quality that equals the original. I had a couple of queries, both were responded to in hours with detailed explanations. I cannot recommend this service highly enough. Thanks Colin for bringing back memories to me and my family, we are looking forward to viewing the rest." minidv tapes to hard disk. 23.11.14

"We are absolutely thrilled to finally have our precious memories all compiled onto one disk. We have already enjoyed watching the baby videos back with our children now 10 and 7 years old! Thank you for the excellent communication at every step in the process. Also the swift responses and the amazingly fast service. I wouldn't hesitate in recommending you to our friends and family and will be using your services again ourselves. Lisa." miniDV tapes to DV-AVI files on hard disk, these tapes were quite challenging because there were some defective Long Play recordings in there. 10.11.14

"Hi Colin. I'm just writing to thank you for the friendly, helpful, efficient service I've had from you. I had put this job off for many months due to having no idea what I needed to do! In the end, it merely took 10 mins of reading your website and 10 minutes of order form and problem solved. Thanks again. Kate" miniDV and VHS tapes to DVDs with colour printed boxes. 05.11.14

"A very very happy customer. Thankyou so much! I'm in my twenties and have lost both my parents to cancer, these mini dv tapes are all I have of them on film so was a little nervous sending them off but colin is fantastic and emailed me at every stage and within 2 days they were being sent back to me on dvd so I can watch and enjoy. They are perfect! One mini dv wouldn't even play on my camcorder and I thought it was lost forever but it's now on dvd. Really reasonably priced too! I will be recommending him to everyone. Thanks colin. Clair" miniDV tapes to DVDs. 08.10.14

" I can thoroughly recommend Video99. The service I received was excellent. Having responded very quickly to my initial enquiry, Colin did a fantastic job with a thorough explanation of formatting and advice on the best storage medium and converted over 40 tapes in just a few days. A really personal service. Thank you Sarah " Video8, VHS and miniDV tapes to video files for PC and Mac. 29.05.14

"Video 99 has recently transferred footage from our back catalogue of mini DV tapes. The original tapes were not in great shape having been recorded on using a variety of formats. Video 99 were able to transfer all of the footage onto a DVD archive in the file format I requested. They were efficient, reliable and the communication was excellent. Also there postage and packaging service was excellent. I have no hesitation in recommending Video 99's services to both professional and amateur alike".Paul, Brentford FC. HDV and DVCAM tapes to video files. 28.01.14

"We are very happy with the service provided. It was really quick and the communication through mail was smooth. Sending the tapes by mail put us off a little at the beginning, but the hard-drive was returned properly packed and arrived safe. The price is simply unbeatable compared to any other digital transfer service in London. Definitely we'll be using your service again in the future. Best regards,Urtzi" DVCAM tapes to DV-AVI files. 20.01.14

"Video99 has been wonderful. We discovered that our video man had recorded our videos at half speed and on an old camcorder because of their length - ugh! Colin was able to extract them at proper speed and now they look as they should do. Great and professional service and advice and super quick." minidv to DV-AVI files, 07.11.13

"Many thanks for the excellent service - great communication, very fast turnaround, and the high quality of final product. I wouldn't hesitate in recommending your services to friends/colleagues in the future. Best regards Jonathan" minidv tapes to DV-AVI files on hard disk. 28.10.13

"Thank you again for providing me with a first class service on getting my MiniDVs copied on to DVDs and a hard drive. You were very patient with all my questions, and I particularly appreciated your attention to detail, your regular email updates (including confirmation of safe receipt of the tapes), the quality of the recordings and the colour quad box inserts. I'm glad I took the 'leap of faith' of sending you all my 14 childrens' tapes from babies to teenagers (with no back up!) for copying and my only regret is that I did not get them done sooner! I shall certainly recommend your services and have no hesistation in using you again. Regards, Melissa" miniDV tapes to hard disk and edited DVDs including colour printed boxes. 08.08.13

"Rapid turnaround, reasonable prices and helpful service, accommodating some awkward requirements. No hesitation recommending this company. Excellent. Jupiter" DVCAM to DVD with special chapter points. 13.05.13

"Colin, Just wanted to say a huge thanks for the transfer of various VHS, Hi8 and MiniDv tapes. At every stage of the process you have been truly first-class - in explaining the process and what I need to do, in responding to emails and in sending the tapes and external drive back. And I should say that the quality of the transfers is excellent too. As someone who's worked for many years in television in fast-paced. trendy London I was (I admit) slightly reluctant to send my precious tapes off to deepest, darkest Plymouth! But I shouldn't have had a single worry. The price is excellent, the quality is excellent and the customer service is excellent. I've already recommended Colin to a friend and will continue to do so in future. Best wishes, Roddy" Various tapes to DV-AVI files on hard disk. 18.01.13

"Just a line to say, how delighted I was with your prompt and professional services. With several hours of footage shot on a DV camera in the Himalayas that we needed to digitise for editing to broadcast standards, quality was oneof our chief concerns.
We needn't have worried. The footage you returned was clean, skilfully segmented and rendered ready for editing in a way that far exceeeded our expecations. We are very impressed and grateful; we will use you whenever the need arises, and have no hesitation in recommending you to other prospective clients. Thanks and regards Eugene" DVCAM tapes to DV-AVI files. 17.10.12

"When my camcorder damaged 3 precious tapes of our 'once in a lifetime' trip to Peru, I was in despair. Colin was a pleasure to deal with. He gave me some very helpful advice on possible formats, and quickly and effectively recovered almost all the material. I expect to use Video99 again." miniHDV tapes run to both Standard Definition and High Definition video files on BD-Rom (BluRay Rom) disks. 13.09.12

"Colin transferred all our precious family memories into digital format in super-quick time. Can't believe how lucky we were to chance upon his website and find someone who was so fast, efficient and trustworthy – much better service than we've ever experienced at high street stores and photo labs. Thanks again. Lisa" minidv and VHS to DV-AVI files for PC editing. 01.08.12

I'm very pleased with the quality, price and excellent service Colin provided during the transfer of my files to HD. It was a real godsend to be able to view them again after sitting on tapes which I could no longer view. I felt he had gone that extra mile to assist Thanks Very much Colin Dave" minidv to hard disk, 26.04.12

"The service that www.video99.co.uk provides is fantastic and at a very reasonable price as well. I was most impressed with the followup instructions provided. Andrew" 12.03.12

"Having enjoyed a flight in a P51 Mustang in Florida, I had an American format minidv tape which I needed transferred to DVD. I found video.99 on Google and emailed Colin for information, he replied promptly that he could do what was needed and gave me a competitive price. I sent the tape on a Thursday and received my DVD's on the following Monday, perfect image and an efficient service, would recommend.Cliff " NTSC minidv (Long Play) tape run to PAL DVD. 17.10.11

"Dear Colin, Slightly delayed but just wanted to say a big Thankyou for your assistance with the footage for my project. Everything went like clockwork and some footage has been processed for the final website material. I will definately keep you in mind for future projects as well as informing others about your service. Best Wishes. Lee" mini HDV tapes transferred to DV-AVI files on DVD-Rom for customer to edit with a Mac and use on a web site. 27.08.11

"Excellent service with high level of diligence and care; highly recommended. Regards, HHL" Six miniDV tapes to DVDs with extra copies and colour printed boxes. 16.07.11

"Colin provides a fast and professional service from video99.co.uk, I would recommend the services of Colin to anyone who requires this type of work doing. Bill." miniDV to DVD 09.07.11

"I will recommend your excellent service which was extremely quick and the quality of the dvd is fantastic. The mini dv tape I sent you had snapped and was chewedeup in the cancorder and I didn't think you would be able to repair the tape and transfer it to DVD. I only lost the first 3 minutes off the tape which was of a dance shows finale and you managed to transfer it to dvd and return it within 48 hours of receiving it. The final cost was less than any other companies I phoned and the quality and return time were excellent. I will be recommendig your service to any one I know who needs valuable tapes transferred to DVD. Thanks again for your work. Regards, George, East Kilbride" Damaged miniDV repaired and transferred to DVD. 12.06.11

"Thank you for your swift and efficient service - which was very good value.I couldn't have asked for more - Gareth" 08.06.11

"I have used Video99 five times now, and have found them to be very efficient, producing qulity copies in a very fast time, the service has been excellant and have comunicated with me at each stage of the process. David." miniDV tapes to DVD this time, other formats previously. 27.11.10

"I'd like to thank you for your extremely fast and efficient service. The quality of your work speaks for itself. You offer an outstanding level of customer service which many other companies should aspire to be like. I wouldn't hesitate to recommend you to anyone. Many thanks, 11/11/2010" Two DVCAM tapes to DVD.

"I was skeptical to let anyone have the video tapes of my babies after having bad experiences in the past. Colin was really helpful, completed the work super fast and at a really reasonable price. I will definitely be using his services again. Thanks very much" miniDV tapes to DVD, 17.03.10

"Thanks Colin First DVD received safe and sound. Viewed it tonight and I am very pleased with the results Very nice job, well done! I will highly recommend your services to family and friends. The speed of response and clarity of communication was exceptional Thanks again Sally and John" Two miniDV tapes edited to a finished wedding DVD and 13 copies made. 16.03.10

"Incredibly quick, thorough and professional work carried out to a very high standard, wholeheartedly recommended." Short miniDV tapes and a micromv tape all put to one DVD. 11.02.10

"I am really pleased that I used Video99.co.uk to transfer years worth of valued family tapes to DVD. The service was quick, professional and great value for money. The guidance and advice from Colin really made it easy to do. I have no problem whatsoever in recommending Colin to anyone. Stephen" 16 miniDV tapes to DVD. 28.11.09

"Hi Colin, Have now watched the discs. They are fine so it is now safe to send my original tapes back. I want to thank you for your professional but personal approach in dealing with my order. I am certainly pleased with the results. Best wishes Lynne" miniDV tapes to DVD. 29.08.09

"Hi Colin Thank you so much for all your hard work on our new DVD's – we absolutely love them – the whole procedure from start to finish was extremely professionally and slickly handled - we will highly recommend you to other friends as well as sending you more business as and when we need it – good luck with your business and I hope it flourishes. Kind Regards Kim" Five NTSC (USA system) miniDV tapes supplied which were a bit too long in places. Carefully edited them down to make two shorter and more watchable DVDs of the UK PAL system, complete with colour printed boxes. 10.08.09

"Colin provides a very friendly, informative and quick service. He cares about his work and the quality of the copies were excellent, I have no hesitation in recommending him. Amer " Quantity of miniDV tapes to DVD. 20.04.09

"I have watched both of them briefly and I am very pleased with the results, especially the wedding tape, the fading in/out really improved it, as I know you didn't have very good material to work with! The presentation covers are excellent, I didn't know what to expect, but they far exceed my expectation. Many thanks, Bridget" miniDV tape of a wedding edited together to improve how it looked, along with boxes and colour printed sleeves. 20.12.08

"I sent Video999 a broken and mangled mini DV which contained footage of our first holiday with our grand-daughter. This was repaired and transferred to DVD. The Quality, Efficiency, and Value for money were outstanding; and the Customer Care superb. Mick" 15.07.08.

"Dear Colin Got the dvd yesterday it plays very well so please return my tape. Thank you so much for how quick you did the transfer to dvd. I would use your company if I ever needed this sort of thing doing again. Many thanks Helen" miniDV to DVD, 04.06.08

"Thank you so much for doing such a great job. The DVDs are great and are bring a lot of joy to our children as well has smiles of fond memories to my wife and myself. We were both amazed by the effort you put into the inserts. I had no idea that you were going to pull together a collage from each of the films. They are wonderful and really allow us quickly to determine what is one each DVD. Thank you so much for this. Thank you also for your perseverance through the technical issues that you had and for keeping me overly informed on status. Rather more than less on the status front. It is very clearly evident that you put passion and your heart into your work over and above what I would be expected and for that I thank you and will recommend you to as many people as I can. Many thanks and please do not hesitate to use me as a reference Deepak" miniDV tapes to both DVD and DV-AVI files on hard disk. 29.02.08

"I found Video99 on the Internet, and I am delighted to offer a recommendation to anyone who is looking for an excellent service. Colin McCormick is deserving of the highest praise for care and attention to detail. His prices really are the best you will find and his turn round excellent. Use his talent and you won't be disappointed. Jill". NTSC (USA tv system) Long Play miniDV tapes put onto PAL DVDs. 14.11.07

"colin, hello again - dvd's arrived and were in perfect condition - many many thanks for doing all of this so promptly, reasonably and, well, professionally. i feel there are not many people who would have dealt as competently with all the niggling details i presented you with and very much appreciate the very high quality service you have delivered. i shall recommend video99 to any and all colleagues/friends who find themselves in need of professional quality conversion at a very reasonable rate with a very tight turnaround. is it possible to request another two copies of the same? many thanks, jennifer" High priority miniDV to DVD, whereby the first copy had to be sent abroad urgently before New Year. 02.01.07.

"Hi Colin, Just a line to say I received the parcel containing my DVD's and tapes. Thank you for turning this around so quickly and the end results are brilliant. I have also passed your details on to a couple of my friends who are also looking for video transfers. Once again many thanks and I look forward to using your expertise in the near future Happy New Year to you all. Kind Regards Gary" Video8 and miniDV to DVD. 26.12.06

"Colin Thanks for your prompt service. The DVD's are great. My daughter hasn't stopped playing it. I have already recommended you to a few friends. Regards Teresa" miniDV to DVD 14.08.06. (Since the recording was short I included free return postage of the tape too).

"Colin, For some time I have been checking the High Street shops to transfer my Video cassettes to DVD but was quite amazed at the prices quoted.I therefore went on the Internet and found you at www.video99.co.uk After the exchange of a few Emails I decided to send you four cassettes as your prices quoted were so reasonable. On receipt of the DVD's within a few days I was so pleased with the clarity and sound that I arranged to send you the remainder of my cassettes which were sixteen in number and some dating back to 1998. The DVD's were returned in no time and what with the discount given for quantity I really felt I had to Email you to thank for your excellent service and to reccommend you to anyone considering placing an order with you. Kindest regards, Robert." Multiple MiniDV and Hi8-DVD.

"Hi Colin, The package arrived safely and the dvd's play beautifully. Thank-you for all your help and the prompt, professional service you have given. Best regards, Hannah" miniDV to DVD transfer, multiple copies.
---
If you have any questions, just email

me and I'll reply promptly. Also see the video99.co.uk Questions and Answers (FAQ) All material on this web site is copyright www.video99.co.uk and www.colin99.co.uk though trade marks remain with the manufacturers.
Visitors (counting since Nov'05):
---