miniDV, HDV, DVCAM transfers from video99.co.uk

The UK's most affordable and flexible miniDV, DV, HDV & DVCAM transfers.

A personal service by an engineer with 30 years of video experience. Transfers to USB stick, hard disk or DVD.

Discounts for quantity. Lowest prices in the UK but the highest quality.
---
Most small camcorders from around years 2000 to 2012 used the miniDV digital video tape format. These can produce outstanding results. Since miniDV tape is completely different to VHS, no miniDV to VHS adaptor could ever exist, we need to play these tapes on the appropriate equipment. You have come to the right place for miniDV video99 has the experience to get the best possible results.
I usually transfer miniDV recordings using a fully digital process which means that there is absolutely no loss of picture or sound quality in the transfer to USB stick, hard disk or DVD.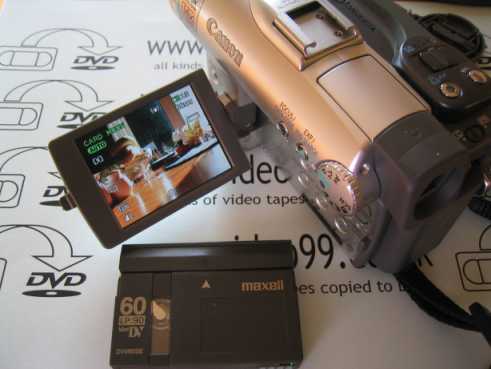 miniDV camcorders can produce outstanding results.
Both Standard Play and Long Play recordings can be transferred, though I would always recommend using Standard Play for maximum quality and to be sure the tapes will play on any camcorder. If you have full sized DV tapes (unusual, not to be confused with DVCAM below) these can also be handled providing they are Standard Play.
Transfers to DVD. Most customers take USB stick or hard disk, but DVDs are still possible:
Basic Menu, £13: Up to 2:30 hours on one DVD, but most camcorder tapes are only 60-90 minutes which fits nicely. The menus are limited to just a title, but you get a chapter point every 5 minutes so it is easy to move around the DVD. Extra copies of these DVDs cost just £3.50 each and are recommended. However miniDV is such a high quality format that DVD is not generally recommended, video files on a USB stick or hard disk are better.

Transfers to video files:
Nearly all customers now take video files on a USB stick or hard disk (depending on quantity). Typically we provide large DV-AVI files of 13GB per hour, ideal for nearly all PC and Mac video editing software, these are a pure lossless clone of the contents of the miniDV tapes, even retaining the original time/date information which some software can access. Almost all customers also take the very inexpensive option of additionally having smaller MPEG4 files which will play on most modern TVs which have a USB socket. Assuming at least 10 hours, the cost for minidv to DV-AVI video files is just £7 per hour of useful material. Just email me for details.
Video files are higher quality than DVDs, easier to edit, share and back up, so a much better archive format.
---
DVCAM transfers
DVCAM is a semi-professional / small studio digital tape format which offers the same performance as miniDV but is designed to be more rugged and reliable. DVCAM recordings can be made on regular miniDV tapes, or the larger DV size tapes. Usually though people use dedicated DVCAM cassettes which carry the DVCAM logo. You may not be able to tell by looking at it, whether you have a DV or DVCAM recording, but we can handle both. We can also accept both PAL and NTSC television standards in either format. DVCAM video transfers are made to USB stick or hard disk, we would not usually recommend DVD for this format.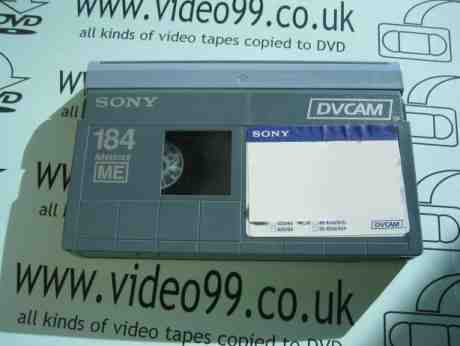 DVCAM recordings are usually made on tapes carrying the DVCAM logo. This shows the full-sized DVCAM tape.

DV-AVI files £10.50: Lossless DV-AVI files to USB stick or hard disk are usually between £7/hour and £10.50/hour, depending on running times, just email me for details.
Transfer to DVD is possible but for such a high quality format, video files are recommended instead.

---
We also support miniDV and full sized DVCAM sized tapes recorded in HDV format, which can be run to DVD, DV-AVI files in standard resolution, or MPEG2 (uncompressed original tape data) High Definition video files. Cost for HDV transfers is generally 50% more than standard definition DV tapes. HDV 1080/60i, 1080/24p, 1080/30p, 1080/50i , 1080/25p, 720/30p ,720/24p and 720/25p are all supported since we have Sony HVR-M15AE and HVR-M15E players. Just email me for details.
---
How to request a miniDV / HDV/ DVCAM video transfer.
We have a new and easy order page, just select what kind of tapes you have and supply your details. I will then confirm the price, or best guess at the price, and let you know the address to send the tapes. Digital recordings sometimes require particular personal attention, just let me know of any particular requirements. Usually I transfer to video-DVD but options include transfer to computer file, miniDV tape and more.
If for any reason you get stuck filling out the form, just email me and I'll help you personally. It's a personal service I offer, not like some of the big video editing houses. I understand that in many cases you will not be able to tell how much material is on the original recordings. If recorded on equipment from another country, see the Television systems explained.
If you want your tapes back after you have the transfers (recommended):
Not everyone needs their tapes returned once they have the transfers, but if you do, there will be a little added for costs. For a single video tape in the UK, this is about £1. For larger quantities, and tapes from outside the UK, we will calculate it later. Ideally can you ensure you send the tapes in a package which is sufficiently large and robust for me to use to send back your original tapes. Usually I will send the transfers initially, then when you've confirmed you are happy with them, I will return your tapes. This way I can help you further if necessary - for example you can now see you want a different part of a tape transferred on its own or you want extra copies. When you receive your tapes back, you may notice that the record tabs have been switched to safe. The first thing I do with a tape is make sure that it cannot be recorded on, so protecting your important recordings.

Please read our Terms and Conditions, which form part of the agreement.
---
Testimonials and social media.
We are listed on the independent Freeindex service, you can read and add to reviews there. Most customers use that method for testimonials now.

We also have a collection of fascinating testimonials from some famous names, see the famous names testimonials page.

Please also subscribe to our YouTube channel where you can see some of the work we do and fantastic equipment we have.


---
If you have any questions, just email me and I'll reply promptly. Also see the video99.co.uk Questions and Answers (FAQ) All material on this web site is copyright www.video99.co.uk and www.colin99.co.uk though trade marks remain with the manufacturers.

Visitors (counting since Nov'05):
---