The UK's most affordable and flexible Video2000 (Philips V2000) transfers.

A personal service by an engineer with 20 years of video experience. Transfers to DVD, computer and more.

Costs from £15 per DVD, extra copies £3.50 or less. Discounts for quantity. Lowest prices in the UK but the highest quality.
---
As well as VHS and Beta, there was another video tape format in Europe, usually known as V2000. Marketed by Philips, Pye, Grundig and B&O, not much portable equipment was released using this format and so transfer services are hard to find. You may have precious recordings on these tapes, and video99 has more expertise in V2000 to DVD transfers than probably anyone else in the UK. I have a selection of several machines to use for V2000 transfers, which lets me use the machine which gives the best results on your particular tape - because some V2000 tapes play better on machines without a feature called Dynamic Track Following, and some play better with it. Furthermore, most of my Video2000 machines have brand new video heads fitted to them (very expensive!), just to get the very best from your tapes. The signals are extracted at baseband (not all Philips V2000 players can do this) and then pass via a Digital Timebase Corrector for the best possible results. (I can't yet offer XP extended play recordings from V2000, but it is highly unlikely you have any of these.)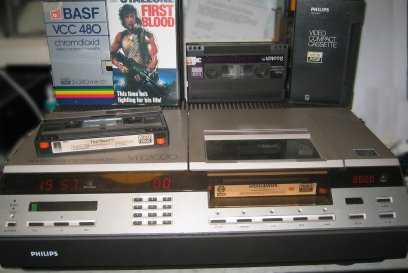 The first Philips 2000 video recorder sold in the UK.
Tape type

Running times (maximum)

V2000 VCC480 / VCC360 /

VCC240 / VCC120

Each side is half the amount of minutes, eg. VCC240 = 2*120 minutes.
Transfers to DVD:
Basic Menu, £15 per tape: You get a chapter point every 5 minutes so it is easy to move around the DVD. Each DVD will take up to 2.5 hours. Because the tape can be recorded on both sides, it generally takes more than one DVD to record all of the material from a V2000 tape, but I can pick out just the useful material for you if you have a tape full of various stuff including just one important part. Priced at £15 per DVD, with extra copies (highly recommended) at just £3.50 each.
Transfers to other formats:
Options include transfer to MPEG2 files, DV AVI format files on hard disk for larger quantities of tapes (5 or more), transfer to miniDV or even DVCAM. Just email me for details.
We believe that all V2000 recordings are made using the PAL television system. If you have a V2000 recording made in France, please contact me to discuss this.
---
How to request a V2000 video transfer.
We have a new and easy order page, just select what kind of tapes you have and supply your details. I will then confirm the price, or best guess at the price, and let you know the address to send the tapes. V2000 recordings sometimes require particular personal attention, just let me know of any particular requirements. Usually I transfer to video-DVD but options include transfer to computer file, miniDV tape and more.
If for any reason you get stuck filling out the form, just email me and I'll help you personally. It's a personal service I offer, not like some of the big video editing houses. I understand that in many cases you will not be able to tell how much material is on the original recordings.
If recorded on equipment from France, see the Television systems explained. Only PAL recordings are accepted for V2000.
If you want your tapes back after you have the DVD copies (recommended):
Not everyone needs their tapes returned once they have the DVDs, but if you do, please remember to include postage costs. For a single video tape in the UK, this is just £2.50 For larger quantities, and tapes from outside the UK, I will let you know. Ideally can you ensure you send the tapes in a package which is sufficiently large and robust for me to use to send back your original tapes. Usually I will send the DVDs to you ahead of returning your tapes, then when you've confirmed you are happy with the DVDs, I will return your tapes. This way I can help you further if necessary - for example you can now see you want a different part of a tape transferred on its own or you want extra copies.

Please read our Terms and Conditions, which form part of the agreement.
---
TESTIMONIALS
Some previous testimonials for www.video99.co.uk V2000 video transfers
We are listed on the independent Freeindex service, you can read and add to reviews there too.


"I needed two very old 4 hour V2000 tapes converting and used Video99 to do this. I found Colin to be very professional with extremely prompt e mails to help decide exactly what to transfer and into which format so that I would be able to play it. I would use his services again and recommend him. Thank you again Colin. Gordon,North Wales" V2000 tapes to DV-AVI files on USB stick. 02.12.15

"Good afternoon Colin, Just a line to say the DVD's & Video arrived safely and we had great fun watching the long forgotten film in DVD format. Thank you for your valued effort. Kind regards,David." V2000 to DVD for customer in Ireland. 01.07.15

"Colin Many thanks---DVDs arrived Friday!! Have played one---all fine so you can now send back the tape. Excellent service from you---most impressive. Thanks & Regards Ken" V2000 tape to DVDs. 15.06.15

"I wasn't sure if I would be able to get a 29year old v2000 tape transferred to DVD as this format wasn't as popular as VHS. I am delighted with your excellent service, wouldn't hesitate to recommend you to everyone. We won't have a dry eye in the house when the family watch the DVD! Thanks for returning precious memories! Lesley" V2000 to DVD, 02.05.13

"Hi Colin, The DVDs arrived today, thank you for such a speedy and professional service! I will recommend you to everybody! Thanks again. Andrew" V2000 edited down and put to DVD, 27.04.13

"Everything was impeccable. I know the quality of the original was not very good, so I guess it's a very faithful copy of the original. I will recommend your services to others who may need it. Thank you for your excellent service.Peter" V2000 to DVD for customer in Portugal. 25.04.13

"Thank you very much indeed for a fine job. After several months of searching on the web, I despaired of finding any way of transferring the defunct VR2000 tape onto DVDs, so when you were recommended to me I was delighted. And your swift, efficient and careful service is much appreciated - as are your very reasonable charges. The DVDs work well, and the cover you created for them is really good. I would be more than happy to recommend you to anyone. Philip" V2000 tape to DVDs. 09.04.13

"Thank you Colin for providing a very fast and professional service. It was a pleasure dealing with you and it was obvious that you took great care over restoring the video tapes and making sure that we received the materials in the best possible quality. Simon" V2000 to DVD 10.07.12

"Hi Colin Many thanks - the DVD's arrived in the post today, professionally packaged and they played on my Laptop without a hitch. I agree with you that the picture and sound quality is as good as it's likely to get. I would highly recommend your service to anyone who has old V2000 tapes. Thanks to you I now have an enduring reminder of events which took place almost 30 years ago. Thanks again & best regardsJohn" V2000 to DVD, 03.10.11
"Colin, Just a brief line to thank you so much for your perseverence in dubbing-off my ancient V2000 tape ! The results were slightly better than I expected, given the constraints under which you had to work. I certainly know where to come should any further tapes require copying ! I watched the DVD this morning after the postman had been and I am delighted to say it has exceeded expectations. Thank you so much. Yours sincerely, Steve" V2000 tape which had originally been copied from VHS. 05.03.11
"Colin Thank you so much for the DVDs. As you say they are not perfect but exceeded my expectations and are certainly as good as the quality on the tapes which I sent you. I thank you for your expert advice and for a quite remarkable service. It is gratifying to have experienced such quality and professionalism. My wife is delighted since the contents of the tapes, (and now the DVDs), have loving memories for her." Some of this customer's V2000 tapes had imperfections, but still I was able to run them all. 05.11.10
"Morning Colin, The DVDs arrived safe and sound yesterday and we've just had chance to sit and watch them. We're delighted with what you've done .Your service has been professional from start to finish and I would have no hesitance in recommending you to anyone else. So pleased to have found you when we did, I don't think those tapes would have lasted another 25years! Many Thanks Chris" Several V2000 tapes to DVD (some tapes were mouldy). 31.08.10
"Hi Colin We received the DVDs yesterday. Thank you so much, it was lovely to watch our wedding again after all this time. Wouldn't hesitate to recomend your services. Many thanks Jenny" Wedding V2000 tape transferred to DVD, with colour printed boxes showing pictures from the tape. 16.09.09
"I'm most pleased with Colin's transcription service. He transcribed an old Phillips 2000 tape that was 21 years old, onto a DVD. He selected the bits I wanted, and removed unwanted material such as adverts. The quality is amazing considering the age of the tape. He communicated effectively so I knew exactly how and where to send my tape, and he sent reassuring e-mails at various stages. He also turned around the job very quickly. In all, I am most satisfied! Mike" 04.09.09
"Dear Colin, Received the DVD and pleased with the result. Thanks very much. Regards Ralph" V2000 run to DVD with picture improvements to help overcome a poor recording. 14.01.09
"The DVDs work fine so you can return the video thanks Colin. Thanks so much for the excellent and quick service. I'd happily recommend you to anyone. Paula" V2000 to DVD. 10.12.08
"Dear Colin Thankyou for the dvds, they arrived today and we are really pleased with the quality. Afer 25yrs it was really nice to see it again. Many thanks. Yvonne" Another transfer company had told this customer that their V2000 tape was impossible to recover. No problem for video99. 30/08/08.
"The discs turned up today and play perfectly. The transfer quality is excellent and I'm delighted with the results. Many thanks for your help, I had almost given up on finding any way of reading the tape. James". V2000 to DVD 23.02.08.
"Hi Colin, Just to let you know I got your parcel today, and more than very pleased with the quality, given that they are over 20 years since we watched these. So I'd like to thankyou very much for the time and effort of transfering the video to DVD. Best regards, all the best for the New Year. Pierre" V2000 to DVD, from New Zealand. 10.01.07

"Dear Colin

Thank you for converting my old Philips tapes onto DVDs for me and for returning the originals.

For some time I had been searching for a way to preserve the hundreds of recordings I've made over the years, some of the early ones being recorded on very old Philips tapes. Although I kept the relevant machines in order to replay them, neither one is operational now unfortunately.

Since Ron died, these recordings are even more precious to me as they contain so many of his words that show his passion for sport and his belief that taking part in sport has much to offer the young. His philosophy on sport and what he had to say, particularly about drugs in sport, is still relevant today and I am relieved that his words are now preserved in a more lasting format.

Thank you for your help and expertise in converting the tapes for me. I hope to use the DVDs to introduce Ron to the young athletes we now help financially through the charity now set up in his memory. Hopefully they will help to explain why the Ron Pickering memorial fund has been successful in raising sufficient money to be able to help thousands of talented young athletes to take part in sport.

Yours sincerely

Jean Pickering"
The original letter can be seen here. This was a transfer of a number of V2000 tapes to DVD for Jean Pickering, widow of the late Ron Pickering, sports commentator. Names used with permission. 16.08.06

"Colin, I am grateful for the quality of the work you did for me in transferring 20-year old V2000 video to DVD at a fraction of the cost of having it done in Ireland. Above all, I appreciate the person touch, the ease with which you communicated with me on every issue. I have no hesitation in recommending your work to others. Michael" A V2000 tape was sent, no charge for reporting back what was found which was not the material the customer required. A second tape was sent, and this was what he had been looking for so transferred to DVD.


"Colin I have just received the DVDs via my parents in the UK and I am very impressed by the way they have turned out! I didn't realise there was so much that I had copied to V2000 .... You mentioned that they were of poor quality but in fact they are better than my own efforts to digitise my other Video 8 tapes that I have using a PC(unless you have enhanced them in some way?)! That is fairly impressive considering that they have been copied twice! That must say a lot for the equipment you are using as well as Philip's Video 2000 system..... Paul" V2000 to DVD.


"Hi Colin, Thank you for sending the DVD back so quickly. We sat and watched the film this morning - it's fantastic! I can't believe the quality. It's so much better than I'd hoped! Thanks for the extra copy as well, it certainly won't go to waste. If we have any more films to convert we know where to come !! Best Regards Katie" V2000 to DVD

"Thanks colin i have got the disks its a blast from the past my too boys will love it thanks once again AD" V2000 to DVD, 06.06.05

"THANK YOU! The video is GREAT!!! The quality is better than I imagined it would be from a camera from that era and the disturbance in the video does not take away from the enjoyment of watching it. This tape is gold - thanks so much! .... Great job, Colin - THANKS again!" Barna, Canada. V2000 to DVD

Here is a BBC pamphlet from arund 1984 showing new releases on VHS, Beta, V2000 and Laserdisc.


---
If you have any questions, just email

me and I'll reply promptly. Also see the video99.co.uk Questions and Answers (FAQ) All material on this web site is copyright www.video99.co.uk and www.colin99.co.uk though trade marks remain with the manufacturers.
Visitors (counting since Nov'05):
---