VHS/SVHS transfers to DVD from video99.co.uk

The UK's most affordable and flexible VHS and SVHS transfers to video files or DVD.

A personal service by an engineer with 20 years of video experience. Transfers to DVD, computer and more.

Costs just £13 per DVD, extra copies £3.50 or less. Discounts for quantity. Lowest prices in the UK but the highest quality.
---
VHS tapes are familiar to us all. They never gave the best pictures to be honest, and are starting to look very dated today. Furthermore the tapes degrade with age, and if your precious recordings are left on VHS beyond around 20 years, there is a real risk that the quality will suffer. In extreme cases, the recordings may be lost forever. Also VHS is now an obsolescent technology for which players will not be commonly available for much longer. Time to move your important recordings to DVD!
A few full sized VHS camcorders were sold for a short time, but most VHS camcorders were of the VHS-C (Compact) variety. The format never really caught on, but in the late 1980's to early 1990's, a few manufacturers sold camcorders of this type. If your old camcorder was JVC or Panasonic, it would have probably have used the VHS-C format. A handful of other brands used it for a short time too. The thing people remember about the VHS-C format is that you could play the tapes in a VHS video recorder using a (sometimes temperamental) adaptor cassette.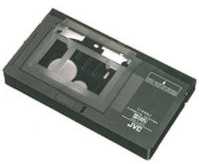 VHS-C tapes could be played back on a VHS video recorder with an adaptor.
S-VHS, or Super-VHS is a higher quality version of VHS using tapes of the same size. Several camcorders of this type were sold, and often they gave very good results. Smaller camcorders could use the S-VHS-C (or Super-VHS-C) type of tape, though very few of these were sold.
I can transfer all of the above types of tape to DVD, using expensive NV-HS1000 and NV-HS950 Panasonic S-VHS edit decks. This gives us HiFi stereo sound, and is connected up using S-Video signals to get the best possible colour performance from S-VHS recordings. Signals are processed via the players' integral Digital Timebase Correctors and then also an external Digital Timebase Corrector system which also allows for adjustment of colour alignment. Lots of video transfer businesses miss out this important equipment because it's so expensive.

Transfers to DVD:
Basic Menu, £13: Up to 2:30 hours on one DVD, though I can extend this a little if necessary, with top quality pictures and sound. The menus are limited to just a title, but you get a chapter point every 5 minutes so it is easy to move around the DVD. Extra copies of these DVDs cost just £3.50 each and are recommended.
Deluxe Menu £22: Up to 1:30 hours on one DVD, with top quality pictures and sound. Nice menu icons showing what is on that part of the recording, and if you email me with titles I will put them on the DVD for you too. I place the chapter breaks at points of interest or new recordings. These menus look like professionally recorded DVD films. Extra copies are just £3.50 each, and well worth taking.
DVD-ROM £15: Up to 1:30 hours on one DVD-Rom in top quality MPEG2 video files. If you have a quantity of tapes, VHS to computer hard disk files start from £9 per hour.
If you have a recording made on equipment from USA or another country which uses a different television system, I can do these too at no extra cost, just let me know. Not all transfer companies can do this, and even if they can they may not be able to recover the HiFi sound track, but we do it all. We can even do strange requests like copy to S-VHS in NTSC, almost nothing is beyond us.
Transfers to video files:
Options include transfer to MPEG4 files, DV-AVI format files on hard disk or USB stick, transfer to miniDV or even DVCAM. Assuming at least 10 hours, the cost for VHS to video files is £9 per hour of useful material. Just email me for details.
---
How to request a VHS/SVHS video transfer.
We have a new and easy order page, just select what kind of tapes you have and supply your details. I will then confirm the price, or best guess at the price, and let you know the address to send the tapes. Some recordings require particular personal attention, just let me know of any particular requirements. Usually I transfer to video-DVD but options include transfer to computer file, miniDV tape and more.
If for any reason you get stuck filling out the form, just email me and I'll help you personally. It's a personal service I offer, not like some of the big video editing houses. I understand that in many cases you will not be able to tell how much material is on the original recordings.
If recorded on equipment from another country, see the Television systems explained.
If you want your tapes back after you have the DVDs or video files (recommended):
Not everyone needs their tapes returned once they have the transfers, but I do recommend it. For a single video tape in the UK, this is just £3.25. For larger quantities, and tapes from outside the UK, I will let you know. Ideally can you ensure you send the tapes in a package which is sufficiently large and robust for me to use to send back your original tapes. Usually I will send the DVDs or video files to you ahead of returning your tapes, then when you've confirmed you are happy with the transfers, I will return your tapes. This way I can help you further if necessary - for example you can now see you want a different part of a tape transferred on its own or you want extra copies.

Please read our Terms and Conditions, which form part of the agreement.
---
TESTIMONIALS
Some recent testimonials for www.video99.co.uk VHS and S-VHS video transfers
We are listed on the independent Freeindex service, you can read and add to reviews there too.


"Colin was superb, tapes arrived Friday, processed and dvd's despatched on Monday at a very reasonable price. The sound has "gone" from the VHS tapes yet Colin managed to recover it and improved the picture quality - all indexed via easy to access "chapters" mean that my Mother's 91st will be a tearful but joyful occassion with my father's voice being heard one again. A superb service which I would recommend to anyone. Tom." Some VHS tapes run to DVD and video files, these difficult tapes had been orignally been run by another business but they had made a mess of it. 29.11.16

"Colin was patient ( I am not the best at IT!) helpful, efficient and good value...he turned long forgotten memories into an accessible format that can be seen again and shared with those pictured all that time ago. Mandy."VHSC tapes to video files on hard disk, 04.11.16

"I have been using Video99 for several years to transfer many of my old videos to DVDs,. which means I and my family can continue to enjoy them The quality of every one is quite brilliant – in fact better than the original videos. Colin is always so helpful and professional, and the work always arrives on the day promised and in perfect condition. I strongly recommend Video99. Again – many thanks, Colin. Una." Various VHS and DVD transfers. 17.10.16

"Great service I received my DVD's very quickly only posted the video out on a Monday and back and all done by the Thursday, I was contacted by Colin when he received my video and was recommended the best way to copy them which he did for me.I can now play my old video on my Dvd player and have a video stick for better quality pics too. I will be recommending him to any friends needing anything done. Helen" VHS to DVD and USB memory stick. 22.09.16

"Colin has been a great help with getting old family videos into digital format. A nice easy system of sending him a hard disc and the original videos. The quality of the output is very clear. He's responded to my questions very quickly & with vey clear instructions. All this for a very reasonable fee. Thanks very much for your assistance. Mary" VHS to video files for Mac. 07.05.16

"Over the course of a couple of email exchanges, Colin identified the best output format for my 20 years old tapes. Once he had the tapes, the transfer was quick and much better quality than I was expecting. Recommended" VHSC tapes to USB stick as DV-AVI and MPEG4 files. 25.03.16

"I highly recommend 'video99' from first contact to finish Colin was quick to respond, straightforward, helpful and very reasonably priced. It is lovely to be able to watch our wedding on DVD after years of it being on VHS with no machine to play it on. Thank you" 16.03.16

'like so many people this year, the rain and damp has caused a lot of worry and heart ache. As you pick yourself up and recover, it's the sentimental, and items of occasion and memory that you worry about loosing. I was married in Sri Lanka pre Tsunami, some of the guests and organisers now no longer with us. So it was with hope that I could find someone to trust and hope could recover my wedding tape, and transfer from VHS to DVD. Immediately after contacting Colin, I had confidence to allow him to try and sort of my request. The communication and professionalism throughout the process was first class. I have my DVD, one for my ageing parents, all at a very reasonable cost. my lucky day when I found Colin's web site....Anyone in similar circumstances (I have friends in the Lakes who suffered far more than me) should not hesitate but to let Colin salvage there precious memories...A massive thank you xx Sharon' VHS tape had been subjected to damp and was mouldy, but fortunately hadn't been submerged so was recoverable. 26.02.16

"After spending a significant amount of time at "specialist photography and media" establishments, to try to convert a VHS video to DVD, (with no success i might add) we came across Video99 during an online search. After emailing Colin he clearly explained the recommended procedure for shipment, which we carried out as instructed. On the 11th January 2016 we were emailed to say that the video had safely arrived and by the 12th January the DVDs were with us. We were very impressed with the quality of the DVDs as the video footage we sent was over 20 years old. As we no longer own a video recorder, we never thought we would see again, the memorial service for a member of the family, who passed away in a Lancaster Bomber aircraft disaster. The images brought back heartfelt memories for which the whole family is very grateful. We would thoroughly recommend Colin for a prompt and professional service at a competitive price. Steven,Lancashire" VHS to DVD. 12.01.16

"I asked Video99 to make digital copies of two VHS tapes which had been gathering dust in a cupboard for decades. Colin was very helpful with my initial queries and was able to quickly send me high-quality digital copies of my tapes. I will be using Video99 for any future VHS transfers.Tom" VHS tapes to DV-AVI files on USB sticks. 11.01.16

"The speed of service was superb. There was plenty of dialogue to ensure I was choosing the right options for my tapes, with responses being prompt and clear. Martin" VHS tapes to video files. 05.01.16

"I was very pleased with the transfer that Colin made from my old video tape which was quite poor quality in places. He was very helpful and kept me informed of the costs throughout the process and even brought forward the delivery date to fit my timescales.
Carol, Wareham." A precious, but damaged, VHS tape to DVD with colour printed box. 03.12.15

"Thank you so much for your work. The MP4 files are fantastic and I am happy to be able to see these videos again! I will definitely contact you again if I unearth any other videos lurking around that I can no longer play. Best wishes Anna". I generally recommend DV-AVI files, but this customer specified her VHS tapes be run to MPEG4 files on a USB stick, which I did. 29.11.15

"I sent several old VHS and Video8 tapes of family occasions to Colin McCormick of Video99. Some of these were of very poor quality and I had little hope that they could be improved. I was amazed at how quickly and efficiently the job was done - within less than a week - and I was delighted with the quality of the dvds - the poor quality tapes were transformed and all the dvds were very professionally presented, with headings and chapter breaks - and all at a very reasonable cost. Colin also transferred my tapes to hard drives, which I am keeping for my grandchildren for the future, with the intention of adding further family memorabilia. I am really delighted with the results and I would have absolutely no hesitation in recommending Colin to anyone needing a fast, professional, reasonable and above all courteous and trustworthy service. Aileen." VHS and Video8 tapes to DVDs and video files. 24.06.15

"An excellent service. Fast, efficient and reasonably priced. I would recommend Colin McCormick's service to anyone. Terry." VHS to DVD with several copies. 23.05.15

"The service at video99 is second to none and I'd happily recommend their services to anyone Garry " VHS to DV-AVI video file on a USB stick 20.03.15

" I have used Video99 recently on two occasions and have been very impressed with their professional service. The tapes I sent were old and one was broken. Be that as it may, they did a good job repairing and editing.... all at reasonable prices. Eddie" 05.03.15

"Quickly, efficiently and safely ,Colin transferred a video to a DVD , without me having to walk further than the post office.No problems, no hassles, and he kept me fully in touch with progress all the way. I was totally satisfied, Alison" Urgent VHS to DVD turned around same day. 04.03.14.

"This firm was recommended to me by a friend and I have been more than pleased with their service. The price quoted was very reasonable and I was kept informed as to its progress throughout the whole procedure. I would not hesitate to use their service again and would recommend them to anyone needing a VHS tape transferring to DVD. Jacqui" VHS to DVD, 18.02.15

"'Simply brilliant If you have any tapes that need converting Colin is your man. He is so knowledgable and patient, but also copes with hundreds of emails! I cannot recommend him enough. He converted 56 very precious tapes into an editable form for me. Thank you so much : )' Lit." Large quantity of VHSC tapes converted to DV-AVI files on hard disk. 24.01.15

"I am very satisfied by the service given by Audio & Video Transfers. The video transfer was very well done, the feedback prompt and the service was rapid. I would certainly recommend Audio & Video Transfers to anybody. John." VHS to DVD, 23.01.15

" Wonderfully quick, efficient service, and very competitively priced . Superb quality of the dvd copy...don't really understand how it now looks so much better than the original video, but am delighted with the result. Many thanks.Judith" Single VHS tape to DVD, 12.12.14

"Thank you, the disc has arrived and my husband is absolutely thrilled! Thank you so much for taking the time to help us with this, especially identifying the correct rugby match and editing based on my description alone! We have been very impressed with your professional service and how great the communication has been. Kind regardsAnn" VHS to DVD with edits. 20.11.14

"I have been very happy with every aspect of your service- from the quality of the transfers, to the speed of service, and especially the helpful, friendly and expert communication. My precious tapes could not have been in more trustworthy and competent hands. Thank you. Best regards,John" VHS, VHSC, minidv and HDV tapes tovideo files for use with iMovie. 10.11.14

"Second time I have used you with same excellent service. Nice friendly chat on the phone leaving me clear instructions which were confirmed by Email. Slick service with good advise given. Pointed out possible problems and worked towards satisfactory solutions. Sending and delivery system well thought out to safeguard our precious memories. Video99, just like Ronseal - you do what it says on the tin! Will definitely use you again - starting to pull of of our old tapes together. Thanks again and regards John E M,Gloucestershire" Urgent VHS to DVD turned around same day. 15.09.14

"This is the second batch of tapes you have converted for me and I am happy with the very professional and speedy service you have again given me. I do appreciate how you go out of your way to tailor the product to the customer's needs. Regards David" VHS to "Deluxe Menu" DVDs with edits. 19.07.14

"Thanks for getting my old videos on to DVD Colin. Your service was superb and the quick turnaround and competitive rates are impressive. I will certainly be sending you more work soon – very glad we found you! Gerry, Somerset" VHS to DVD 14.06.14

"I would like to thank you for the marvellous service - even an old mouldy tape was transferred to DVD and some truly precious memories are preserved. The speed of the turnaround was incredible - another company had quoted me a 4 week wait!. All my old VHS tapes were received, transferred to DVD and came back to me the next day. The price was very reasonable and compared favourably with other services on the Internet. Steph." VHS tapes to DVD. This particular customer's DVD player didn't like my very expensive Taiyo Yuden DVDs, so I made up a set on Datawrite Red DVDs which worked fine. 12.06.14.
"I sent Colin over eighty tapes to convert and he was able to do them very quickly within a few days. The quality of the digital transfer was much better than I could possibly achieved myself even if I had had the necessary equipment. I am therefore very pleased with the result and will be using his service again. Glenn." SVHSC and Hi8 tapes to DV-AVI files on hard disk. 11.06.14

"Having found this service via a website search, I decided to give it a go. I had an old (90's music) VHS transferred to DVD. The quality of the transfer was superb. The sound especially exceeded my expectations. Colin was very approachable and quick to reply to all my concerns. I plan to use this service again, to transfer some other old videos I have. Professional service and highly recommend. Sarah" VHS to DVD. 10.06.14

"A excellent service - Colin was knowledgeable, fast and very supportive. His care of what are important memories was really good and he was able to instantly answer any questions. A pleasure to work with and I would strongly recommend him to anyone wanting their precious memories taken from what ever media they are on and put on to a new more modern, accessible form. Anil" VHSC tapes to DV-AVI files 24.02.14

"A fast and thoroughly professional service in digitizing my priceless wedding video. I'm delighted with the results. ---Nick" VHS to video files. 11.02.14

"Thanks very much for the conversion. I was much impressed with both the clarity of your website and your helpful comments. I was was also gratified by the speed of the process - I posted off the tapes on Monday 6th Jan and received the discs on Saturday 11th January! Mike" VHS tapes to DVD, 11.01.14

"I would like to take this opportunity to say a huge Thank You to Colin of 'Video99' for his help and professional approach in making a part of my family history come back to life in transferring an old video onto a DVD. Colin kept me up to date with each stage of the process and delivery. Thank You.G Morris" VHS tape to DVDs. 13.12.13
"I recently dealt with Colin at video99, and can highly recommend his professionalism and technical expertise. My tapes were quickly and efficiently copied without hassle, and the results were 100 percent.
Many thanks for a great service. Jack" VHS and Video8 tapes onto DVD and video files for Mac. 10.12.13

"Hi Colin, I'd just like to say thank you for such a brilliant job you have done on my video tapes transfer. You can't put a price on memories, but the price I did pay was real value for money. They will make fantastic Christmas presents for our two children to watch for years to come. Your professional manner, great communication and speedy turnaround have been very much appreciated, and I would gladly recommend you to anyone who needs this service. Once again thank you. Kind Regards Babbette" VHS and VHSC tapes to DVD. 08.12.13

"Thank you so much. The DVDs of our wedding tape arrived yesterday and you've done a fantastic job. I was worried about the 26 year old VHS tape but its come out great thanks to your expertise. The deluxe menu is really good. I will certainly be recommending your service to family and friends." VHS to DVD, 29.11.13

"I could not have received a higher quality of service. The whole process was extremely quick and any emails I sent were answered immediately and were very friendly. I'm delighted with the quality of the DVD, which enabled me to view footage of a relative who died many years ago. I cannot recommend video99 highly enough. Many thanks. Amy" Single VHS tape, removed unwanted recordings and put valueable material to DVD with an extra copy. 30.10.13

"Hi Colin, I just wanted to say thankyou so much for your service. When I was researching the various websites offering video to DVD transfer it was difficult not to notice some of the "big players". However, I didn't want to trust my family memories to just anyone, so my attention was drawn to your site because you seemed very genuine. I am now very glad I chose video99 for the following reasons:-
You website instructions clearly explain what you offer, how much it would cost and what I needed to do.
Your help and advice with selecting how the DVDs would be created was very useful.
You took the time to create an excellent personalised DVD box cover design from selected images.
Your delivered the service you promised and very promptly.
I will recommend you to anyone else who wants to transfer their treasured videos to DVD. Thanks again, Dean" VHS to DVD with colour printed boxes, 20.10.13

""I only started seriously thinking of transferring the videos to DVD less than a week ago and now with incredible efficiency my precious memories of the children as tots 15+ years ago are back with us on hard drive and we are all laughing. Thank you Colin for an incredibly quick and efficient service. Liz" VHS tapes to video files. 07.08.13

"I was delighted by the speedy turnaround of my order and impressed by the professional service and personal touch provided by Colin, who kept me aware right through the process. Highly recommended.Graham" NTSC VHS tapes to PAL DVDs, 06.06.13

"Friendly, fast, efficient service. Very helpful and happy to advise. We can now relive our honeymoon after 10 years! Natalie" VHSC to DVD 20.04.13

"A very quick service excellent quality DVD, have already recommended Colin to a colleague. Sonya" VHS to Deluxe Menu DVD 08.04.13

"Thanks very much for a swift and personal service and for rescuing some family memories from a damaged VHS tape.Simon" Badly damaged VHS tape recovered to DVD and video files. 15.03.13

"Thank you so very much for a fantastic service. I am really impressed with the speed, quality and your communication with me regarding the transfer of my 1992 VHS tape to DVDs. Also, I appreciate the care with which you have chosen and reproduced pictures onto the outer box covers. I wouldn't hesitate to recommend you very highly. Kind regards, Cheryl" VHS to DVD with colour printed boxes. 09.03.13

For older testimonials, hundreds of them, see the archive of testimonials.
---
If you have any questions, just email

me and I'll reply promptly. Also see the video99.co.uk Questions and Answers (FAQ) All material on this web site is copyright www.video99.co.uk and www.colin99.co.uk though trade marks remain with the manufacturers.
Visitors (counting since Nov'05):
---