The UK's most affordable and flexible VHS and SVHS transfers to USB stick, hard disk or even DVD.

A personal service by an engineer with 30 years of video experience.


Lowest prices in the UK but the highest quality.
---
VHS tapes are familiar to us all. They never gave the best pictures to be honest, and are starting to look very dated today. Furthermore the tapes degrade with age, and if your precious recordings are left on VHS beyond around 20 years, there is a real risk that the quality will suffer. In extreme cases, the recordings may be lost forever. Also VHS is now an obsolescent technology for which players will not be commonly available for much longer. Time to move your important recordings to DVD!
A few full sized VHS camcorders were sold for a short time, but most VHS camcorders were of the VHS-C (Compact) variety. The format never really caught on, but in the late 1980's to early 1990's, a few manufacturers sold camcorders of this type. If your old camcorder was JVC or Panasonic, it would have probably have used the VHS-C format. A handful of other brands used it for a short time too. The thing people remember about the VHS-C format is that you could play the tapes in a VHS video recorder using a (sometimes temperamental) adaptor cassette.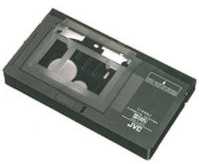 VHS-C tapes could be played back on a VHS video recorder with an adaptor.
S-VHS, or Super-VHS is a higher quality version of VHS using tapes of the same size. Several camcorders of this type were sold, and often they gave very good results. Smaller camcorders could use the S-VHS-C (or Super-VHS-C) type of tape, though very few of these were sold.
I can transfer all of the above types of tape to DVD, using expensive NV-HS1000 and NV-HS950 Panasonic S-VHS edit decks. This gives us HiFi stereo sound, and is connected up using S-Video signals to get the best possible colour performance from S-VHS recordings. Signals are processed via the players' integral Digital Timebase Correctors and then also an external Digital Timebase Corrector system which also allows for adjustment of colour alignment. Lots of video transfer businesses miss out this important equipment because it's so expensive.

Transfers to video files:
Nearly all customers now take video files on a USB stick or hard disk (depending on quantity). Typically we provide large DV-AVI files of 13GB per hour, ideal for nearly all PC and Mac video editing software, and almost all customers also take the very inexpensive option of additionally having smaller MPEG4 files which will play on most modern TVs which have a USB socket. Assuming at least 10 hours, the cost for VHS to video files is £9 per hour of useful material. Just email me for details.

Video files are higher quality than DVDs, easier to edit, share and back up, so a much better archive format.
Transfers to DVD. Most customers take USB stick or hard disk, but DVDs are still possible by special request if needed for some special reason.
If you have a recording made on equipment from USA or another country which uses a different television system, I can do these too at no extra cost, just let me know. Not all transfer companies can do this, and even if they can they may not be able to recover the HiFi sound track, but we do it all. We can even do strange requests like copy to VHS, or transfer obscure recordings such as PAL-M from Brazil, almost nothing is beyond us.
---
How to request a VHS/SVHS video transfer.
We have a new and easy order page, just select what kind of tapes you have and supply your details. I will then confirm the price, or best guess at the price, and let you know the address to send the tapes. Some recordings require particular personal attention, just let me know of any particular requirements. Usually I transfer to video-DVD but options include transfer to computer file, miniDV tape and more.
If for any reason you get stuck filling out the form, just email me and I'll help you personally. It's a personal service I offer, not like some of the big video editing houses. I understand that in many cases you will not be able to tell how much material is on the original recordings. If recorded on equipment from another country, see the Television systems explained.
If you want your tapes back after you have the video files (recommended):
Not everyone needs their tapes returned once they have the transfers, but I do recommend it. For a single video tape in the UK, this is just £3.55. For larger quantities, and tapes from outside the UK, I will let you know. Ideally can you ensure you send the tapes in a package which is sufficiently large and robust for me to use to send back your original tapes. Usually I will send the DVDs or video files to you ahead of returning your tapes, then when you've confirmed you are happy with the transfers, I will return your tapes. This way I can help you further if necessary - for example you can now see you want a different part of a tape transferred on its own or you want extra copies.

Please read our Terms and Conditions, which form part of the agreement.
---
Testimonials and social media.
We are listed on the independent Freeindex service, you can read and add to reviews there. Most customers use that method for testimonials now.

We also have a collection of fascinating testimonials from some famous names, see the famous names testimonials page.

Please also subscribe to our YouTube channel where you can see some of the work we do and fantastic equipment we have.


---
If you have any questions, just email me and I'll reply promptly. Also see the video99.co.uk Questions and Answers (FAQ) All material on this web site is copyright www.video99.co.uk and www.colin99.co.uk though trade marks remain with the manufacturers.
Visitors (counting since Nov'05):
---