The UK's most affordable and flexible Betacam and BetacamSP transfers.

A personal service by an engineer with 20 years of video experience. Transfers to DVD, computer and more.

Costs from £15 per tape. Discounts for quantity. Lowest prices in the UK but the highest quality.
---
Used in television studios throughout the world, Betacam SP is a very popular professional video format. There are two tapes sizes, the smaller ones are very similar to domestic Beta (Betamax) tapes to look at, and in the case of early Betacam (oxide) tapes, the tapes are essentially identical. However Betacam recordings are absolutely incompatible with domestic Beta (Betamax) video players. My equipment will handle both the smaller and larger sized cassettes and also can play both the linear and FM audio tracks. I have two models of machines pictured below, a BVW-22P is best for early Betacam recordings and also those which require the AFM sound track, whereas the UVW1200P units are ideally suited to getting the very highest picture quality to DVD or miniDV due to its advanced digital timebase corrector and excellent output connection options. Both models give excellent results.
Not all video transfer companies have the right equipment to handle AFM audio tracks or Low Band Betacam (oxide) tapes, and may let you down. Video99 handles all analogue Betacam tapes (see later regarding NTSC recordings.)
You may come across Betacam or BetacamSP tapes which have been recorded by a professional video company, for example in creating training or promo films. But how can you view the recording? Video99 can transfer these recordings to normal viewable DVD, or to computer files, or even miniDV or DVCAM tape
I've done BetacamSP transfers for former BBC staff who have been delighted with the quality.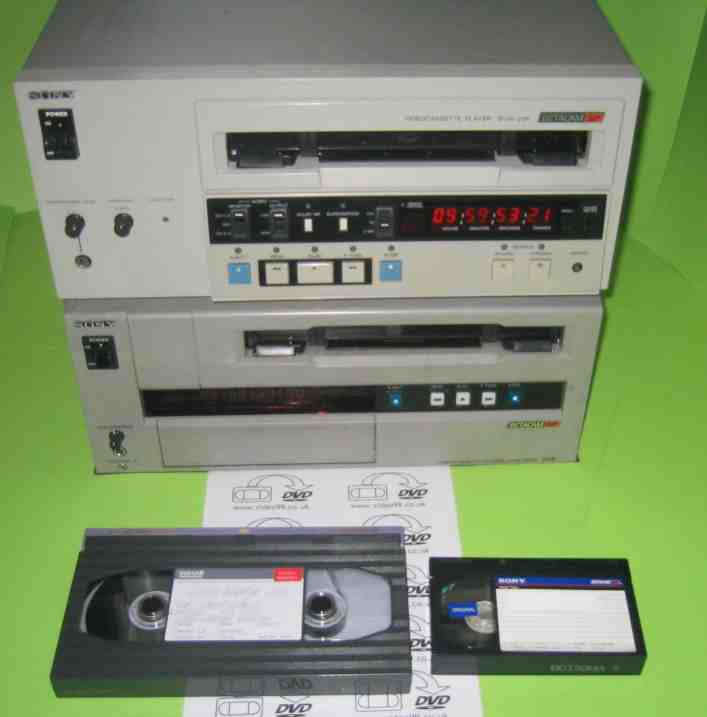 Professional Betacam SP tapes (large size on left and small size on the right of this picture). Suitable equipment, as you can see, tends to be large and expensive.
Transfers to DVD:
Deluxe Menu £24 per tape: Nice menu icons showing what is on that part of the recording, and if you email me with titles I will put them on the DVD for you too. I place the chapter breaks at points of interest or new recordings. These menus look like professionally recorded DVD films. Extra copies are very cheap, just £3.50 each, and well worth taking.
Transfers to other formats:
Most customers take transfer to DV AVI format files on USB stick or hard disk, cost is £15 per tape for up to an hour, £20 for over an hour. Uncompressed YUV 10-bit AVI (100GB/hour) are available at a little more cost. Just email me for details.
We also handle Digital Betacam / Digibeta and Betacam SX recordings too.
** NTSC Betacam / BetacamSP available now, but these do incur a £5 setup charge.
---
How to request a Betacam video transfer.
We have a new and easy order page, just select what kind of tapes you have and supply your details. If for any reason you get stuck filling out the form, just email me and I'll help you personally. It's a personal service I offer, not like some of the big video editing houses. I understand that in many cases you will not be able to tell how much material is on the original recordings. If recorded on equipment from another country, see the Television systems explained.
If you want your tapes back after you have the DVD copies (recommended):
Not everyone needs their tapes returned once they have the DVDs, but if you do, please remember to include postage costs. For a single (small) video tape in the UK, this is just £2.50 For larger quantities, and tapes from outside the UK, I will let you know. Ideally can you ensure you send the tapes in a package which is sufficiently large and robust for me to use to send back your original tapes. Usually I will send the DVDs to you ahead of returning your tapes, then when you've confirmed you are happy with the DVDs, I will return your tapes. This way I can help you further if necessary - for example you can now see you want a different part of a tape transferred on its own or you want extra copies.

Please read our Terms and Conditions, which form part of the agreement.
---
TESTIMONIALS
Some previous testimonials for www.video99.co.uk Betacam video transfers
We are listed on the independent Freeindex service, you can read and add to reviews there too.





" Whilst trawling for possible companies to carry out some tape to DVD on the internet I came across video99. There was something about the video99 website which set it apart from the rest. Clearly the proprietor was an enthusiast with a great deal of experience and I decided this was the kind of company we needed to sort out some historically important tapes of various formats and transfer them to digital format.

As as there was no telephone number

[It is actually on the web site: 01752 881652]

, I dropped them an email requesting a call back.and within hours I had an encouraging personal reply and a contact number. Suffice it to say that our tapes received prompt and meticulous attention with clear recommendations of what Colin believed the best route forward. The work was completed in an amazingly short time; the complete turnaround of a dozen or so tapes from the time I mailed them to the time I received the copies on hard drive (by special delivery) was less than a week. I cannot recommend video99 too highly. I can guarantee based on my experience that Colin will give you a prompt and professional service at very competitive prices. Unreservedly recommended!" Mark Boulton, Elsa Conservation Trust (Born Free, Joy Adamson). Umatic, BetacamSP and DVCAM tapes transferred to hard disk. 12.03.15

"My trial order with Video 99 was to transfer from two Betacam SP broadcast tapes, and after some guidance from Colin I decided to get both DVD & DV-AVI versions so I compare their respective merits. The DV-AVI were extremely good, easy to add titles in iMovie too. The job was done by return of post, despite me being in the remote NW Highlands of Scotland. Frankly, the Video 99 DV-AVI were far superior to material shot around same time in similar conditions on same camera and sent to me on hard drive by a broadcaster who used my library material for a documentary, and they were transferred for them at a vastly greater expense ! Alex" I recommended the customer take his BetacamSP tapes as DV-AVI files rather than just DVDs. 21.07.13

"Thank you so much for the fantastic transfer to DVD of the Betacam SP tape I sent you which contained a 1-hour show my old band performed at a music festival in Hungary that was recorded by Hungarian National TV in 1992. It had been residing almost forgotten for nearly 20 years in a dusty archive of vintage tapes of various formats and remained unseen throughout that time, as no machine was available to play it on. I then discovered your unique and wonderful service and am now absolutely delighted with what you have been able to do. I was amazed by the footage and the superb broadcast quality of the tranfer which far exceeded my initial expectations. I am so satisfied with the results that I shall be uploading the footage to my official You Tube channel for general public viewing. I will have no hesitation in using your service again in future and recommending you wholeheartedly to anyone who might benefit from your skills and resources. Thanks again!

Gary Miller Songs / Whippet Records

" 25.10.11
"transfers great, thanks..." Large quantity of Betacam and BetacamSP tapes to DVD. 16.11.09

"Colin The DVED has arrived safely and the file seems to work as expected. Please send the tape back now. Thanks very much for your excellent communication and prompt service, all at a great price. Best wishes Jon" BetacamSP tape to DV-AVI file on DVD-Rom, 03.06.09


"I have done 2 jobs with Colin now he is professional fast working and has great attention to detail, I would not hesitate to recommend him to anyone. Mandy Perryment Casting" BetacamSP to showreel DVDs. 14.05.09

"Hi Colin The tapes arrived safely today. Many thanks again for your speedy and efficient service. All the best, Philip" BetacamSP and Hi8 tapes to DV-AVI files on hard disk. 20.03.08

"I received the 2 discs today and have loaded them onto my computer. Everything is fine with them, thank you very much for your work and speedy conversion. Many thanks Regards Gary" BetacamSP tapes transferred to DVD-Rom disks of DV-AVI files. 11.02.08

"Hi Colin, Received the minidv okay, and the problem has been solved. Thanks for your help, much appreciated. Regards-Jorge" BetaSP to miniDV 05.11.07. What's the problem he refers to? It's another company who let him down, he goes on to say: "The company who let us down, are (or maybe were - who knows!) ******** ***** and are based in Glasgow. They still haven't refunded us the money we paid them, so maybe I should pursue it via the credit card company. It's not a vast amount but they promised to refund it and after all the heart-ache and hassle we've had, ringing them nearly every day for weeks, I would have thought they would have made it a priority!" I'm not naming the company in question of course.

"I want to thank you for such a fantastic service. You've dealt with all my little queries amazingly quickly, and with wonderful clarity. The dozens and dozens of transfers, from VHS and from professional BetaCam, every single one of them, has been of great quality, speedily done, clearly labelled and sensibly packaged. I'm absolutely delighted and have already begun to recommend you to my colleagues. Terriffic! Thank you! Jon" Studio BetacamSP and domestic VHS video tapes transferred to DVD for a renowned programme producer, 30.11.06

"Just to let you know the DVDs have been received and it is ok to send the original tape back to me. Many thanks, the DVDs are excellent as promised, Grant" BetacamSP to DVD 21/09/07
---
If you have any questions, just email

me and I'll reply promptly. Also see the video99.co.uk Questions and Answers (FAQ) All material on this web site is copyright www.video99.co.uk and www.colin99.co.uk though trade marks remain with the manufacturers.
Visitors (counting since Nov'05):