The UK's most affordable and flexible Digital Betacam (DigiBeta), Betacam SX, MPEG IMX Betacam transfers.
A personal service by an engineer with 30 years of video experience. Transfers to USB stick, hard disk or DVD.
Costs from £20 per tape. Discounts for quantity. Lowest prices in the UK but the highest quality.
---
Digital Betacam (DigiBeta), BetacamSX, MPEG IMX transfers
Used in television studios throughout the world, Digital Betacam was a very popular professional video format. There are two tapes sizes, the smaller ones are very similar to domestic Beta (Betamax) tapes to look at. My equipment will handle both the smaller and larger sized cassettes and also can play Betacam SX and MPEG IMX tapes. Video99 also handles all analogue Betacam tapes.
You may come across Digital Betacam or Betacam SX tapes which have been recorded by a professional video company, for example in creating training, advertising or promo films. But how can you view the recording? But how can you view the recording? Video99 can transfer these recordings to video files on a USB stick or hard disk, or DVD (not recommended as an archive format). We also have an uncompressed 10bit SDI video capture system too, but those files are rather large at 94GB per hour. We can record onto Digital Betacam from any Betacam tape.


One of the Digital Betacam players we use for our video transfers is the very versatile Sony J3, we have two of these, one with SDI digital output. Our other machines are the DVW-A510P with SDI output, and DVW-A500P recorder. We also have a J-H3 player for HDCAM and SRW-5500 for HDCAM-SR, so just ask if you have HDCAM tapes.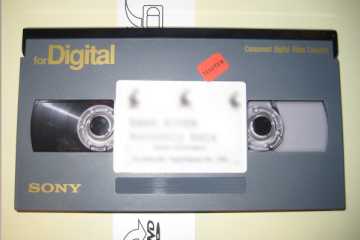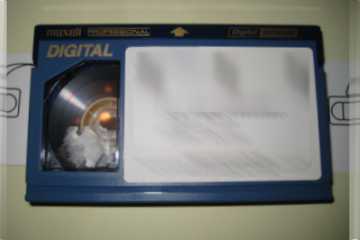 Professional Digital Betacam (DigiBeta) tapes (large size on left and small size on the right above) are blue or blue-grey. Betacam SX tape shells are bright yellow, though SX recordings may also appear on blue BetacamSP tapes, the XS format allows for an hour on a small sized tape. MPEG IMX cassettes are a muted green, this was a fairly unpopular format. HDCAM are black with an orange front lid. Much the most popular form are the blue Digital Betacam tapes. The smaller size are very similar to domestic Beta (Betamax) tapes and can be confused with those.

Digital Betacam to DVD:
Being a studio format, we don't recommend DVDs for transfers from Digital Betacam, but if you really want them they are still possible, cost depends on running time but is around £20 - £30 per tape.

Transfers to other formats:
Options include transfer to DV-AVI (13GB/hour), uncompressed YUV 10-bit AVI (100GB/hour) or other file formats on hard disk or USB stick, transfer to miniDV/ DVCAM, or DigiBeta-DigiBeta duplication. Just email me for details.
---
How to request a Digital Betacam video transfer.
We have a new and easy order page, just select what kind of tapes you have and supply your details. If for any reason you get stuck filling out the form, just email me and I'll help you personally. It's a personal service I offer, not like some of the big video editing houses. I understand that in many cases you will not be able to tell how much material is on the original recordings. If recorded on equipment from another country, see the Television systems explained.
If you want your tapes back after you have the transfers (recommended):
Not everyone needs their tapes returned once they have the video files or DVDs, but if you do, please remember to include postage costs. For a single video tape in the UK, this is around £.3.30 - £5.45 for 1st Class post. For larger quantities, Special Delivery return, and tapes from outside the UK, I will let you know. Ideally can you ensure you send the tapes in a package which is sufficiently large and robust for me to use to send back your original tapes. Usually I will send the transfers to you ahead of returning your tapes, then when you've confirmed you are happy with the transfers, I will return your tapes. This way I can help you further if necessary - for example you can now see you want a different part of a tape transferred on its own or you want extra copies.

Please read our Terms and Conditions, which form part of the agreement.
---
Testimonials and social media.
We are listed on the independent Freeindex service, you can read and add to reviews there. Most customers use that method for testimonials now.

We also have a collection of fascinating testimonials from some famous names, see the famous names testimonials page.

Please also subscribe to our YouTube channel where you can see some of the work we do and fantastic equipment we have.


---
If you have any questions, just email me and I'll reply promptly. Also see the video99.co.uk Questions and Answers (FAQ) All material on this web site is copyright www.video99.co.uk and www.colin99.co.uk though trade marks remain with the manufacturers.
Visitors (counting since Nov'05):
---