The UK's most affordable and flexible U-matic transfers.

A personal service by an engineer with 30 years of video experience.
Though DVDs are still possible, most customers take video files on a USB stick or hard disk (depending on running times).

Costs just £17 per tape, less for quantity. Lowest prices in the UK but the highest quality.

---
U-matic tapes are an old semi-professional and studio format which has remained in use for decades. Announced in the late 1960s it is still occasionally used today making it much the longest lived video cassette format in the world. It has been extensively used in the advertising industry and there are vast archives of material on these tapes. Early machines were simply U-matic, often known as U-matic lo-band. Later an enhanced U-matic hi-band was developed, and then the ultimate U-matic SP. There are two tape sizes, and my equipment can take both, as well as international recordings. We have a great deal of experience with this format and a whole multitude of players. Being a professional format, I recommend taking video files rather than DVDs, since video files are higher quality, easier to edit, share and back up.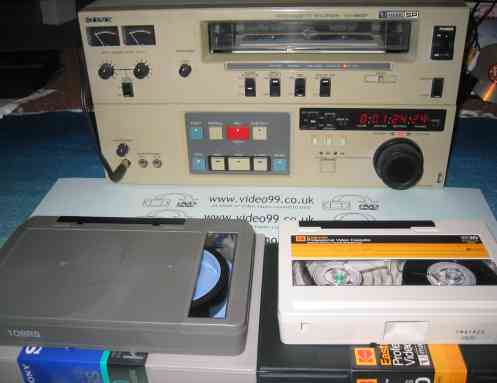 Large Umatic tapes (left) and small ones (on the right) are both covered.

Tape transfers for any of the Umatic formats are £17 per tape, or £15 in larger quantities, making me one of the cheapest transfer services for these tapes. Furthermore, note that other UK transfer companies cannot take all of the High Band or SP variants and international TV systems and so may well let you down. We are probably the only transfer service in the world who support essentially every kind of Umatic recording.

Nearly all customers take video, which can be uploaded, put onto a USB stick or hard disk, depending on quantity and running times. Typically we provide DV-AVI files of 13GB per hour, ideal for all PC and Mac video editing software, and also smaller MPEG4 files of 4GB per hour, ideal for uploading, sharing and playback on portable devices.


For more complex assemble editing of many short items, email me and I'll work out a price for you. You can also request Umatic to miniDV, DVCAM or even DigiBeta. Most of our Umatic transfers are done with the aid of a sophisticated Digital Timebase Corrector incorporating Digital Dropout Compensator, via the Umatic Dub port for the ultimate colour performance.


Note: Ampex branded tapes. Unfortunately Ampex used a tape formula which does not last well. Ampex tapes need to go through a baking process before transfer, and even then require further work. For this reason, be aware that there is a restoration charge of £5 - £15 per tape for any Ampex branded Umatic tapes. In some cases however, Ampex tapes may give degraded results for part of the recording or in rare cases may be completely unrecoverable. Please check and tell me if any of your tapes are made by Ampex. Other brands such as Sony, Kodak and BASF do not generally have these issues if they have been stored properly, though Scotch/3M tapes are known for poor magnetic retentivity (self erasing) which can occasionally cause problems.

Umatic recording type
PAL
NTSC
SECAM
Low Band

YES

YES

YES

High Band

YES

(YES)=SP

NO *

SP

YES

YES
* Umatic Secam High Band is technically possible but very rare, whereas Umatic Secam SP is believed not to exist. NTSC recordings are handled in Low band and SP recording types here at video99, but few (if any) other transfer companies in the UK fully support these. NTSC High Band recordings are actually SP, we have specially imported equipment for them. NTSC recordings cost £5 extra due to the extra setup time, but it's a small price to pay for the only known fully capable Umatic NTSC transfers in the UK.


PCM 1610/PCM1630 digital audio recordings on Umatic are supported too. These are played back on a specially designed Sony DMR4000 Umatic player connected to PCM1630 decoder which supports RAR (read after read), to give greatly reduce the chances of tape defects affecting the sound. (Even so, tape condition is very critical to this format). We have a pure digital transfer process. Very few businesses can support this obscure format, even less so with the RAR functionality and pure digital transfer. Digital audio recordings made on the PCM100 and PCM-1610 encoders are also supported.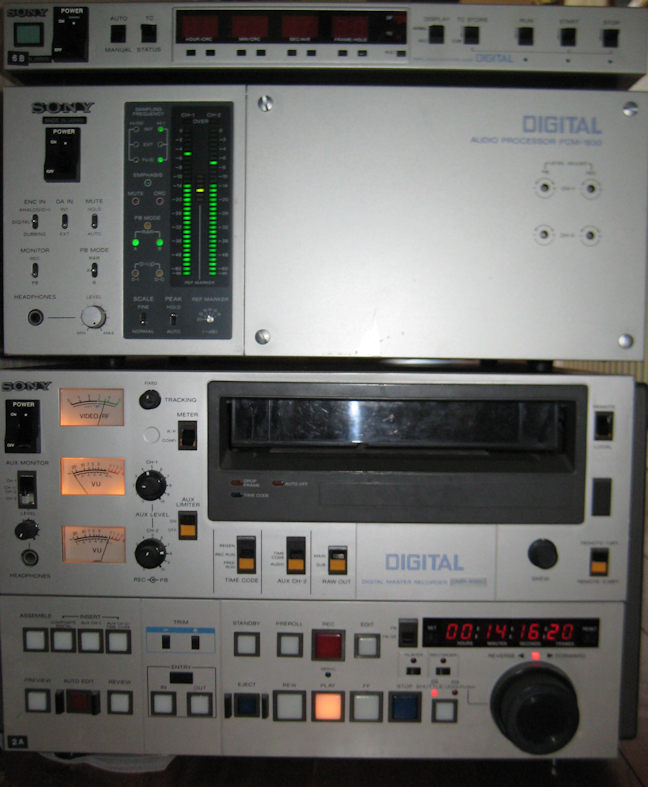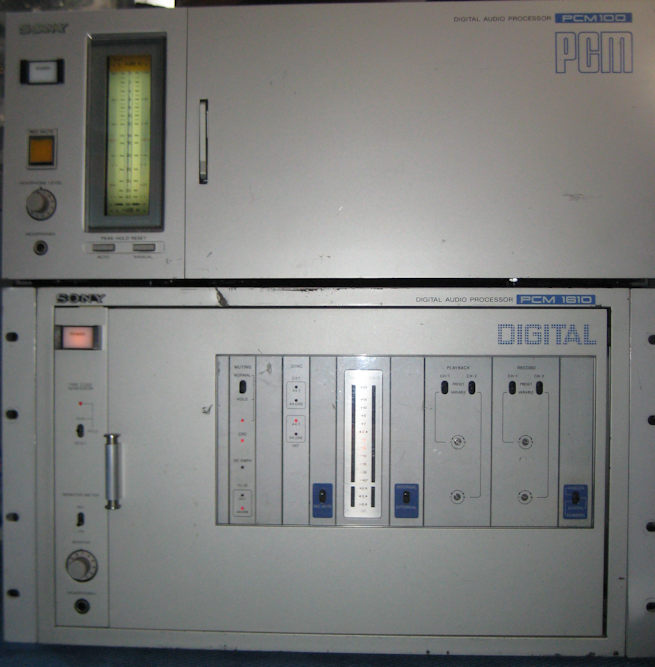 ---
How to request a Umatic video transfer.
We have a new and easy order page, just select what kind of tapes you have and supply your details. I will then confirm the price, or best guess at the price, and let you know the address to send the tapes. Umatic recordings sometimes require particular personal attention, just let me know of any particular requirements. Usually I transfer to DV-AVI files, not to DVDs.

If for any reason you get stuck filling out the form, just email me and I'll help you personally. It's a personal service I offer, not like some of the big video editing houses.

If recorded on equipment from another country, see the Television systems explained. I can handle low band, high band and SP recordings for the PAL television system. Recordings in NTSC or SECAM foreign television systems can be accepted on either tape size but only for low band recordings at present.
If you want your tapes back after you have the transfers (recommended):
Not everyone needs their tapes returned once they have the transfers, but if you do, there will be a little to add for postage costs. For a single (small) video tape in the UK, this is often £3.55 For larger quantities, and tapes from outside the UK, I will let you know. Ideally can you ensure you send the tapes in a package which is sufficiently large and robust for me to use to send back your original tapes. Usually I will send the work to you ahead of returning your tapes, then when you've confirmed you are happy with the transfers, I will return your tapes. This way I can help you further if necessary - for example you can now see you want a different part of a tape transferred on its own or you want extra copies.

Please read our Terms and Conditions, which form part of the agreement.
---
Testimonials and social media.
We are listed on the independent Freeindex service, you can read and add to reviews there. Most customers use that method for testimonials now.

We also have a collection of fascinating testimonials from some famous names, see the famous names testimonials page.

Please also subscribe to our YouTube channel where you can see some of the work we do and fantastic equipment we have. In particular see my video on servicing Umatic video recorders.


---
If you have any questions, just email me and I'll reply promptly. Also see the video99.co.uk Questions and Answers (FAQ) All material on this web site is copyright www.video99.co.uk and www.colin99.co.uk though trade marks remain with the manufacturers.
Visitors (counting since Nov'05):
---