The world's most affordable and flexible CVC transfer service.

Though DVDs are still possible, most customers take video files which can be uploaded or supplied on USB stick.

A personal service by an engineer with 30 years of video experience.

We support this most obscure and difficult of formats.
---
CVC from Technicolor and Funai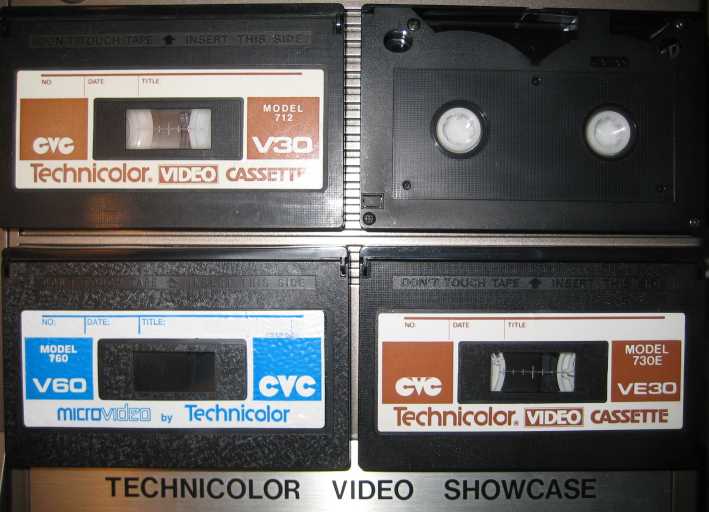 CVC (Compact Video Cassette, not to be confused with V2000 which went by the Video Compact Cassette name) was developed by Funai Electronics of Japan and usually sold under the Technicolor brand. Model numbers for these machines included 212E portable, and the 335E Video Showcase which includes a video monitor. A Grundig VP100 was essentially the same as the Technicolor 212E. The tapes for the CVC format came in 30 minutes, and later 45 and 60 minutes lengths. Markings can include: V30 and VE30 (models 730E, 712 or FZ 3000), VE45 (model 745 or FZ 4500) & VE60 / V60 (model 760), and can be marked "microvideo". Tape brands are usually Technicolor, Funai, Siemens, Grundig, Universum or Uher, and most recordings of this format were made around 1982 - 1984.

The format was not a commercial success. Furthermore the machines themselves have a number of design defects which make them quite unreliable, and working ones are very rare today.

Priced at £30 per tape for at least two tapes (£35 for one), ask about quantity discounts if you have around 10 or more tapes. Nearly all customers today prefer their transfers to video files rather than DVDs, the cost is the same, just ask. The files can be uploaded to you, put onto a USB stick, or onto hard disk if you have a lot of tapes.



We can now run NTSC (USA television system) as well as PAL (UK, Europe) tapes for the CVC format, we are almost certainly being the only business in the world to have this capability. Recorders in NTSC would have the model numbers 212D and 335D. * SECAM machines were also built. We can attempt to play SECAM tapes but be aware that the colour reproduction may be poor or even monochrome.

Here you can see part of our collection of very rare CVC equipment.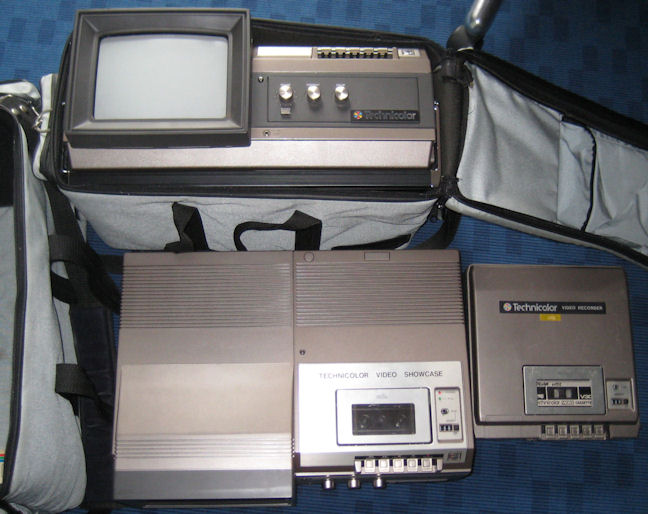 ---
How to request a CVC transfer to video files.
We have a new and easy order page, just select what kind of tapes you have and supply your details. Video files are highly recommended because they are higher quality than DVDs, easier to edit, share and back up.

If for any reason you get stuck filling out the form, just email me and I'll help you personally. It's a personal service I offer, not like some of the big video editing houses. I can run both PAL and NTSC system CVC format tapes, being almost certainly the only business in the world with this capability.

Why come to video99 for CVC transfers?

We are probably unique in Europe in being able to support this format in both NTSC and PAL television standards, so wherever your tapes come from we can handle them. Furthermore, we have backup machines. It's a fairly fragile format so machine breakdowns do happen, but since we have spare equipment we can keep going even if a machine does have a bad day. So we won't let you down, we'll keep going! And we also have a tape restoration process set up so that if the tapes are "sticky" due to tape degredation, we can still recover them, usually at no extra charge. Even if you can find some other business who can run them, you won't get this level of expertise anywhere else. We have been running this format since 2008, so we are clearly the experts for the rare and fragile CVC format.

If you want your tapes back after you have the transfers (recommended):
Not everyone needs their tapes returned once they have the transfers, but I do recommend it. For a single video tape in the UK, this is about £3.55. For larger quantities, and tapes from outside the UK, I will let you know. Ideally can you ensure you send the tapes in a package which is sufficiently large and robust for me to use to send back your original tapes. Usually I will send the transfers to you ahead of returning your tapes, then when you've confirmed you are happy with the transfers, I will return your tapes. This way I can help you further if necessary - for example you can now see you want a different part of a tape transferred on its own.

Please read our Terms and Conditions, which form part of the agreement.
---
Testimonials and social media.
We are listed on the independent Freeindex service, you can read and add to reviews there. Most customers use that method for testimonials now.

We also have a collection of fascinating testimonials from some famous names, see the famous names testimonials page.

Please also subscribe to our YouTube channel where you can see some of the work we do and fantastic equipment we have.


See some of our older testimonials below (2008 - 2016):

"Today arrived at my house, in Italy, the package from England and it's all OK. I'm really happy to see a video that I had never seen. They are images that have a lot of value to me and date back to June 1984. I'm grateful for the work you've done and allowed me to rediscover memories that no one had ever been able to show me. Thanks for your professionalism shown in all this, now I know that there is someone really able to bring back video recorded on tapes it can no longer reproduce. You've been really great, Colin.A strong greeting. Ignazio" CVC tape to DVD and video file (with a second batch then sent), for customer in Italy. 04.02.16
"Hi Colin. the video is perfect. Thank you!! You made a miracle! Thanks a lot. Barbara" CVC tape to DVD and video file for customer in Italy. 14.01.16
"I'm from

Sweden

and I had som old CVC tapes that I wanted to digitize. Couldn't find any local service that handled the format, so I had to look abroad, and found Video99 through Google. Sent the tapes plus a 2,5" USB harddrive by recommended mail, got it all back in about 1,5 weeks. Colin did a great job with the digitizing and had communication throughout the whole process. Even got video samples so I could judge the quality myself. Really happy I fund this service. Highly recommended. Per." CVC to DV-AVI video files. 29.06.14

"Many many thanks for you. Finally I saw myself after 30 years. Did you see the small boy who plays in rain? This is me. Ahed" CVC tapes to DVD and uploaded files, 07.11.13.

UK

customer, tapes recorded in

Saudi Arabia

.

"Colin Merci pour votre proposition mais NON les images ne valent pas autant de travail et je vais me contenter du résultat obtenu qui dépasse de toute manière ce que je pouvais en attendre. La manipulation n'a pas dégradé la qualité au point de rendre la lecture impropre. et nous allons en rester là pour ce dossier. Je connais la qualité de votre service et ne manquerait pas de faire appel à vous si d'autres archives vidéo sortent de mes vieux cartons. Cordialement, au revoir et à plus tard. Roland" Two particularly difficult tapes, these were recorded in the SECAM television system by a customer in

France

. Though imperfect, I was able to recover them with passable colour resolution, and promised to keep an eye out for any real SECAM CVC equipment in the future. 19.09.13

"Hi! We received the DVD yesterday! Everything all right! Thanks a lot again! Have a nice weekend! Alessandro." Two damaged CVC tapes put onto DVD for customer in Italy. 24.08.13

"After looking all over Sweden, and extensively abroad, we finally found Video99's service for transferring our Funai CVC tape to digital format. We were really impressed with the swiftness of the communication, as well as the overall professionalism of the service. I would not hesitate in recommending Video99 to anybody interested in high quality video conversion. Erik"CVC tapes to hard disk for customer in for customer from Sweden. 17.04.13
"Colin I want just imform you that today I have received Dvd just in time to deliver it for Christmas. Now when you' ll be able, yuo can send me back the tape. Thank you again , Season's greetings,Sergio" 24.12.12 Wedding tape from CVC to DVD for customer in

Italy

.
"We will watch it with a bottle of bubblie to celebrate and make a toast to you. Joe" CVC to DVD in NTSC for customer in USA. 08.07.12.

"Sorry, I forgot to respond you. I dont need the tapes. You can disposr them. Regards, Gonzalo" 21.02.12 CVC to DVD for customer in

Spain

.

"Colin, The DVDs has been arrived safely, Thank you so much, the DVDs was great with very expect able quality since the originals CVC was in poor condition. My family and I was very happy specially my father. I will recommend your service to everyone who wants tapes transfer with reasonable price. Best regards, Ali

Saudi Arabia

" 01.02.12

"Many thanks for your fast and friendly service. All Cassettes and the hard disc arrived here safely. What a wonderful surprise to see all this old films. Every part is perfect. Maybe you are the only one in the world who can transfer this rare material from cvc to our times. So many thanks for doing it so well. All the best from

Germany

, Kai" CVC tapes to DV-AVI files on hard disk 25.01.12

"Hi Colin, DVD arrived a few days ago and both my wife and i love it, Thanks for all you have done. All the best for the New Year, Phil Ball -

Australia

" 01.01.12

"Colin It's arrived! I can't tell you how happy I am as it absolutely exceeded my expectations. It is going to be a massive hit with my family when I go back for Christmas. It feels like I discovered a time capsule that's been burried for 25 years. Well Done. Many thanksVil" CVC to DVD for customer in

Australia

. 07.12.11
"Hi Colin Good news, the dvd just arrived safe and operational. Thank you for your assistance Regards; Sasha " CVC to DVD for customer in

Australia

. 05.11.11

"Colin,thanks for transfering my CVC tapes to DVD,great job.These tapes were not played for 30 years and I was suprised everything was recovered!CVC to DVD.Regards Arthur (Sakis) from Greece.30.9.2011"
"Hi Colin All is well indeed. Many thanks. Cheers Sam" CVC tapes to DVD and hard disk, UK customer. 17.08.11
"What do you know? I got the DVDs today. Pretty bizarre, like opening a time capsule. Cosmin" PAL CVC tapes to DVD for customer in USA. 15.03.11
"Colin, I have not managed to look through all yet, but out of what I have seen so far (except those where you noticed poor quality) everything looks fine, and I am surpriced of the quality. I have also received the extra copies. Thaks a lot! We are very happy!! Kind regards, Johan" A couple of faulty tapes in this batch, but most ran very well, CVC transfers to DVD for customer in Norway. 07.02.11
"Colin: I have received three DVD. They run ok. Thank you very much for your work: the tapes amount for two years of family regards, Pablo" Several CVC tapes on DVD for customer in Spain. 20.01.11
"Hello Colin, The DVD's are received and are well. I have seen them last evening. I 'am pleased with the results. Thanks for the nice work. Regards, Tom" CVC to DVD for customer in The Netherlands. 16.11.10
"Colin, Thank you so much! We have received the dvds and everything looks great! Have no words big enough, but it means soooo much to all of us in the family. Thank you! /Mia - Sweden" Quantity of CVC tapes to DVD with extra copies. 04.10.10
"Colin, The DVD has arrived and was played yesterday night to full satisfaction. Thank you. Rune" Several CVC tapes run to DVD for customer from Sweden. 24.08.10
"Dear Colin, I am happy to tell you that the DVD finally arrive to Mexico. Adriana" NTSC system CVC tape to NTSC DVD for customer in Mexico (post was rather slow but provided a preview video for customer to view in advance). 16.08.10
"HOLA Ya llegó el dvd todo ok Un saludo Covadonga" CVC tape to DVD for customer in Spain. 20.07.10
"Many thanks for recovering and transfering my CVC tapes to DVD. Just as I remember them. Louisa" Three CVC tapes from a Grundig VP100, transferred and edited to DVD. 20.04.10, UK.
"Greetings Colin, I want to thank you for getting the DVD's back before Christmas, I gave one each to my children and then we watched together with their families we laughed so much at the memories it brought back. Hope you had a good holiday and that your New Year will be a Great one! If I locate any more of those tapes I will e mail your before sending them. Many thanks again. Sincerely, Gloria" Several NTSC system CVC tapes run to DVD for a customer in USA. 27.12.09
"Hi Colin, just few words to thank you for the dvds. I've just got them this morning. I've just watched 2 of them about Uk in 1984 and I think the quality is very good for that time and the sound too." 11 CVC tapes to DVD with extra copies, for customer in Italy. 03.11.09
"Colin I confirm receipt of the 2 dvd's, please could you return the original tape, thanks. I would like to thank you for the excellent service and quality I received and would recommend you to others Regards Andrew" CVC recording of a wedding, to DVD. 17.07.09, UK
"well receved. It is allright on my PC with the chapitres etc, I will try later other material. we keep in contact. Regards Bruno" First batch of a quantity of CVC tapes sent from France. 01.07.09
"Ken transferred the tape yesterday to his Solitaire Editing System and is now in the process of editing and attaching the 'historic airport video clips' to a commemorative video that the airport is producing. Thankyou for your input into this project. Everything has been a success. I think it is safe to send back the originals now. Regards Barbara" CVC tapes to miniDV for editing, customer in Norfolk Island (near Australia). 10.03.09
"We talked to FUNAI-Greece but they said no one there knew how to fix those things anymore. Just a piece of history now I guess. I was lucky to find you for this conversion, I haven't seen these videos since I was 9 or so!" CVC to DVD for customer in Greece.
"thank you all received and fine. regards bob" CVC and Video8 to hard disk DV-AVI files, 08.12.08 UK.
---
If you have any questions, just email me and I'll reply promptly. Also see the video99.co.uk Questions and Answers (FAQ) All material on this web site is copyright www.video99.co.uk and www.colin99.co.uk though trade marks remain with the manufacturers.
Visitors (counting since Nov'05):
---