Video to DVD transfers from video99.co.uk

Which tape do you have? We cover the widest range of video cassette formats in the UK.
All tape formats are shown below (just keep on scrolling down)...
---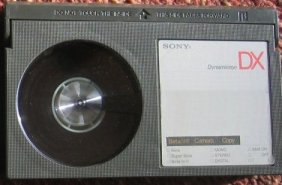 A typical Beta (Betamax) tape
---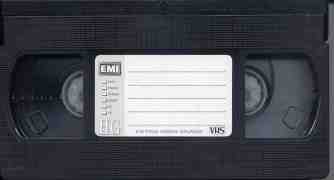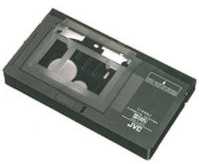 VHS-C tapes could be played back on a VHS video recorder with an adaptor.
---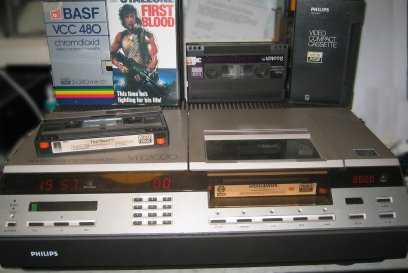 ---
---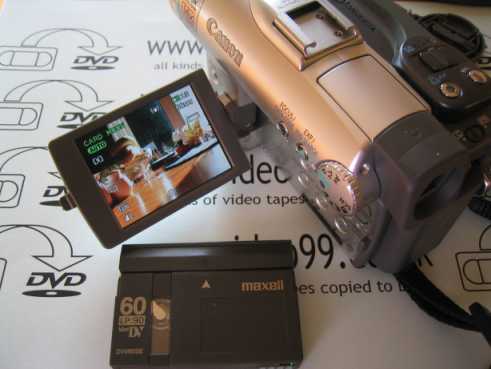 Modern miniDV camcorders can produce outstanding results.
---
DVCPRO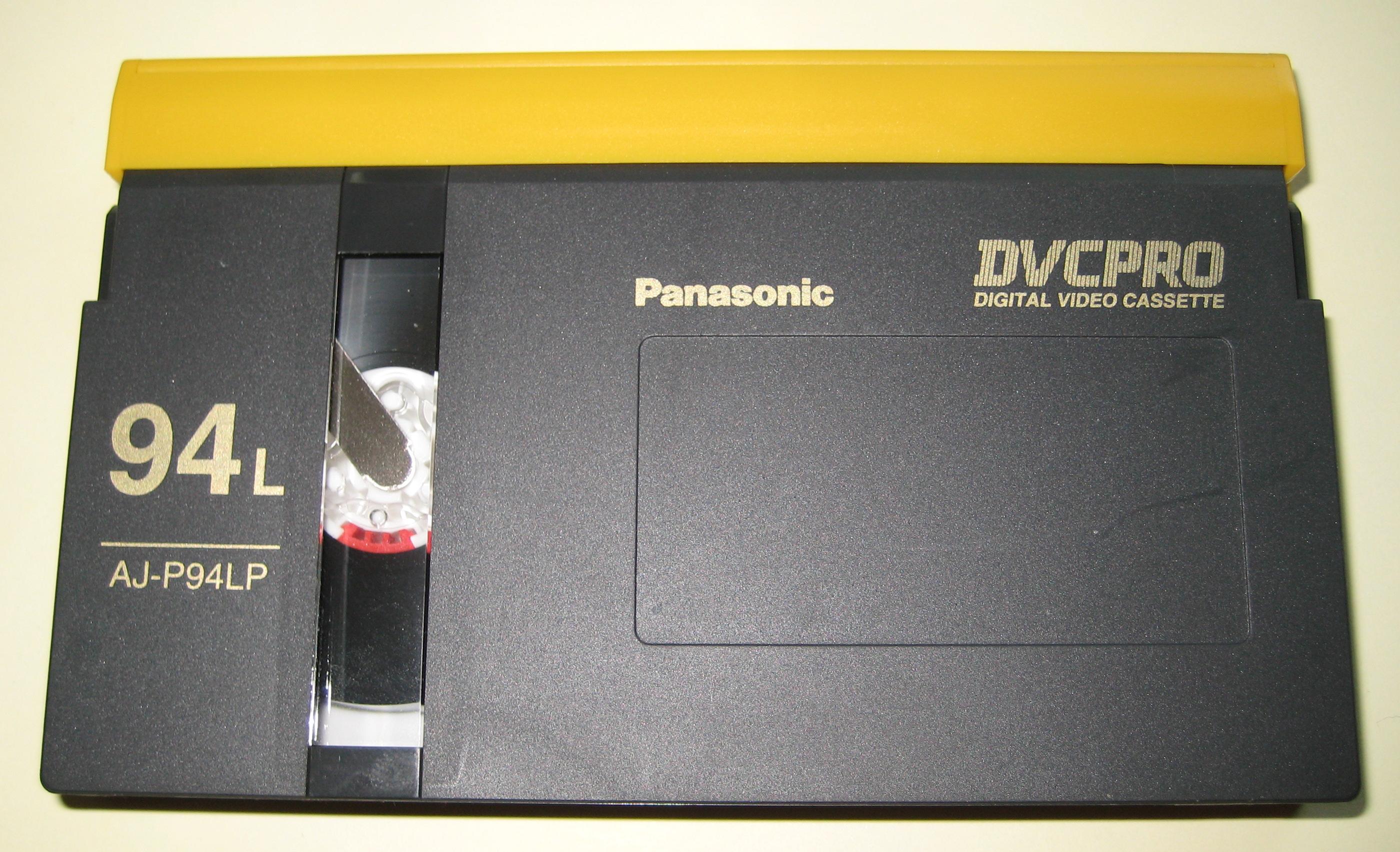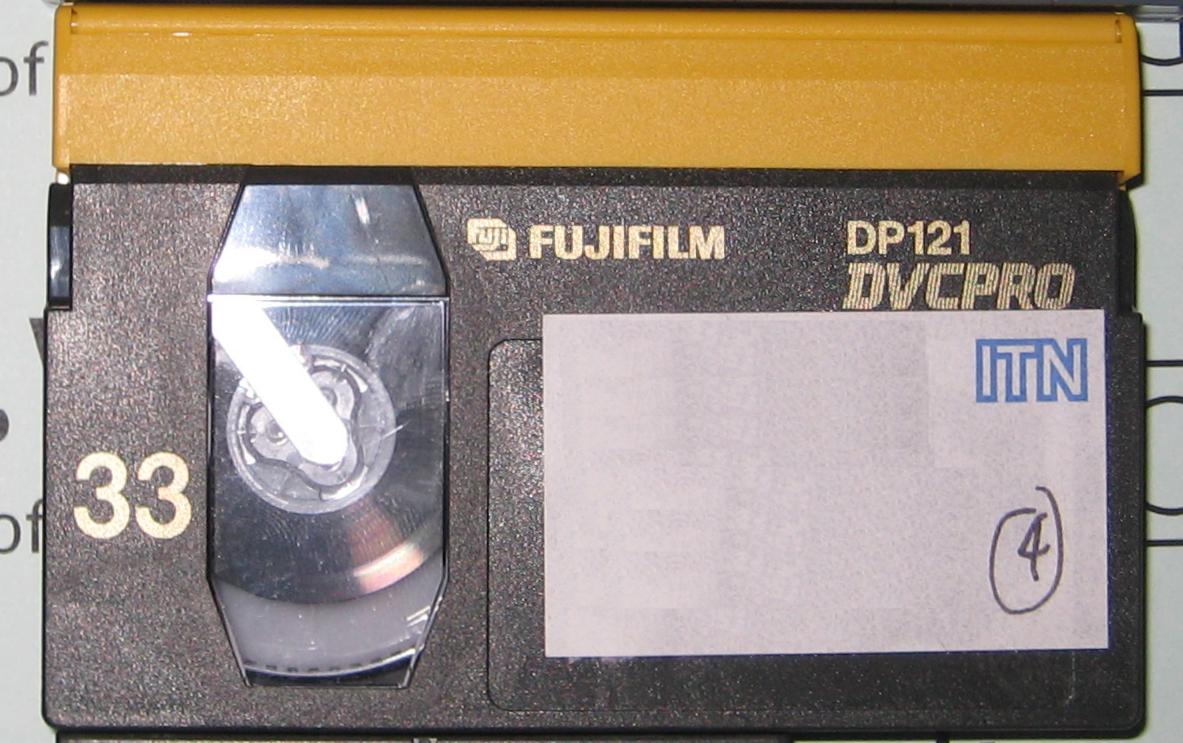 Two tape sizes are common, Large on the left and Medium on the right.
---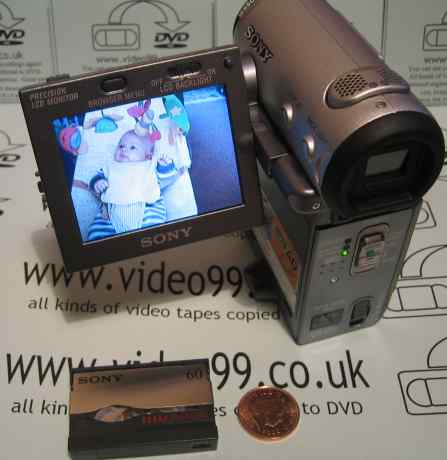 MicroMV camcorders use the smallest video tapes in the world and can give very good results.
---

Professional Betacam SP tapes (large size on left and small size on the right of this picture).
---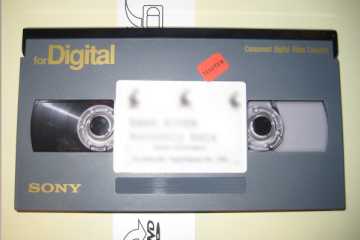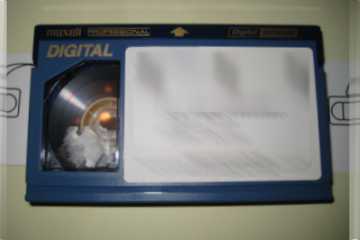 Professional Digital Betacam tapes (large size on left and small size on the right of this picture).
---

Large Umatic tapes (left) and small ones (on the right) are both covered.
---
MII (sometimes incorrectly known as M2 or M11) is a rare professional format.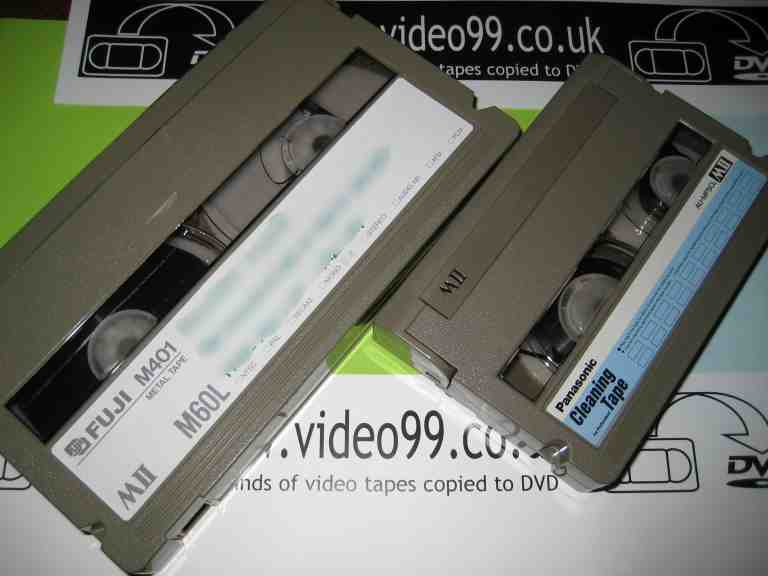 Professional MII tapes (large and small sizes) are covered.
Read more about MII transfers here.
---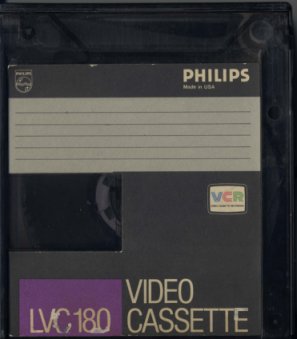 Early Philips VCR N1500 and VCR-LP N1700 tapes can be copied to DVD.
---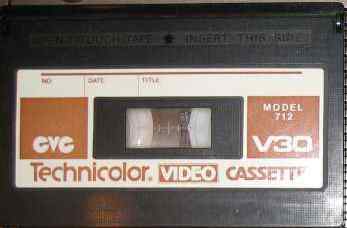 ---
Have a DVD-Ram disk that you can't play? Or a rewritable DVD which you can't seem to play on some DVD players, perhaps one recorded in DVD-VR mode? Or a DVD recorded somewhere which you need duplicating? A miniature 3" DVD which you would like copied to a normal 5" sized one? A DVD-RW recorded in VR mode that you can't play? I can do all of these, just ask. I may be able to assist with NTSC to PAL DVD transfers too, so ask if you require this.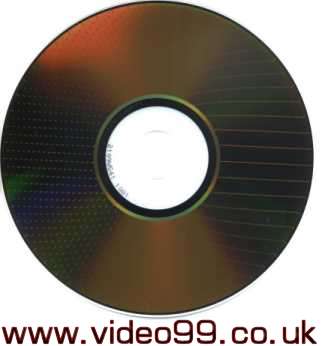 A DVD-Ram disk has odd looking patterns underneath, and may come in a special "caddy" box. I can do DVD-Ram to DVD-Video transfers for you at low prices.
Contact me with your requirements for any DVD to DVD transfers so I can give you a quote. Prices start from £3.50 per DVD, or even less in volume.
If you have a DVD of any type recorded on a camcorder which has not been finalised (so you can't view it), I can probably assist with that too, just ask.
I will not get involved in blatant copyright infringement of course.
Use the easy order page, just select what kind of DVDs you have and supply your details. DVD-RAM to DVD transfer. DVD copying.
---
A guide to video formats.
Here we have a chart showing our own personal evaluation of video cassette formats by a range of ten parameters. Not surprisingly, the oldest formats perform worst, and the newest and most expensive formats do best. It just gives you an idea of what to expect from new and old video formats, and is not intended to be definitive. In some cases it is based slightly more on real-life performance than on technical specifications.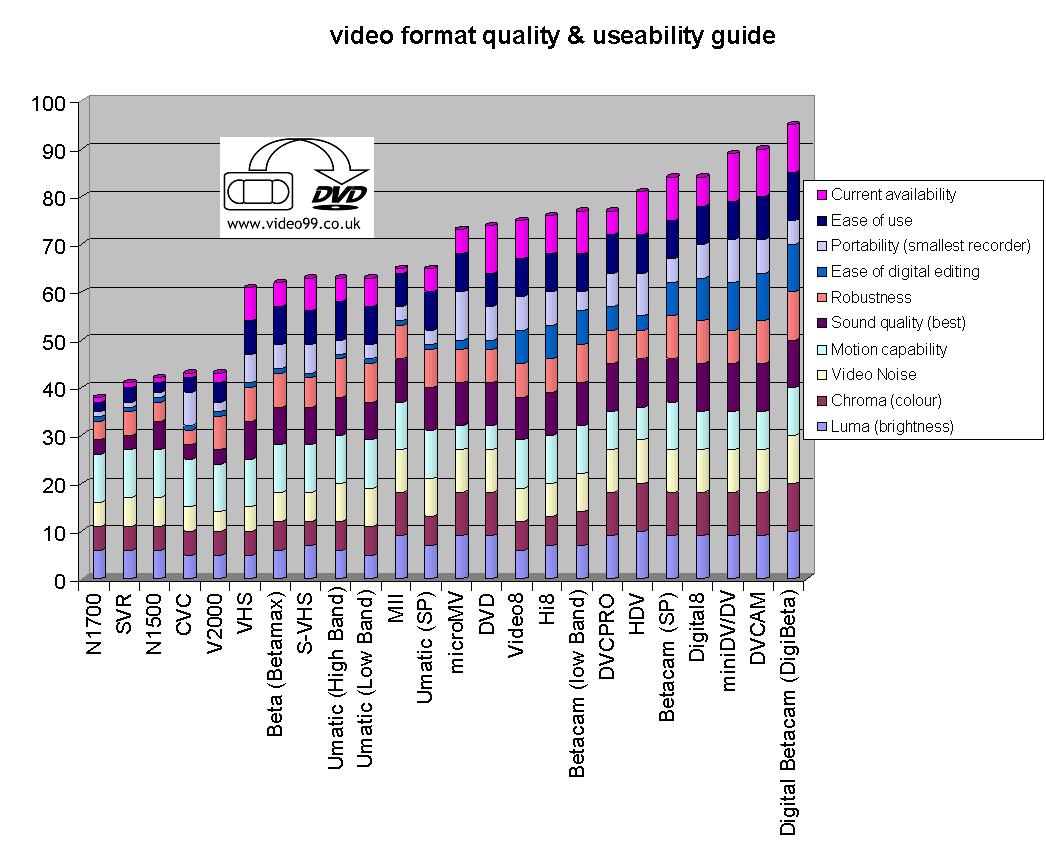 ---
I am now offering audio transfers too (such as cassette to CD), presently including:
Reel-to-reel audio domestic quarter track and half track tapes, up to 7" spools at both 3.75 and 7.5 inch/second speeds at £18 per hour.

MD minidisc to CD including LP2 and LP4 at £12 per hour.

Cassette (Compact Cassette) to CD (including Dolby B and Dolby C recordings) at £12 per hour.

Digital Compact Cassette (DCC) to CD at £12 per hour.

DAT Digital Audio Tape (32kHz, 44kHz and 48kHz recordings). DAT to CD at £15 per tape.

Dictation / answerphone tapes, Microcassette to CD at both 1.2 and 2.4 speeds and also Minicassette to CD, at £12 per hour.

8-track cartridges at £20 per tape.

Audio tracks from video tapes

Any of the above copied to CD or to computer audio file such as WAV, MP3 etc., or to minidisc.

PCM-F1 digital audio transfers (usually on Betamax tapes but may be any video format) at £30 per hour.
Read more about Audio transfers here. Use the easy order page, just select what kind of tapes you have and supply your details.
---
I don't do cine film transfers, but can recommend Chris at Save Those Memories who does. I do not yet cover the very obscure Sanyo VCord tapes, nor do I run open-reel video tapes, though I do reel-to-reel audio tape.
I can transfer almost every of videocassette types from anywhere in the world.
I don't much care what is on the tapes I copy (personal, private and confidential material is handled discreetly), and I leave you do deal with copyright issues around transferring TV programmes. However I will not get involved in blatant copyright violation (for example duplication pirating), and clearly illegal recordings would not be tolerated. If you have recordings of a very personal nature, I do ask that you let me know this in advance.
---
USB stick and Hard Disk transfers of MPEG or DV-AVI files for your own editing.
Most customers today prefer transfers to video files (rather than DVD), as files are better quality, easier to edit and share. Exceptionally competitive rates, video files for PC or Mac editing: MiniDV tapes to lossless DV-AVI files from £7/hour, Video8 from £8/hour, VHS or Beta from £9/hour.

In the case of miniDV, DV, DVCAM and Digital8 recordings, DV-AVI files will also retain the original time/date information from the tape, which some software can access. An inexpensive option is also taking smaller MPE4 files which will play on portable devices as well as most modern TVs which have a USB socket.
---
Use the easy order page here. Just select what kind of tapes you have and supply your details.
If for any reason you get stuck filling out the form, just email me and I'll help you personally. It's a personal service I offer, not like some of the big video editing houses. I understand that in many cases you will not be able to tell how much material is on the original recordings. Payment is generally done by bank transfer or PAYM app, I'll supply the details once I have worked on the tapes and we have the total cost including post etc. If you would like to speak to me personally, you can telephone during normal hours on: 01752 881652.
Please read our Terms and Conditions, which form part of the agreement.
If you have any questions, just email me and I'll reply promptly.
---
We are listed on the independent Freeindex service, you can read and add to reviews there. Most customers use that method for testimonials now.

We also have a collection of fascinating testimonials from some famous names, see the famous names testimonials page.

Please also subscribe to our YouTube channel where you can see some of the work we do and fantastic equipment we have.


---
All material on this web site is copyright www.video99.co.uk and www.colin99.co.uk though trade marks remain with the manufacturers.
Visitors (counting since Nov'05):
---
Sponsored links:
AddMe.com, Search Engine Marketing